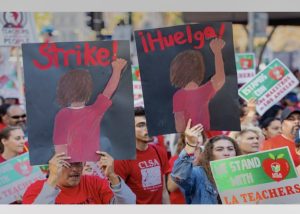 In 1935 the Roosevelt administration and Congress established that "… employees shall have the right to engage in strikes and other concerted activities for the purpose of collective bargaining…"
In 1980 the Reagan administration defied federal law by forcing striking air-traffic controllers back to work.  Since then strikes and the unions that organize them have been under fire.
Today we are witnessing one of the largest industrial strikes in US history with the nationwide walkout of the Writers Guild of America (WGA), the Screen Actors Guild (SAG), and the American Federation of Radio and Television Actors (AFTRA).  After 40 years of labor-relations drought,  the unions are coming on strong.
Have you ever walked a labor union picket line?  Have you ever crossed a picket line?  What has your strike experience been like?
Think about 
Strikes 
and share forward!
Start Writing