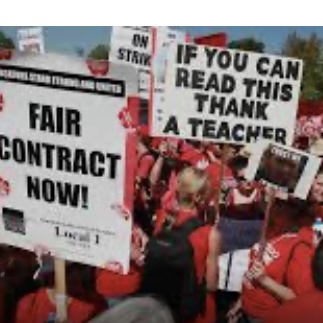 In September 1968 I was a new minted school librarian working in a New York City public high school when my union,  the United Federation of Teachers (UFT),  then led by Al Shanker,  voted to strike.  I joined the picket line.
The strike followed a confrontation between a newly established community-controlled school board in the largely Black Ocean Hill-Brownsville section of Brooklyn after 19 teachers and administrators – almost all of whom were Jewish  – were fired  without notice.  The UFT demanded the teachers'  reinstatement and accused the school board of anti-semitism.
Thus the situation was complex involving racism and school decentralization,  and over 90% of the city's teachers walked out leaving over a million children with no school.
Finally after 36 days of stalemate, protests,  and picket lines at schools all over the city,  the New York State Education Commissioner took temporary control of the Brooklyn school district,  the dismissed teachers were reinstated,  and the schools reopened.  But for his part in leading the teachers strike – illegal in New York State – Shanker was jailed for 15 days.
Later he went on to lead the national teachers  union,  the American Federation of Teachers (AFT),  and In 1998,  a year after his death,  President Clinton posthumously awarded Al Shanker the Medal of Freedom.
(If you've just read this,  thank a teacher!)
– Dana Susan Lehrman
Dana Susan Lehrman
This retired librarian loves big city bustle and cozy country weekends, friends and family, good books and theatre, movies and jazz, travel, tennis, Yankee baseball, and writing about life as she sees it on her blog World Thru Brown Eyes!
www.WorldThruBrownEyes.com
Tags: Strikes, Teachers, New York City