Don't ever underestimate the impact that a fleeting encounter can have on a person.
Days later, I discovered a note and her card, tucked farther back in the book I'd been reading.
During my college years, I was down after a confrontation with someone close to me. The experience had taken the wind out of my sails and I was in a state of depression for days after. Unfortunately I was also traveling at the time, and I found myself downcast in a middle seat on a 5-hour flight. Fortunately, when the person to my right arrived, it was an "older" woman, and she was both polite and petite. Even better was that the seat to my left was empty. I planned to move myself to the other seat once the flight was underway.
My plans completely changed, though, when the woman next to me started talking to me. At first, of course, it was just the simple questions: where are you from, where are you going, what are you reading, and so forth. (This was, after all, decades before in-flight movies lived on the back of the seat in front of you.) But somehow, she managed to politely divert the conversation to how I was doing. I don't even remember how she did it, but she got me to open up about where I was in my young life, what my inspirations were, what brought me joy. She responded with great stories about her own experiences and passions. To this day I think she could tell I was down because of something recent, but she helped me to redirect my attention to my passions and my future. I never left the middle seat on that flight, because I didn't want to stop talking to this interesting and engaging woman, and the flight went by in a blink.
Days later, I discovered a note and her card, tucked farther back in the book I'd been reading. She must have tucked it in there when I'd gotten up to use the lavatory.
She told me I had a beautiful soul. She told me I impressed and inspired her. She told me I had a great future ahead, and if I ever needed someone to talk to, I could call her. I never did, but her work had been done. I was completely kicked out of my funk.
That was decades ago, but I still look to her example when I have a random chance to talk to someone and they seem downcast. Positive words from unexpected directions can change a life. You never know how much or how little, but act as if your kind words will improve a life. Because they probably will.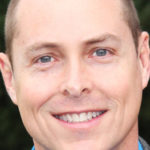 Arthur Breur, Composer
Arthur Breur is a composer and web developer currently living in the Portland suburb of Durham, Oregon. He recently completed a commission to compose a military "theme" march for the US Army's 44th Air Defense Artillery. His web development company, FireSpike LLC has been in business since 2001.
Characterizations: moving, well written