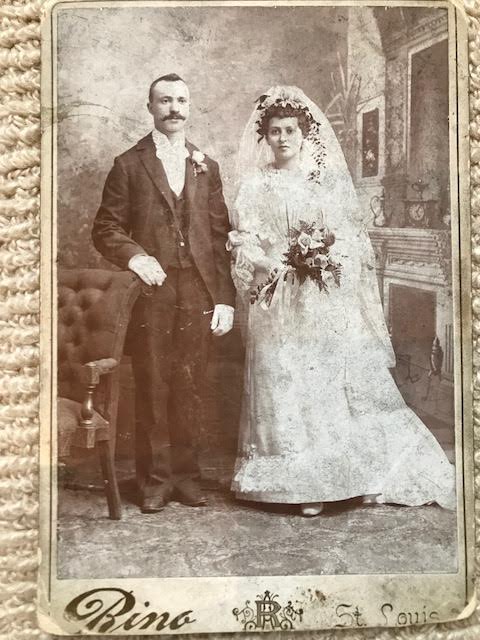 March 5, 1895. That is the caption in my photo album. These are my grandparents, Samuel Sarason and "Lizzie" (Fruma Leah) Prensky (changed to Prentis by her younger brother Meyer in 1925) on their wedding day in St. Louis, MO, as referenced on the bottom of the photo.
I love everything about this photo. I love the photographer's fancy marque at the bottom. How beautiful they both were (you can't tell, but Sam had red hair and blue eyes…LOVE the bushy mustache). How beautifully they were dressed. I don't know if the clothes were borrowed, rented, owned, hand-me-downs, but don't they look spectacular? They don't smile and look so stiff, perhaps a bit frightened of what lay ahead. That was the style for photographs in that era and I cherish this one, so old now, not even 20th century.
She was SO beautiful. He met her in his sister's boarding house, returning there after being on the road, selling his wares across Arkansas and Mississippi. He loved her instantly. He was much older; she was just 19, he was 28 at the time of the marriage, already a prosperous man. He had been in this country 12 years. She went to night school to learn to read and write English well. The Prenskys were intellectuals.
I never knew them, as they were deceased long before I was born. I was named for her. When I was being dramatic in my teens, I worried that I might have her chemical imbalance, for she was bipolar, but they didn't know that when this photo was taken. They were happy and in love. This was the beginning, before they had 8 children and it all fell apart.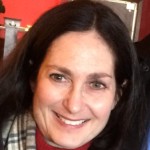 Betsy Pfau
Retired from software sales long ago, two grown children. Theater major in college. Singer still, arts lover, involved in art museums locally (Greater Boston area). Originally from Detroit area.
Tags: grandparents, 1895, antique clothing
Characterizations: moving, well written