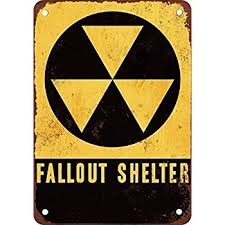 At my elementary school, which I attended from 1956 to 1962, we never hid under our desks or heard the phrase "duck and cover." We had our own fallout shelter to protect us from the Russians.
The school was a large building, three stories plus a basement, which took up (in my memory at least) a full city block. It had classrooms for kindergarten through eighth grade, although I left after sixth. The basement was where the bathrooms were, so everyone in the school went down there at some point during the day. In fact, the euphemism for "going to the bathroom" was "going to the basement" and it was many years before I realized that most people didn't say they had to go to the basement when they needed to relieve themselves.
In addition to being the location of the bathrooms, and the music rooms, and the janitor's storeroom, and probably some other things that I am forgetting, the basement was a certified fallout shelter. It had yellow and black signs like the Featured Image of this story. So just as we had fire drills, where we all had to march outside in orderly lines to a designated place on the playground that was far away from the (presumably burning) building, we also had air raid drills where we marched down to the basement and stood in orderly lines next to the wall until the all clear signal sounded. I don't remember ever being worried that there would really be a fire OR that there would really be an air raid, I just knew that we had to have these drills so we would be ready if there were.
By the time of the Cuban Missile Crisis, probably the scariest thirteen days during the entire Cold War period, I was in seventh grade at a different school. We didn't have air raid drills at that school. Again, I don't remember being worried, although it's hard to be sure. I have read so much since that time about the missile crisis, I have no idea whether I knew about it while it was happening. I don't think my parents were talking about it, we didn't discuss it in my seventh grade Civics class, and I generally didn't read the front section of the newspaper. So I may have been blissfully unaware of any threat.
An obvious effect of the Cold War was that, throughout my childhood, the Russians were always the bad guys, from Boris and Natasha on Rocky and Bullwinkle (1959-64), to The Russians are Coming! The Russians are Coming! (1966). One year, in some class where we were talking about America being the melting pot, we went around the room and everyone said where their ancestors had come from. When I said Russia, there was a collective gasp. Of course my ancestors had fled from earlier Russian bad guys and that's why we were even in America. But my classmates were still shocked at the idea that they knew someone who was Russian!
Thinking about the Cold War now, it is amazing to me that I spent those years being so carefree. Maybe I was worried and just don't remember. I made various attempts at diaries (inspired by Anne Frank), but I no longer have any of them, and I suspect they were more about daily activities than about deep thoughts. Then again, unlike now, those were times when we trusted our government to keep us safe.
A note on the title: Bob Dylan may or may not have said that he wrote "A Hard Rain's a-Gonna Fall" in response to the Cuban Missile Crisis. That's what appears on the liner notes of the Freewhelin' album, but he later denied saying it. And it couldn't be true, because the first time he performed it was at Carnegie Hall in September 1962, a full month before the missile crisis. However, it makes a good story. He did famously say about this song, which rambles on for many verses on many topics, "Every line in it is actually the start of a whole new song. But when I wrote it, I thought I wouldn't have enough time alive to write all those songs so I put all I could into this one." The "hard rain" he refers to might be acid rain, or nuclear fallout, or it might just be regular rain. You never know.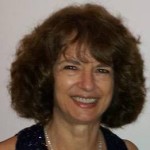 Suzy
Characterizations: been there