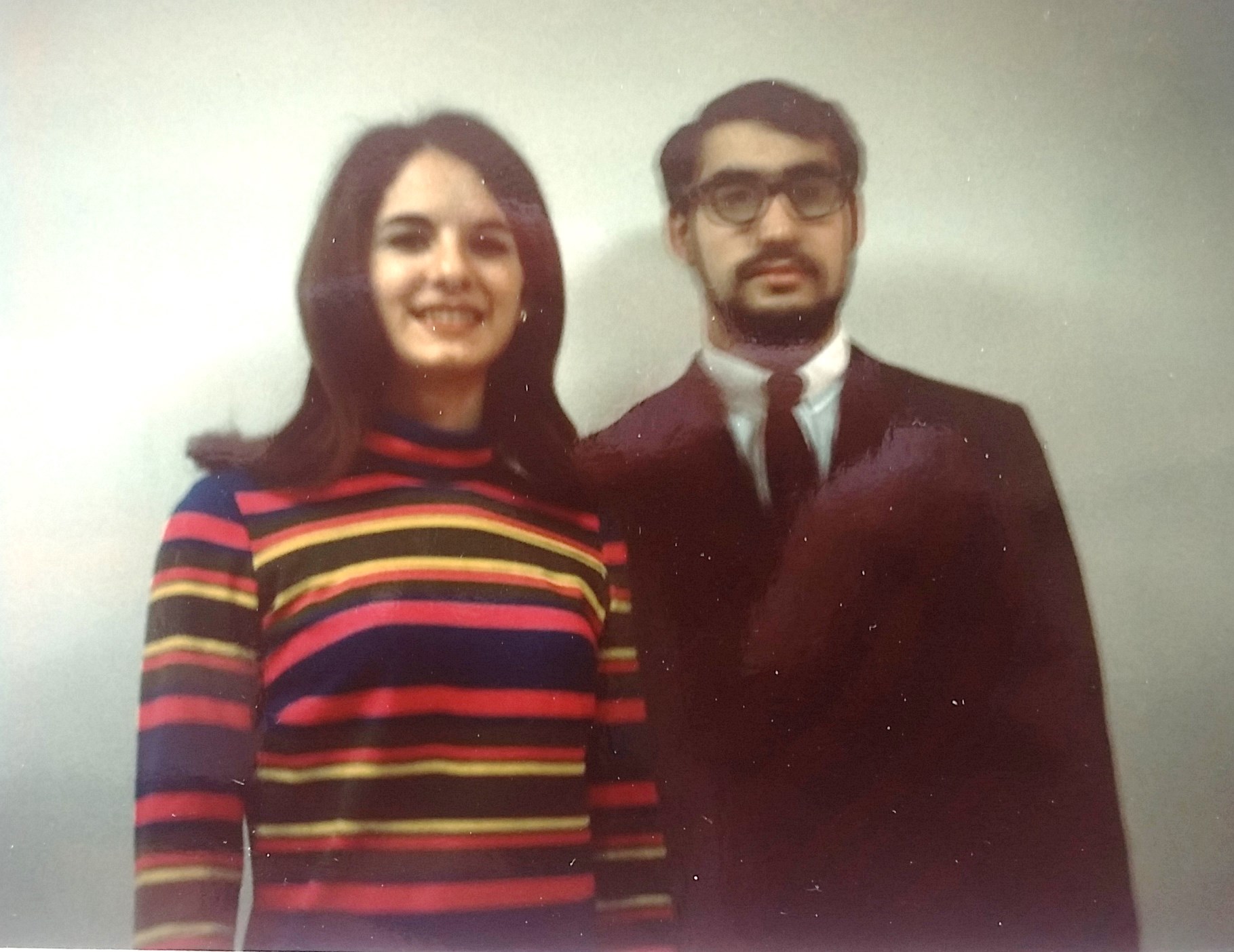 This is the story of the prom nobody remembers. Literally.
All I know is who I went with and what I wore. Jeff, the boy I had been dating since New Year's Eve of senior year, was a sophomore at Rutgers, but came home every weekend to see me. So when I asked him to escort me to my prom, of course he said yes. The Featured Image is the only photo I have of the two of us. We were more dressed up than usual (although obviously not at prom level), so I'm guessing we were on our way to see a Broadway show. That was back when people dressed up to go to the theatre.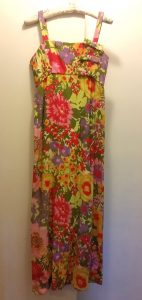 I still have the dress I wore, although unfortunately it no longer fits me, so here it is on a hanger. There is also a picture of me wearing the dress several years later here. When I offered it to my daughter Molly to wear to her prom she just laughed a lot. It was either too retro or not retro enough, I'm not sure which.
Since I couldn't remember anything about the actual event, I wrote to my classmates to elicit their memories. They were a useful resource two years ago when I wrote a story about our graduation, which everyone remembered vividly. There were a total of twenty-four in my class by senior year (down from thirty-one originally), and two people have died. I asked the remaining twenty-one classmates to tell me what they remembered. Only five people responded.
Joan: "I think I remember my dress. Nothing else."
Robin: "ZERO memory of a prom. Really. Maybe it was canceled? Or just super boring?"
Amy: "I only remember hair spray and up-dos. Sad."
Bruce: "I have a pretty clear memory of where the prom was held, I simply can't recall the name." After poking around on the internet he concluded it was at a place called the Robin Hood Inn. I wrote back saying "that doesn't jog my memory, but I'm sure you're right," to which he responded "I am far from sure that I am right."
Stoney: "The main takeaway here may be the state of our memories."
Kathy provided the last word: "Perhaps your story should be that no one can remember the event despite remembering every other detail of those six years — including details of novels read, teachers' pet expressions, and what we made in Home Ec class. I have no memory of the event other than driving down Valley Road [where the Robin Hood was]. I hate to think that was the highlight of the evening."
My children's proms I remember well.
Ben was in his high school band all four years, and that was pretty much his social group. When it came time for prom, he was told by his bandmates to ask a certain girl, who was also in the band, and she was told to say yes, so it was all very low stress. The group who had instigated this rented an enormous stretch limousine, and eight or ten couples piled in and went off to prom together.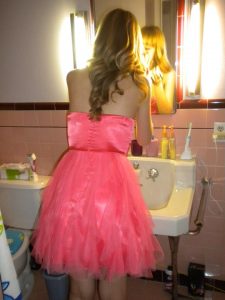 For Molly's prom, she went with another girl, who was also named Molly and lived around the corner from us. They were not a lesbian couple, just good friends, but decided to go together because you shouldn't have to wait for a boy to ask you! That seemed like a HUGE improvement over the old days, when a girl couldn't go unless a boy took her, although it probably meant that they didn't dance any of the slow dances. Here's one of my favorite prom-related pictures, Molly getting ready for the prom.
Molly also went to two proms given by her online high school, which were held in Ventura. The first year we drove down there specially for the prom. The second year it was in conjunction with her graduation. It was right in the hotel where we were staying, which made it easy. She attended alone, but most of the other kids were there alone too, since it was an online school and this was the only time they met face-to-face. They all had a good time dancing together in groups. From what I saw, most of the dancing consisted of jumping up and down. That seemed to work just fine.
Sabrina never went to her prom, and I don't know if she was sad about it, or if she considered herself beyond all that. It has been fifteen years since she was in high school, so I'm not inclined to ask her now.
It's funny how my prom, an event that seemed so incredibly important to me at the time, has not left a trace behind. There is probably a lesson to be learned from that. Still, I can't help wishing I could retrieve those memories.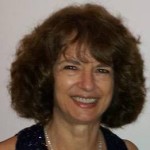 Suzy
Characterizations: been there