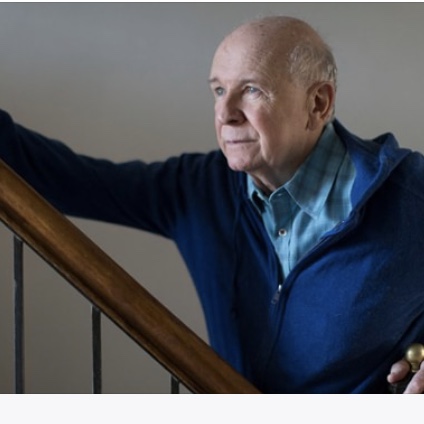 It's been one week since we started our unplanned Covid 19 quarantine/staycation and I'm still reeling with the disbelief and the worry.  And each day brings news of people we know or of well-known personalities who've been affected.
Yesterday we learned of the coronavirus-related death at 81 of one of our greatest contemporary American playwrights, Terrence McNally.  Apparently McNally had chronic pulmonary disease and had overcome lung cancer,
In college I took a modern drama course with a professor whose partner was the then new young playwright Arthur Kopit.  Thus we read Kopit's early plays,  and the plays of another playwright of their group,  the lesser known Texas-born Terrence McNally.
I was captivated by McNally's work then,  and since have followed what became his prolific,  and very successful theatrical career.  McNally wrote over three dozen plays including the Tony winners Love! Valor! Compassion!  about a group of gay men vacationing together,  and Master Class about the opera diva Maria Callas.  He also wrote the books for ten musicals including the Tony winners Kiss of the Spider Woman set in an Argentine prison,  and Ragtime,  based on the E L Doctorow novel about three New York, turn-of-the-century families seeking the American dream.  An amazingly versatile writer,  McNally also created opera librettos and screenplays for films and TV.  Just last season I saw the revival of his stirring play Frankie and Johnny in the Clair de Lune.
But his first play to appear on Broadway was  And Things That Go Bump in the Night.  The year was 1965 and the subject was risky and unusual for the time – a romance between two gay men.
Years ago I met McNally at a human potential weekend we were both attending,  and a few weeks later he joined us for dinner and a performance of one of his plays then on Broadway.  I would seldom miss a McNally play,  but just can't remember which one we saw that night.  I just remember my delight in spending an evening with Terrence McNally.
Dana Susan Lehrman
Dana Susan Lehrman
This retired librarian loves big city bustle and cozy country weekends, friends and family, good books and theatre, movies and jazz, travel, tennis, Yankee baseball, and writing about life as she sees it on her blog World Thru Brown Eyes!
www.WorldThruBrownEyes.com
Tags: Terrence McNally, Playwrights, Theatre