You could say that I've been preparing for this for 40 years. That's how long I've been a novelist, and social distancing is part of the job description. Every day I come up the stairs to my office and sit down at a computer, try to shut out the world, and descend into the universe of character and plot. Sometimes I have a good day, sometimes not. But I always put in the time. So I have it easier than a lot of people right now, in a pretty nice environment. And I write historical novels, so I have a lot of perspective on this current plague. It's bad, but we've faced bad before.
Actually, we've faced worse. Consider the 1918 pandemic. 50 million dead, including my paternal grandmother, who lived in an old South End row house with her seven kids. She went upstairs to care for a sick neighbor, came downstairs, lay down, and died. And that was happening while the final horrors of the WWI trenches were playing out. And they had NONE of the epidemiological knowledge we have. But they got through it.
Of course, when I'm done working, I like to go out to dinner or into Boston for a lecture or event of some sort. All those are canceled. If I'm home, we have a nice dinner here, and if the Celtics are on, I watch the game, which I can't do either. But I don't want to sit and watch cable news all night, so my refuge is either a good book or Turner Classic Movies. Yesterday we were watching the Private Lives of Elizabeth and Essex, with Bette Davis and Errol Flynn, and about halfway through it, I said to my wife, "You know, everyone who's in this movie or worked on it also got through the 1918 pandemic and went on to make great contributions to all of us."
So, be optimistic. That's my theme of the day. And respect the advice of the docs and epidemiologists. Stay home. This is ugly but it will get better. We will get back to normal. Now, back to my next novel.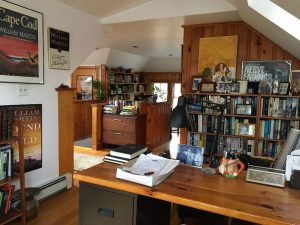 martinbooks
Tags: Social Distancing, Historical Novels, Pandemic of 1918
Characterizations: moving, right on!, well written