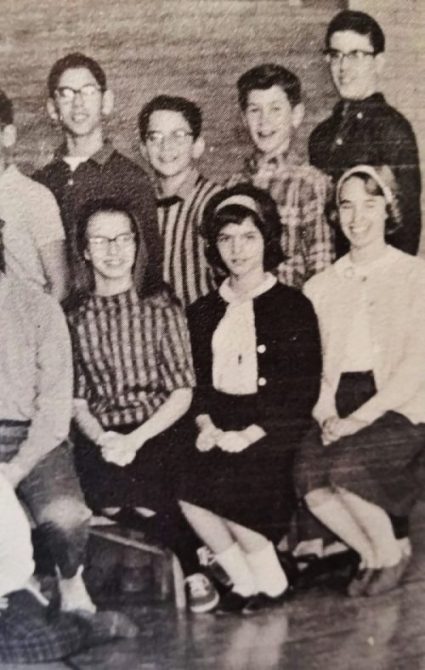 Middle School. . . . In our day they called it Junior High School. I don't know when the name was changed, or why, but in any event, I never went to one. My first school was a K-8, and my second school was a 7-12.
My town didn't have a Junior High at that time. The elementary schools, of which there were nine, all went from kindergarten through 8th grade. My school was named Number Three School, because it had been the third one built. My older sisters went to Number Three, and then on to Belleville High School, the one and only high school in our town. While they were there, the quality of the high school plummeted. It was overcrowded, and eventually lost its accreditation. It also had more than its share of juvenile delinquents, or "hoods" as we called them. These hoods were of both genders. My middle sister once had a switchblade pulled on her in the girls' bathroom. My parents, at the urging of my sisters, decided not to send me there.
So in sixth grade I took the admission test for a selective public high school called College High School, in Upper Montclair, a very WASPy town about 10 miles, and a cultural lifetime, away from my town. It was a six-year high school, going from seventh grade through twelfth. After passing a written test and an interview, I was admitted.
At Number Three School, I had been pretty popular. I had a friend group, and even a sort-of boyfriend. We had all known each other for years. I was sad to leave them all at the end of sixth grade. I was also mad that I got gypped out of a graduation, since that wouldn't happen til eighth grade and I wouldn't be there then. But I knew going to College High was the right thing to do, or maybe — come to think of it — I was never given a choice in the matter.
At College High, all the seventh graders were new, and they came from several different towns in the area. As a result, most were in the same boat I was, not knowing anyone before they got there. But there was a core group of about 6 or 7 from Montclair and Upper Montclair who did know each other, and it must have been a lot easier for them. Some, but not all. of these Montclair kids became the core of the popular crowd.
Everyone was friendly initially, as far as I can remember. But my town was very far behind Montclair in sophistication, and as a result so was I. As you can see from the portion of the class picture that I have used for the Featured Image, I am wearing white bobby socks, while most of the girls in the class were already wearing stockings, or at least knee socks like the girls on either side of me in the picture.
Also, because I had skipped a grade, and my birthday is at the end of August, I had turned eleven less than a week before I started 7th grade. Everyone else was twelve, some were almost thirteen. That is a huge developmental gap at that age. I was fine academically, but socially it took me a while to catch up even enough to understand what people were talking about.
And then, the problem at such a small school (only thirty-one of us in the class, sixteen girls and fifteen boys) was that the impression you made at the beginning tended to stick with you for the entire six years. There were a couple of exceptions, girls who started out mousy and unpopular who later became school royalty. But this generally involved winning the genetic lottery and developing large breasts, plus having straight hair and a complexion that worked with bleaching it platinum blonde. I had none of these attributes, so as hard as I tried to get into the popular crowd, I was doomed.
I don't think of any of them as mean girls, like the ones in the movie of the same name. The popular girls were never mean to me. In fact, in one-on-one conversations, they were very friendly and nice. I would often talk on the phone with one or another of them, or hang out together sometimes. It was just when they all got together, there wasn't room for me.
Actually I suffered more from being ignored by the boys. I went to all the school dances, and kept hoping that someone would ask me to dance, but nobody ever did. So I danced the fast dances with other girls, and then went back to the wall (yes, a veritable wallflower) during the slow ones. I don't know why I didn't stop going, but I guess I kept hoping that magically things would change.
I wore glasses (although never in pictures), and got braces during seventh grade, which didn't help matters. When the braces came off in the middle of ninth grade, that actually was a magical change. A couple of boys in older classes started noticing me and my radiant smile, but by that time it was too late to affect the opinion of boys in my own class.
The Beach Boys song "Be True to Your School" came out in October 1963, the fall of my 8th grade year. The principal made the DJs play it over and over at school dances, to emphasize the importance of school spirit. One thing everyone could agree on was how sick we got of that song! I like it now, but it always reminds me of those painful College High dances.
To complete the story, here I am in my eighth grade class picture. I had moved on from headbands to hairbows. I have the closed-mouth smile of a braces wearer. Now I can see that I was kind of cute, but I sure didn't think so then! It took me until college to become confident in myself socially, because College High, starting in seventh grade, had convinced me that I was undesirable.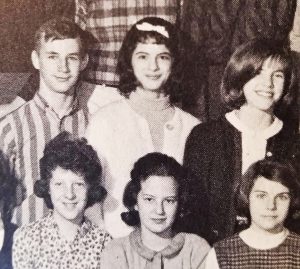 # # #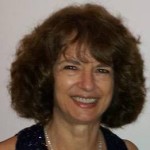 Suzy
Characterizations: well written