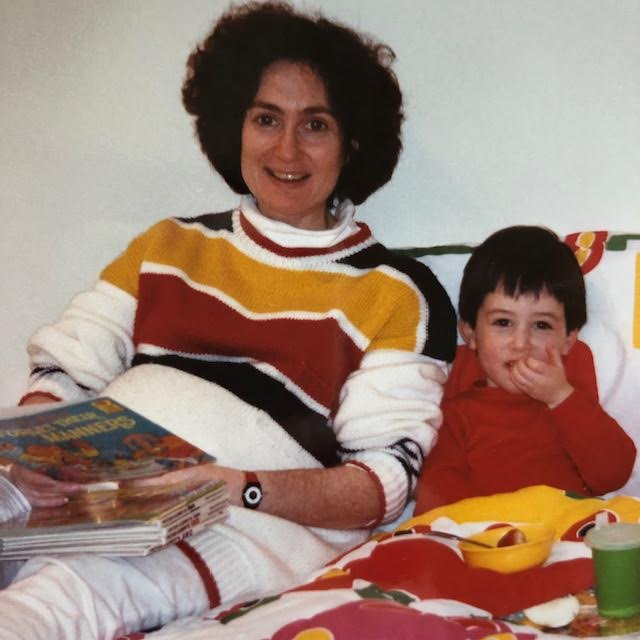 My father taught me to say prayers at bedtime: "Now I lay me down to sleep/ Bless my Lord, My soul to keep. If I should die before I wake/ Bless the Lord, My soul to take. God bless Mommy and Daddy and Ricky." It was years before I realized that was not a Jewish prayer! I have no idea what my father was thinking, but I did like the ritual.
I don't remember my parents reading to me (maybe my mother did a bit, but not a lot). I liked to read to myself as soon as I was old enough. I'd read for a while with the lights on (Mary Poppins, Cat in the Hat, Winnie the Pooh, Little Women when I was older), and under the covers with a flashlight after the lights were supposed to be out. My books were good company and I lived inside my head.
In Detroit, we had a small, three bedroom house. All the bedrooms were corner rooms. The window by my bed overlooked the driveway. My father worked two nights a week (and six days). I'd listen and wait for his car to come up the driveway. Once I heard it, I could truly rest.
I began reading to my own children as soon as they could sit still and sort of pay attention. My dear friend Valerie worked for a children's book publisher when I was pregnant with David and a huge carton of books arrived before he was even born – all kinds from squishy, plastic books to be played with in the bath to cardboard books for infants to books for slightly older readers.
It was the beginning a great children's library much of which I kept and a huge bag was brought over to London last December for Rosa. She is 5 months old, but they already read to her. She particularly likes "Chicka Chicka Boom Boom" because her dad makes a big sound "BOOM BOOM". She waits for that.
Above, Jeffrey has a book open in his lap, ready for Dan to read to him, while David looks on. In the Featured photo, I'm pregnant with Jeffrey, sitting on David's bed, reading a stack of books at bedtime (I believe they are Richard Scarry books). The children knew this was the way to relax at the end of the day: bath time, sometime to sip on before tooth brushing, reading, then into bed. David has always been a great sleeper. With Vicki's hyperactive brain, not so much. Both of them sleep weird hours however, and there is nothing I can do about that at this point in their lives.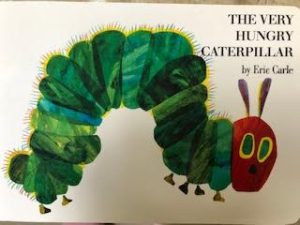 I
I've already sent most of the classic young children's books to London, but have one copy of this here in Newton. Eric Carle is the master and even has his own museum in Western MA, as his drawings are sublime.
I loved reading to my children – "Goodnight Moon", "Chicka Chicka Boom Boom", even the scary Roald Dahl books. As Jeffrey grew older, we read the whole Brian Jaques "Redwall" series aloud (eventually he outgrew me and read the books on his own; I missed snuggling and reading with him).
As I've described in previous stories, I've struggled with migraines for decades now and have been on a prescription cocktail at bedtime for over 20 years. An interrupted night's sleep is a migraine trigger for me, so these meds help me fall asleep (though none are actual sleeping pills). Increasingly, the problem is getting enough sleep. I have become an early riser. As a teenager, I could easily sleep until noon. Once I entered the work force, of course, that had to end and early on, I discovered the best time to reach an executive (back in the days before cellphones) was early mornings, before secretaries arrived to screen calls. So I became the first person in the office. When children arrived, the habit of rising early was firmly established.
So now, even though nothing presses me to get up early, I find that I usually wake up around 6:30am, even though I usually go to bed around midnight. I no longer read much (due to dry eye). I know I am not supposed to read on screens at bedtime, but I do like to watch the news, so I get washed up, record the news, then fast-forward through it. My doctor recently said that the news these days is anxiety-provoking and it may not be a good idea to watch it and then try to fall asleep.
Lately, my sleep patterns have become weird. I've been waking in the middle of the night. I do fall back asleep, but certainly don't feel rested when I wake up. I find that I nod out at night while watching TV. I may wake early in the morning, and have weird dreams as I drift in and out of sleep, also provoking feeling ill and headachy all day. I'm watching to see if this abates or if this becomes a permanent way of existence.
Having Rosa fall asleep in my arms was the sweetest!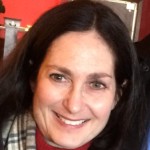 Betsy Pfau
Retired from software sales long ago, two grown children. Theater major in college. Singer still, arts lover, involved in art museums locally (Greater Boston area). Originally from Detroit area.
Characterizations: funny, moving, well written