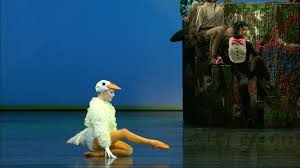 In first grade, I started ballet lessons.  Two sisters – Bernice and Therese – taught in the old craftsman-style home they shared.  Two adjoining front rooms were converted into one large studio, with a barre along one wall, carefully polished floors, and an old phonograph in a corner.  Bernice and Therese seemed about a hundred and twelve years old, one a widow one a spinster, always dressed in black.  One was stout, the other a fragile little bird.  Beginners like me got Bernice.  I stuck with it and by fifth grade had graduated to being en pointe, where Therese took over.  She had the mystique of having once been a professional dancer (I was much too young, unworldly, and intimidated to ask where and when.)  Ironically, she was the stout one.
One year we performed Peter and the Wolf.  The sisters had found an adult female dancer friend to be Peter.  I had the great distinction of being cast as the duck.  My mother made the most fantastic costume that I still remember.  The base was all-white leotard and tights.  Mom found some yellow oilskin, and cut out a big beak and attached it to a yellow satin cap that covered my head.  I also got some duck feet of oilskin, that sort of flapped loosely over my ballet slippers, hooked around my ankles with elastic.  (Side note, my mother was a genius seamstress and queen of DIY before DIY was cool!)  But the triumph of the costume was two sets of real feathers, pasted onto some kind of stiff base, that were pinned to my shoulder and elbows.  Et voila!  Wings!!
In the original story, the duck is swallowed alive by the wolf.  This was considered much too violent a plot twist for the elementary schoolers we performed for.  So instead I narrowly escaped being swallowed and dashed dramatically offstage, flapping those marvelous wings.  I can't remember how this poetic license was reconciled with the true story line.
Like most who took ballet lessons as a child, I still yearn for leotards, tights, and pink toe shoes.  And I love the oboe playing the duck's theme music when I hear Peter and the Wolf.  (Curse you, french horns and wolf!)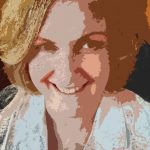 Susan
Characterizations: funny, moving, well written