When I was seven years old, I took painting lessons in the French Quarter of New Orleans. My 18-year-old cousin and I would ride the Royal Street bus from the Bywater to the Quarter.  Our first stop was Cafe du Monde for cafe au lait with chicory and beignets.  My cousin showed me how to cool the coffee by putting an ice cube in it.  After dusting off the powdered sugar we walked a few blocks to Mrs. Kronengold's apartment and rang the doorbell.  She would lower keys down on a string for us to unlock her front door.  Once inside, we crossed her interior patio and climbed the narrow stairs to her studio overlooking the street.  Each of the six students had an easel, and Mrs. Kronengold would walk from student to student giving tips and demonstrating techniques of painting with tempura.  I painted animal scenes: dinosaurs with volcanoes erupting in the background, an African savannah with rhinoceros, leopard, and giraffes; a bayou with fishing boat, alligator, and herons. I still have some of these paintings stored away somewhere.  The dinosaurs with volcanoes I sold.
"When I was seven years old I took painting lessons in the French Quarter of New Orleans.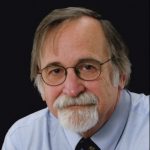 Lou Moffett
I was born in 1946 and raised in the Bywater district of New Orleans.
I attended Jesuit High School and then Louisiana State University in Baton Rouge, graduating in 1968 with a major in psychology and a minor in philosophy. In 1968-69, I did graduate study in personality at the University of California, Berkeley, I returned to LSU to pursue a Ph.D. in clinical psychology although my dissertation was on the psychology of sculpture. I completed my internship at the Department of Veterans Affairs Medical Center in Palo Alto, California, and then became a staff psychologist there specializing in the treatment of men with severe substance use disorders. During those years I also taught at Stanford's School of Education and was a clinical educator in the Department of Psychiatry and Behavioral Sciences in the Medical School.
I also taught at Palo Alto University, and, in 2008 I retired from the VA and became a full-time professor at PAU and then retired from there in 2013.
Tags: painting lessons, French Quarter, New Orleans
Characterizations: right on!, well written