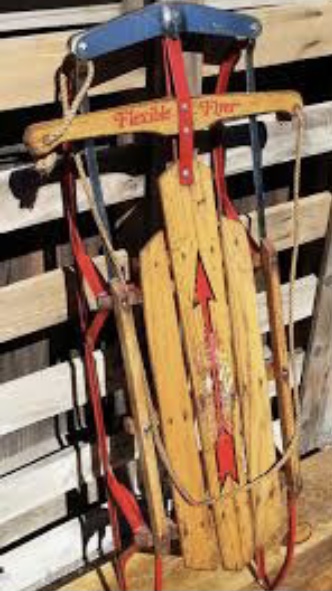 I was born in Charleston, SC where my dad was stationed during WW II.   After the war we returned to my folks' native New York where they bought a house on the GI bill.  (See Parkchester, Celebrate Me Home,  Magnolia, The Story of a Garden,  and Mr Bucco and the Ginger Cat)
And so it was during the great northeast blizzard of December 1947 that I saw snow for the first time.
The storm was unpredicted,  it broke weather records,  and wreaked havoc on the New York transportation system as trains were delayed for hours,  cars and buses were stranded on city streets,  and 25 inches of snow fell on Central Park.
The blizzard caused 77 fatalities and cost the city millions of dollars,  but I was surely oblivious to all that.
At age 3 all I knew was that the roads in our neighborhood were unplowed and closed to traffic,  and my father – in his furry earmuffs,  his long coat,  and his big rubber boots – could pull me on my sled up and down the middle of our snowy street!
Dana Susan Lehrman
Dana Susan Lehrman
This retired librarian loves big city bustle and cozy country weekends, friends and family, good books and theatre, movies and jazz, travel, tennis, Yankee baseball, and writing about life as she sees it on her blog World Thru Brown Eyes!
www.WorldThruBrownEyes.com
Tags: Blizzard of 1947