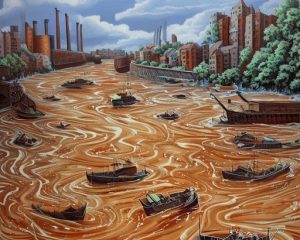 File under: 'It could be worse.'
On a warm January day in 1919, a disaster struck Boston's North End. A giant tank of molasses burst open, releasing a wave of sticky syrup that swept through the streets, crushing buildings and killing 21 people. The Great Molasses Flood, as it became known, was a bizarre and tragic event. The tank, which belonged to the Purity Distilling Company, was 54 feet high and 98 feet in diameter. It held over two million gallons of molasses, which was used to make rum.
On the day of the flood, the weather was unseasonably warm, this caused the molasses to ferment, which created gas pressure inside the tank. The tank was also poorly constructed, and it eventually gave way under the pressure.
The molasses burst out of the tank with tremendous force, creating a wave that reached 15 feet high and traveled over two blocks. The wave crushed buildings, overturned cars, and swept people away. Many of the victims of the flood were trapped in the molasses. It was thick and sticky, and it was almost impossible to escape. Others were crushed by debris or drowned in the floodwaters.
The cleanup after the flood was a massive undertaking. The molasses was so thick and sticky that it had to be dug up with shovels and steamrollers. It took weeks to remove all of the molasses from the streets and buildings. Until this day walkers by can still smell that that sickly sweet smell of molasses wafting through the neighborhood.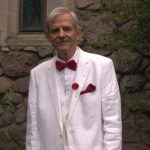 Kevin Driscoll
(Mostly) Vegetarian, Politically Progressive, Daily Runner, Spiritual, Helpful, Friendly, Kind, Warm Hearted and Forgiving. Resident of Braintree MA.
Characterizations: funny, well written