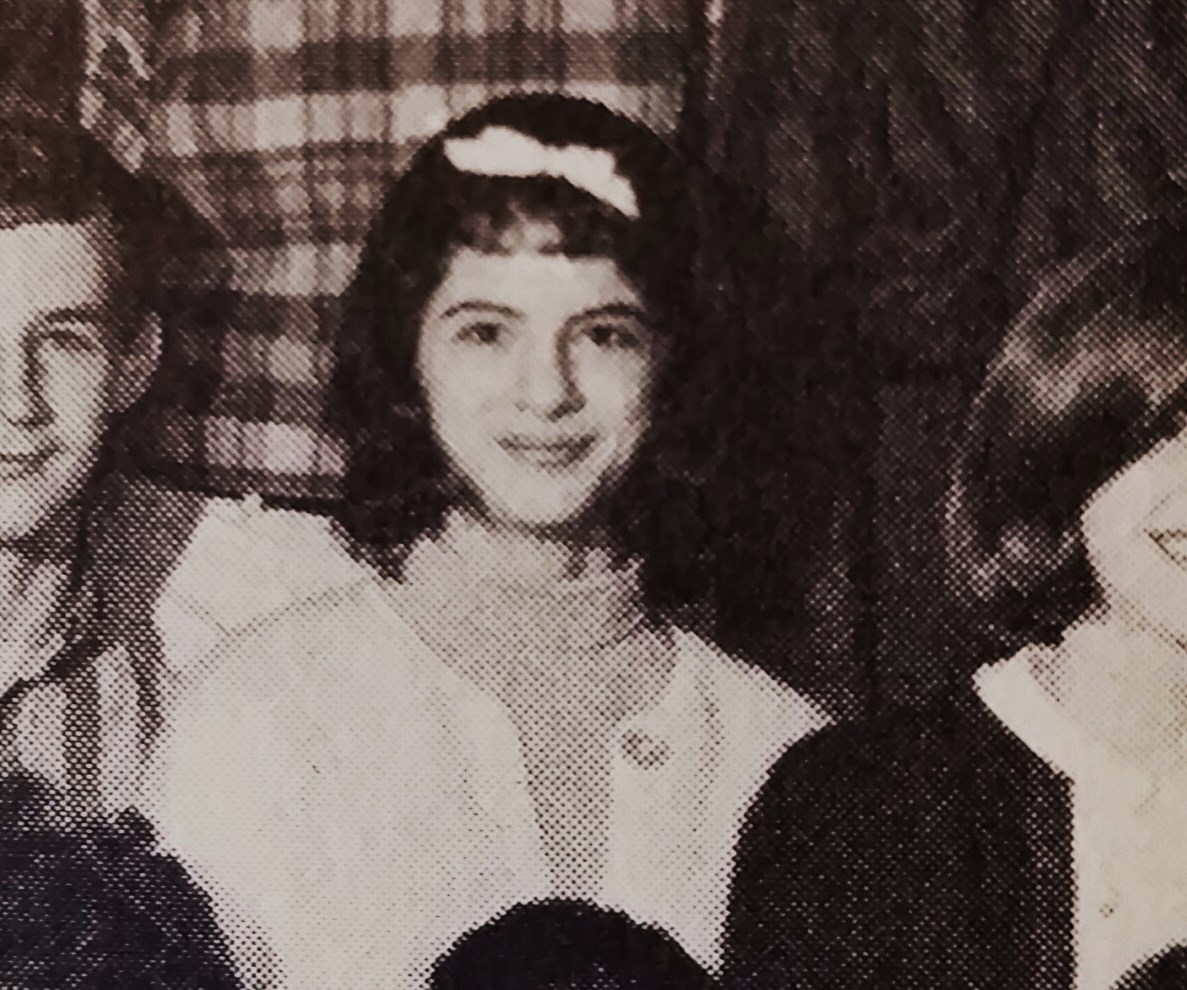 Accessories? I have never been into purses or shoes or hats or scarves. I have bought all those things, of course, but only as needed, not in a collecting kind of way.
However, in junior high school, I wore bows in my hair almost every day. My coiffure may not have been the angel hair of the song, but it certainly did flow. As shown in the Featured Image, my eighth grade class picture, I wore my hair with bangs, and the rest brushed straight back without a part. I had to tease it a little bit to keep it from falling to one side or the other. The bow fit nicely right into the space between the bangs going forward and the rest going back. They were pre-made bows of grosgrain ribbon, attached to a clip.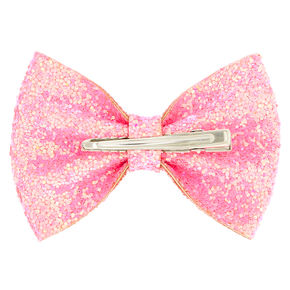 Here is the best picture I could find of the back of a bow, showing how the clip was attached to it. I had them in every imaginable color so I could match whatever I was wearing. Often I had knee socks of the same color as the hair bow, but not always. Those were the days when I accessorized.
Since then, not so much. Over the years I have bought my fair share of jewelry, but I am not good at thinking about what I have in my wardrobe to go with it, so most of it ends up staying in the drawer.
After I got my ears pierced, in high school, I started buying lots of earrings. Not expensive ones, they were all of the five or ten dollar variety. I still have most of them, but I hardly ever wear them, because with all my hair they don't show. When I do go to the trouble of finding earrings in my collection that go with an outfit, it's just frustrating because nobody sees them.
I have had several beautiful opal rings, including one that was sort of an engagement ring, because opals are my favorite stones. There is a superstition that it is bad luck to wear opals if they are not your birthstone. They are the birthstone for October. My August birthstone is peridot which is an ugly shade of light green.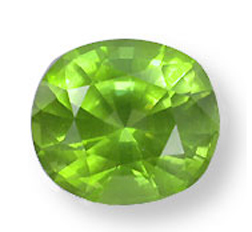 Here is a peridot, so you can easily see why I would rather have an opal. However, every one of the opal rings I have worn has cracked or chipped and become unwearable, so perhaps that is the bad luck I incurred because I was not born in October.
Finally, I have a large collection of Jewish necklaces which I have acquired over the years. I'm not quite sure why I keep buying them. They are very beautiful, but the only time I wear any of them is when I go to temple or to some other Jewish event. But I have a special jewelry box just for them, so they don't get tangled with all the other miscellaneous jewelry I have.
The only items of jewelry I treasure, and wear consistently, are my diamond ring (from my grandmother), my wedding ring which also has tiny diamonds in it (from my husband's grandmother), and my Radcliffe ring. If I gave everything else away, it wouldn't really matter.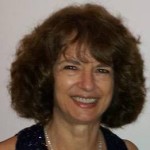 Suzy
Characterizations: right on!, well written