Most people associate the word "tutor" with someone hired to give individual remedial instruction in a course that one is having trouble with. However at Harvard, following the model of Oxford and Cambridge, students have tutorials in their field of concentration in their second, third, and fourth years. Sophomore tutorial is in a small group, like a seminar; junior tutorial is individual or perhaps with one other student; and then senior tutorial is devoted to writing a thesis.
While all three of my tutors were important to my academic career, the most unforgettable one was my sophomore tutor, Doris Kearns. She was a bright young assistant professor in the Government Department, who had received her Ph.D. from Harvard in 1968. This was the academic year 1969-70, so it must have been only her second year teaching. Her Wikipedia page tells me she was born in 1943, meaning she was 26 when the tutorial started, which is amazing to me, because she seemed decades older and wiser than we were at 19 (well, the others were 19, I was only 18 because I skipped a grade). I don't know when the Featured Image was taken, I took it from an article about her written in 2014, but except for the wrinkles around the eyes and mouth, it looks exactly the way I remember her.
There were six or seven of us in the tutorial, all sophomores, and only one other girl as far as I remember. Her name was Ellen, and she was fabulously wealthy because her father had developed some of the first enclosed shopping malls in the US, as well as the entire town of Columbia, Maryland. Ellen had the same shade of red hair as Doris, and they bonded over that. They also gushed over each other's purses and clothes, whereas I didn't carry a purse and tended to wear the Cliffie uniform of a turtleneck and blue jeans most of the year. As a result, I never became close with Doris like Ellen did, but then, I don't think any of the guys did either.
I remember almost nothing about what we read or discussed in that tutorial. My chief memory is that Doris told lots of stories about Lyndon Johnson, because she had been a White House Fellow in 1967 and had gotten pretty close to him. How close? We always wondered. She told us that she used to go swimming in the White House pool with him, and that she was chosen for this honor because she was the only female there who didn't mind getting her hair wet. There were lots of press reports of Johnson swimming naked in the WH pool, but we could never get Doris to tell us whether she swam naked too.
After that year, I never saw or talked to Doris again, but I have followed her via the media for the past 49 years. In 1975, she married Dick Goodwin, whom I had met in 1968 when we were both working for the McCarthy campaign. Dick, a former speechwriter for JFK, had managed McCarthy's campaign in New Hampshire, then jumped ship to Bobby Kennedy when he entered the race, but came back to us after Bobby was assassinated. I had had a huge crush on Dick that summer, deeming him my second favorite person in the world after McCarthy himself, and so it pained me a little when he married Doris. (Sort of like when Paul McCartney married Linda Eastman.) I was sure the marriage wouldn't last, but it did. They were married for 43 years, until his death in 2018. After their marriage she used the name Doris Kearns Goodwin, but to me she will always be just Doris Kearns.
Doris has written many successful books about American presidents, including LBJ (no surprise), JFK, FDR, and Lincoln. She won the Pulitzer Prize for her book on FDR. Her book on Lincoln was the basis for Steven Spielberg's 2012 movie Lincoln. But the only book of hers that I actually bought and read is Wait Till Next Year, which is her memoir about growing up in the 1940s and '50s in Brooklyn and rooting for the Dodgers until they moved to California. ("Wait til next year" is what the Dodger fans always said at the end of every season, when they didn't win the World Series.) It was a wonderful book, and it turned out that she is such an expert on baseball that she was in the Ken Burns documentary Baseball. Watching that documentary, when Doris appeared on the screen the first time, I screamed with excitement, "That's my tutor!" I was proud of my association with her.
She even rose above the bad times. In 2002, there was a plagiarism controversy, with assertions being made that passages in two of her books had been taken from other books. Her response was that she had "scrupulously" footnoted the material, but perhaps had failed to provide quotation marks. The scandal might have ruined the career of a more timid person, but Doris held her head high and refused to be cowed. Since that time, she has written three more extremely successful books, including the one about Lincoln. Her most recent book, Leadership in Turbulent Times, about four US presidents who dealt with terrible national crises, was on the New York Times Best Seller List in 2018. At the age of 76, she shows no sign of slowing down.
So, did she have an influence on my life? Not in any definable way. But she was certainly unforgettable, and I'm glad I knew her!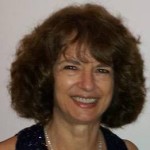 Suzy
Characterizations: right on!, well written