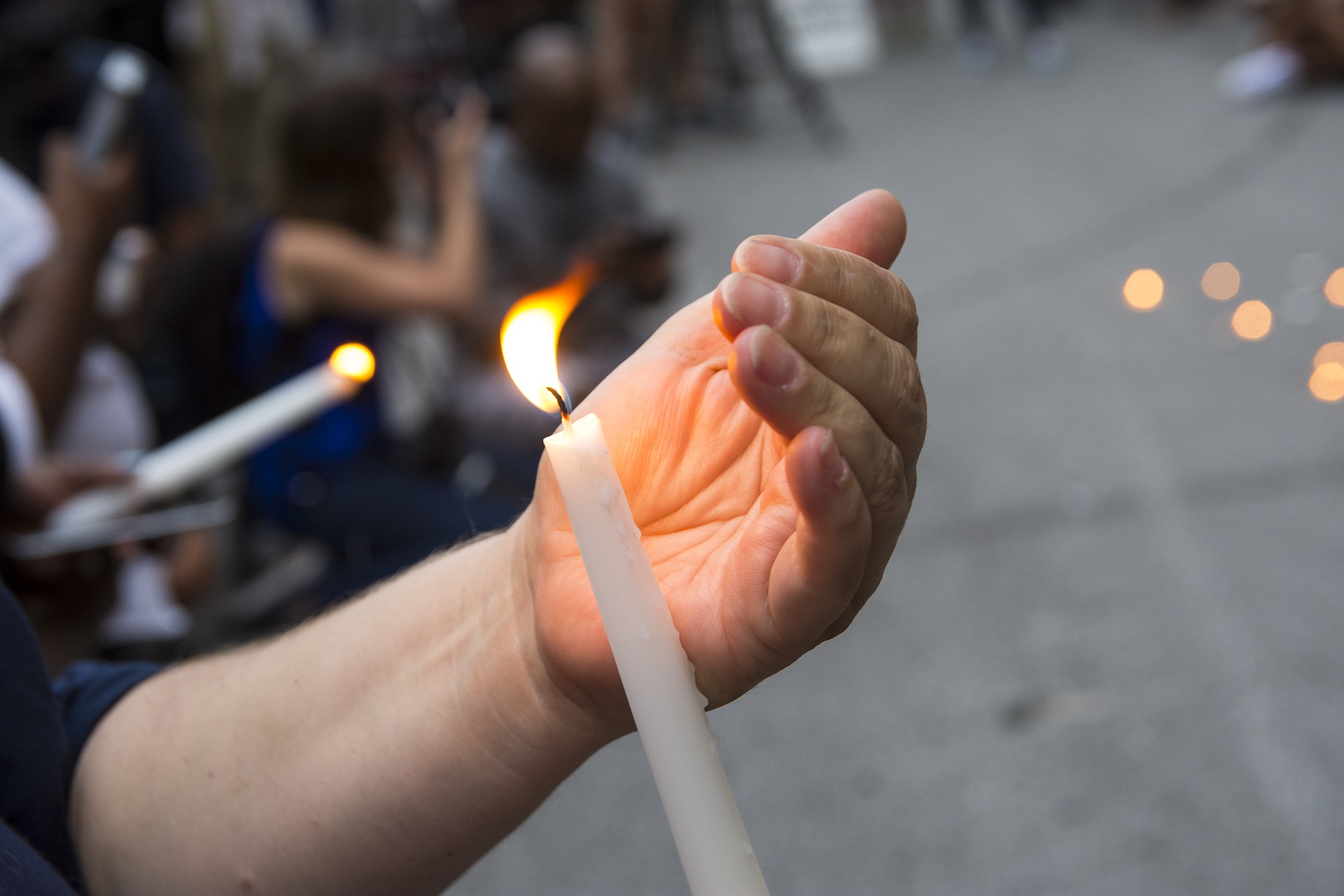 I just missed the major protests of the 1960s, because I was still in high school, but I was well aware of what was happening and why. Most of my information came from television, but that changed suddenly in the spring of 1970, near the end of my junior year, when the four students at Kent State were killed. That entire week, the school almost shut down, and most students sat outside, doing "teach-ins" and sharing our anxiety. Many teachers were sympathetic.
What was most unnerving? The police presence. While they weren't in riot gear, rows of cops stood their ground, clubs at the ready. Our knees shook.
Although there was no social media, somehow the word got out about a candlelight vigil for the murdered students. My good friends Adriana and Sherry were active in what now would be termed social justice. So that evening, we found ourselves on the Caldwell, New Jersey town square, shyly shuffling toward the center of a vigil, holding candles.
I don't remember very much about the ceremony, except that people sang. At least Adriana, who had the best voice, did. What was most unnerving? The police presence. While they weren't in riot gear, rows of cops stood their ground, clubs at the ready. Our knees shook. We were a bunch of middle-class teenage girls, and we couldn't see why we posed a threat. However, the police weren't our friends in that era. Fortunately it was indeed a peaceful vigil and we emerged unscathed.
After that I didn't have any direct involvement in marches and protests during high school or later. (I didn't do well in crowds even before Covid-19.) But, along with friends Adriana and Sherry, the next year I made phone calls in the evening to get people to support the 18-year-old vote initiative.
When I got to Brandeis in the fall of 1971, things were beginning to calm down on campus, although there was a protest here and there. A major source of rebellion was the "blue box" (or was it a black box?), a device that students used to hack the phone system to make calls throughout the world. Also, there was an increasing black student presence on the campus, which created what felt to me like a surreal environment in this Jewish-focused school.
Even though I don't recall any specific incidents or issues, the campus was tense, given the Vietnam war and the racial climate. The Jewish students didn't think I was Jewish enough, whatever that was supposed to mean to them, and the black students seemed hostile to me, although now I can understand why that might be. I hung out with a couple of other "outliers" and was glad to leave the school the next spring.
When I got to Mills the following fall, 1972, it did seem somewhat like a respite from the outside world, although even at UC Berkeley down the road, it was much calmer than in the days of People's Park. The epicenter of activity on campus involved the black students. This was Oakland, after all, and the Black Panthers were very active in the surrounding neighborhoods, mostly in a positive way, with breakfast programs for underprivileged kids. Men dressed in black would come on campus occasionally, and some of our student leaders were at least peripherally involved in the movement.
Most heartbreaking and a relief at the same time was the Vietnam War's end in April, 1975, my senior year. The Vietnamese women at Mills decided that they couldn't go home, and many I know made a life here in the United States. I can't imagine what might have happened to them in today's political environment.
It's healthy (if you'll pardon the irony of that word) that young people are protesting today. For a couple of years I've wondered why we all weren't in the streets, or at least starting a general strike.
And those scary cops at the vigil I couldn't forget? In the early 1980s I was driving in a northern California suburb with my then boyfriend's daughter Kelly and made a U turn in an unfamiliar shopping area. It was safe but illegal, as it turned out, with a No U Turn sign that was partially hidden. A cop roared up on a motorcycle and essentially terrorized us, scaring the heck out of Kelly, citing me, and making me go to traffic school. The instructor at traffic school scratched his head when he read my form ("How fast was vehicle traveling? 5 mph") and asked me what I was doing there. "Cranky cop," I thought to myself.
In the 1990s and after I'd thought that the practices of police had improved until my eyes were opened in recent years. In this case I'm grateful for my discomfort and will do what I can, however indirectly, to improve the situation.
My story isn't really very dramatic, so I'm eager to read more compelling stories from other Retrospect-ers and learn about their direct experiences with protests.
Marian
I have recently retired from a marketing and technical writing and editing career and am thoroughly enjoying writing for myself and others.
Characterizations: well written