Starting college in 1967, protests were part of the experience.  Initially, I went to California State Polytechnic College in San Luis Obispo (Cal Poly) since it was close to home, and as an 18 year old, I did not have many ideas for my future.  All I knew is I wanted a college education that emphasized science and engineering without scrimping on the liberal arts.
My protests at San Jose State. After two years at California's very conservative college, Cal Poly SLO, I went to San Jose State to get a more complete education, including some political action .
However, I did not realize how conservative Cal Poly was at that time.  It had the largest Army ROTC unit in California, and this was during the peak of the Vietnam War.  Being a school with a big agriculture department, most students did not think much of Caesar Chavez and his United Farm Workers (UFW) union.  The UFW was leading a boycott of non-union table grapes.   One of the San Luis Obispo supermarkets refused to carry non-union grapes.  That lead to a protest in front of that market, complaining that all grapes should be available.  In fact, one of my roommates was pictured on the front page of the local paper with his sign at this protest.  Finally, then governor Ronald Reagan came to Cal Poly for a meeting of the California State College trustees.  After the meeting, he came out on the balcony of the building was held, waved to the students, and received a warm greeting. It was so tech oriented, the English degree was a Bachelor of Science.  It is now a Bachelor of Arts degree.
After two years at Cal Poly, I decided it was time to move on and transferred to San Jose State College (now San Jose State University).  It was a college with most student's political views that were closer to mine.  SJS had many other advantages for me too, such as good liberal arts departments and a more diverse student population.
When I arrived at SJS, within one month, there was a big march in San Francisco to end the Vietnam War and bring the troops home.  Another followed in a month.  I went to both of them with students that I lived with at the time.  These friends were chemistry and engineering students.  At SJS, very few of us wanted a vacation (?) in Vietnam.  Some other students were veterans, and certainly gave me a clear view of the insanity of that war.  Additionally, many of us knew peers that had died there.  Then, in my final year, Cambodia was invaded by American troops. More protests erupted. Most were contained to the campus, and were mild.  The administration tried to do their best to accommodate the students and it remained peaceful.  One of the unfortunate things was the president of SJS decided to retire, since he did not want the head aches any more.  By the time I graduated and started working, very few protests occurred.
Today, in my 70s, I rarely go to protests now (I went to one anti-Trump protest in San Jose). However, my younger son has been very active in anti-Trump and Black Lives Matter protests.  I am happy he cares enough about America to go to and organize these protests.  I am certain his late mother would approve too.  I guess I can say to him "Carry It On".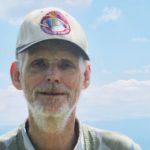 Joe Lowry
I was a child that moved so often, (8 elementary/middle schools) and finally went to to high school in Arroyo Grande California. I ended up at San Jose State University graduating in Chemistry, minor in Biology. Got married, and had two sons. Unfortunately, my wife passed 35 years later. I worked initially in the pharmaceutical industry. After being down-sized, I ended up in the aerospace field, working on satellites. I still live in the San Francisco Bay Area.
Characterizations: right on!, well written