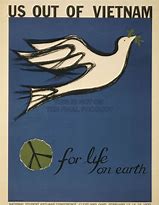 Being a radical in the 1960s was not just about sex, drugs, or rock n' roll, although there was plenty of that. The resistance against the war could be terrifying, frustrating, and exhausting, but it was a joy and a privilege to live amid such intensity, passion, ingenuity, and joy. Why privilege? Because, even in the midst of weirdness and chaos, I knew what was happening. Or so I thought.
The great river of class, culture and convictions afforded me a way out.
But maybe I didn't understand how the disparities of class and culture played out until I graduated. The comfortable umbrella of my student-exempt draft status dissolved and zoom! I became cannon fodder with the rest of the guys.
I had already vowed I would never fight in Vietnam. They could put me in jail, or I'd split for Canada. One, two, three four, I won't fight your dirty war. But despite my boisterous resolve, I didn't want to go to jail and I didn't want to split for Canada. But the great river of class, culture and convictions afforded me a way out. I would apply for conscientious objector status.
In 1967, few Americans knew what a conscientious objector was. Selective Service defined it as "a firm, fixed, and sincere objection to participation in war by reason of religious training or belief." All I had to do was go up before my local draft board and prove the sincerity of my objection. My family had attended Quaker meetings for years and the Quakers are pacifists, but I wasn't religious. Spiritual, maybe. Still, I wrote up my argument and appeared at the New England town hall where the selective service draft board kept its chopping block and cleaver.
That evening, I walked into the musty town hall. Portraits of wigged and whiskered town fathers gazed down from the dark paneling. Late afternoon light filtered through high windows. A carpeted aisle catapulted me toward the tribunal. There they sat, high on a dais, my local draft board, three straight-nosed, ruddy-faced Yankees corseted by Brooks Brothers blazers, punctuated by school ties.
I stood before the Brothers Brooks, sweat soaking my collar, mouth full of ash. Under my own blazer, my armpits ran rivers. I felt like Kafka's Josef K, pursued by a remote authority in The Trial. A grandfather clock ticked ponderously in the corner.
Whistling softly, a crew cut gent with a bowtie leafed through my selective service record. "Just graduated, eh?"
"Yessir."
"Harvard, right? What house?"
Damn, I thought. I'm trying to make a life-and-death point here. I'd poured my soul into this argument. I'd drawn on every ounce of education, experience, and youthful conviction, invoked Thoreau, Emerson, Mahatma Gandhi, Wilfred Owen I'd set out to convince these guys that war is not only hell, but useless and immoral. And these guys wanted to know what Harvard house I lived in? Damn.
An age-spotted hand signaled me to get on with it.
"War is a serious matter," I began, voice quivering, "with bitter consequences for both the victor and the vanquished…"
"The what? What's that?" A Brooks Brother cupped a hand to his ear.
Oh wow, I thought. This guy is deaf. By the time I finished hollering for peace, my voice had stopped shaking but I felt light-headed. The bloody mary I'd chugged earlier to calm my nerves threatened to come up.
The Brooks Brothers leaned in, blue-blazered shoulders hunched, and began to mutter. Finally, they straightened up, folded their hands, and looked down upon me.
"We've decided to grant you status as a conscientious objector. You will need to register with the clerk in the morning."
"Don't he have to do community service?"
"I'm sure he'll find something suitable."
Hell yeah, I thought. I'll find something suitable. I was headed to San Francisco to join a radical theater troupe. Community service that, old guys. But on that night, I was one of them. I would not be going to Vietnam. One of my high school buddies might take my place. Some of had already gone.
On that warm May evening so long ago, had a great injustice had been done. Had I betrayed my less entitled peers? True, I vowed to rail against the inequity of my acquittal and right the wrongs of war, regardless of cost. I stayed true to my plan to emigrate to San Francisco and join a guerrilla theater company in the gathering storm of the revolution. I did conspire to overthrow the government of the United States through theater, music, and film. But, in doing so, did I betray my peers, young men who went off to Vietnam to kill and be killed? You decide. Leave a comment below. Thanks.
#   #   #
Charles Degelman
Writer, editor, and educator based in Los Angeles. He's also played a lot of music. Degelman teaches writing at California State University, Los Angeles. 
Degelman lives in the hills of Hollywood with his companion on the road of life, four cats, assorted dogs, and a coterie of communard brothers and sisters.
Characterizations: been there, right on!, well written