No matter how many times I've seen it, if I happen upon it while channel surfing, I get sucked into it again. Tight writing and directing that doesn't miss a beat, top-notch actors with believable chemistry, an evocative sense of time and place, great cinematography, and unforgettable music…such movies often define an entire genre.
For all or most of those reasons, my Top 12:
Blade Runner
Chinatown
Dirty Dancing
Ferris Bueller's Day Off
High Fidelity
Out of Africa
Primal Fear
Pulp Fiction
The Assassination of Jesse James by the Coward Robert Ford
The Big Lebowski
The Game
Thelma & Louise
Urban Cowboy
///
RetroFlash/100 words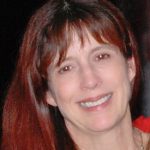 Barbara Buckles
Artist, writer, storyteller, spy. Okay, not a spy…I was just going for the rhythm.
I call myself "an inveterate dabbler." (And my husband calls me "an invertebrate babbler.") I just love to create one way or another. My latest passion is telling true stories live, on stage. Because it scares the hell out of me.
As a memoirist, I focus on the undercurrents. Drawing from memory, diaries, notes, letters and photographs, I never ever lie, but I do claim creative license when fleshing out actual events in order to enhance the literary quality, i.e., what I might have been wearing, what might have been on the table, what season it might have been. By virtue of its genre, memoir also adds a patina of introspection and insight that most probably did not exist in real time.
Characterizations: right on!, well written