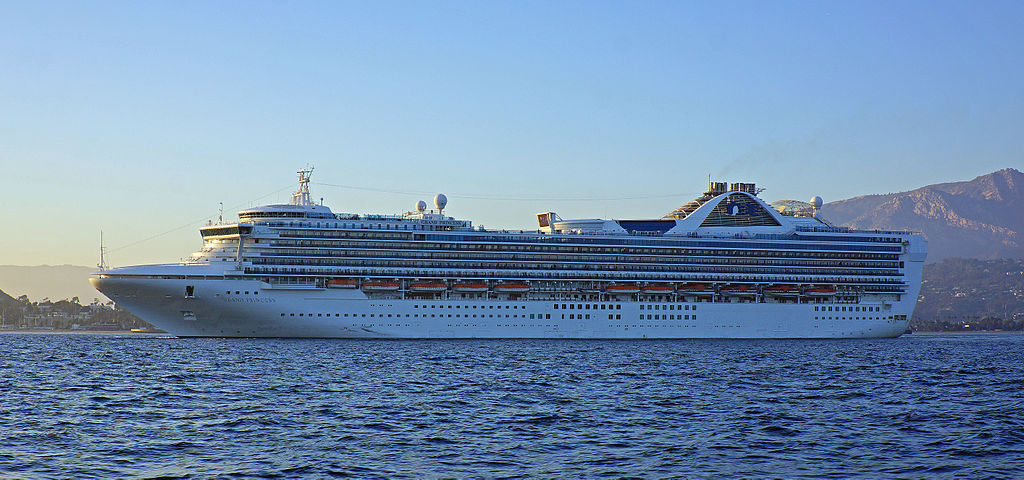 Last week, before the lockdown, I went to Oakland to check on my mother and make sure her senior residence was taking appropriate precautions (good news, they were). My mother lives in a high-rise building in her own independent apartment on the 16th floor, looking west over the city to the bay, and on a clear day, to San Francisco and Mt. Tam. When I entered her apartment, she said, "Come over to the balcony, you need to see something." There, in the port of Oakland, was docked the Grand Princess, with most of the passengers still quarantined on it.
What a bizarre intersection of a vacation from hell with a pandemic-stricken ship.
Some degree of PTSD quickly kicked in before my rational brain took over and I exhaled, considering how lucky we had been. You see, my partner Dick and I were on the Grand Princess in November, on the exact cruise to Hawaii where the COVID-19 virus hit. My story originally would have been entirely about the traumas of Dick getting very ill on that cruise and how we ultimately made it back. However, given where we are now, we were so fortunate to have returned safely. What a bizarre intersection of a vacation from hell with a pandemic-stricken ship.
We had been on about 10 cruises over the years and enjoyed them all. With Dick 20 years older than I and having difficulty walking, plus heart and lung issues, we hadn't taken a vacation in a while, and we were tired of dealing with airports. So, when the opportunity to take a cruise from San Francisco to Hawaii and back presented, it seemed like a very safe bet. After all, we'd be relaxing back and forth on the calm Pacific Ocean, have a few trips on the islands, and then cruise back. What could go wrong?
Turns out things immediately began to go wrong. Our room, which we'd selected because it was close to the aft elevator to help Dick's walking, was the smallest I'd ever been in, with extra beds with metal edges attached to the side walls. Almost immediately, I stood up into the metal edge of one of the beds and hit my head so hard I saw stars. The ship was three hours late departing because of a supply delivery problem, so instead of being on deck looking at the horizon to get my sea orientation, we were at dinner by the time we sailed. The captain accelerated the speed to make up time, and the ship began to rock.
The next morning I woke up feeling sick and thinking I had a concussion. Turns out that about half the ship was down in sick bay by the time I arrived with what was seasickness. I'd never been seasick on a cruise ship before. The nurses handed out medication like dinner mints, and we were advised to stay low and midship, so I spent most of the next two days either asleep on a sofa in one of the bars, or ordering ginger ale.
The middle of the trip proceeded without major incident, and we did get to go to Pearl Harbor and enjoy the other islands. The evening after we departed from Maui, Dick started becoming feverish and was shaking, and was so ill that the next morning I called the EMT to take him down to sick bay. There I spent most of the rest of the cruise with Dick while the doctors tried to figure out what was wrong. We'll never know exactly what caused the problem except that he got some sort of bacterial infection that then taxed his heart.
The young doctor, who at first was arrogant, began to warm up to me because of my extensive familiarity with all of Dick's medical conditions and medications, which helped in his treatment. Orders were that when we made a short stop in Ensenada, we had to get off the ship and be transported via Mexican ambulance to a hospital in San Diego. That trip is a story in itself, but eventually we were transferred to an American ambulance at the border and finally made it to an excellent hospital.
There Dick underwent a full cardio exam, and after a couple of failures, a third antibiotic worked on his infection. I was at a hotel about five minutes from the hospital. After three days, Dick was released from the hospital, and we spent another two days in the hotel before the travel insurance cleared us to fly home to San Jose, accompanied by a nurse. We arrived home three days after our scheduled arrival in San Francisco.
None of what happened to Dick, or even the COVID-19 epidemic, was the direct fault of any individual, the Grand Princess, or the cruise line. But, seeing that ship in the port of Oakland symbolized the end of an era–one that was manic, overstimulated, and took too much for granted.
So now it is spring, and in this shelter-in-place world, each day is different. Here in Santa Clara country, we have been at the front wave of this virus for some time, so what's happening doesn't seem as shocking as perhaps others are feeling now. The virtual world is very helpful. My poetry group is migrating to Zoom meetings. There are ebooks, audiobooks, and streaming. Yoga and exercise classes are on YouTube. The Retrospect community has taken on deeper meaning. We can get through this time financially, but I'm worried about others–our gardeners, our house cleaner–and am trying to figure out what I can do to help.
If technology is removed from this equation, the world here seems as if it strangely has gone back 50 years or more. The ambient noise from cars and airplanes has nearly vanished. When I walk outside, to the levy above the nearby river, or even around the neighborhood streets, I hear birdsong that previously would have been drowned out. We are eating more fundamentally and mindfully.
Although I have weeks of projects I can do, I am becoming more comfortable with just "being" at a slower pace and not doing that much. Maybe there is a lesson in that and some good that can come out of this situation. And, most important, even though we can't see friends and loved ones in person, we are connecting with them more and don't take a single person for granted.
Marian
I have recently retired from a marketing and technical writing and editing career and am thoroughly enjoying writing for myself and others.
Characterizations: moving, well written