As far back as I can remember I dreamed of traveling. There were so many places I wished to see. The term "bucket list" had not yet even been thought of but had it been, I would have needed a "bucket wheelbarrow". Over the years I have been blessed to have traveled to many places around the world. Some trips involved auto racing, some competing in The Olympics, some fishing or hunting while others were for pleasure or business, all of which remain as cherished memories. But recently my girlfriend joined me on what was a very meaningful journey of sorts.
It's amazing to me that this journey began over 50 years ago. When I was 14 years old my father and I drove from Oregon to Yellowstone Park which in those days was on everyone's bucket list. After spending a week there we drove on down to Colorado to visit my favorite aunt and uncle. I have such fond memories of my aunt and uncle and the time we spent with them and all the moments we shared. When my uncle realized my exuberant passion for fishing he invited me into his den. I recall how my heart felt as if it stopped and standing there with my mouth wide open in awe. His den was filled with fishing rods, photos, fish nets and lots of other fishing paraphernalia including a large table in the center of the large room covered with fly-tying selections of lots of beautifully colored flies. Later that evening my uncle brought me a small paper box with about 20 beautiful hand tied flies inside. He said, "Gary, here's a little something for you. If you ever come back to Colorado be sure to bring these. I guarantee these will catch the big ones." I thought I had died and gone to Heaven and that I had just been given the most wonderful gift in my life.
On the long drive back to Oregon, every time my father drove along a river or stream I couldn't help but sit up and look for a good spot to try my new flies that my uncle had gifted me. For years all I could dream about was returning to Colorado some day to try out these flies and hopefully land a big trout.  For 50 years I managed to keep that small box of flies in a safe place and from time to time found myself opening it and remembering how much they meant to me, as well as the rush I got when my uncle handed them to me and most important of all, reliving that dream of someday returning to fish with them in a Colorado stream.
Having been personally involved with auto racing and an Olympic sport, I had been to Colorado multiple times over the years but somehow finding time to fish there kept eluding me until recently. A couple of months ago my girlfriend and I made arrangements to fish in the beautiful world-class Conejos River in the south of Colorado and it was while getting our fishing gear together that once again I stumbled over the box of flies. It was then that I realized I was very close to crossing something very meaningful off my bucket list. I sat the box of flies aside making sure I wouldn't forget them. Over the next few days I began reminiscing my uncle and how long I had dreamed of using the flies. I found myself wishing he was still alive so I could ask him which streams he enjoyed fishing at in Colorado so many years ago. It was then that I decided to call my aunt to find out if she knew where that might have been.
One evening while dialing my aunt's phone number I was startled to find her number had been disconnected. It was then that I began to worry about all of the what ifs. Unfortunately after a few investigative phone calls my worst fears were realized as I learned my favorite aunt had just recently passed away. While expressing my sympathies to a close family member I mentioned why I had been attempting to reach her. With his help and knowing she had remarried many years after my uncle had passed away I was able to get her widowed husband's phone number and called him. He was a retired doctor and a fine gentleman and we had a wonderful heart-felt conversation. When I mentioned the story of the flies and my hope of speaking to my aunt to find out where my uncle used to fish I was surprised to learn that not only did this gentleman know where my uncle used to fish, but in fact used to go fishing with my uncle. You can only imagine my surprise when he began telling me how he was best friends with my uncle long before he passed away and the many times they went fishing together. He said, "Not only do I know what rivers he liked fishing, but I can tell you exactly where we used to camp and what sections of the rivers he fished." Then he said, "There were three favorite rivers we fished, one of which was the favorite stream of none other than John Denver, The Conejos River."  I couldn't believe my ears!
Call it fate or call it destiny but there seems to be times when our travels take us places that were just meant to be and somehow the plans for these journeys began falling into place even decades ago. As fate would have it, my uncle was absolutely right, the flies he tied 50 years ago caught big trout and while we were there, my girlfriend tied a beautiful bouquet of wildflowers which we floated gently down the stream as what seemed like a fitting tribute to both my aunt and uncle. It seemed that somehow everything had come full circle.
i
John Steinbeck once wrote, "A journey is a person in itself; no two are alike. And all plans, safeguards, policing, and coercion are fruitless. We find that after years of struggle that we do not take a trip; a trip takes us."   All travels are special and some more meaningful than others but once in awhile there are journeys like this one that seems to stand out and become more like a moment that should be placed upon a pedestal and cherished for eternity.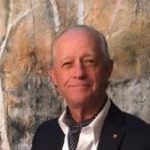 Gary Faules
Gary Faules is a former Oregonian who still holds records as a former Olympic skeet shooter, racecar driver and team owner and competed in the world famous 2007 La Carrera Panamericana. He has traveled the world as both a big-game hunter and angler and has been a freelance writer for both racing and automotive as well as sport shooting publications not to mention his latest book I Slept In Africa made The Forbes Book List. Seeking adventure is only second nature as he continues his dream of living life to the max since almost being left blind as a child due to a freak accident. Gary has been the recipient of numerous awards, several being congressional recognition awards for helping others. A once retired CEO of his own corporation, Gary continues to work and lives near San Francisco, California, where he spends much of his time enjoying the love of his life and waiting for the next adventure so that he can continue the journey.
Characterizations: moving, well written