Our oldest son was a junior in high school when a call went out to house an exchange student from Slovakia. Bringing RK into our home was an unexpected delight. He was a wonderful addition to the family dynamic that year. Plus, his appetite insured we had no pesky leftovers cluttering the fridge!
His appetite insured we had no pesky leftovers cluttering the fridge!
A few years later my husband attended a conference in Budapest and my mother in law and I came along. It was very early spring. We took the season's first hydrofoil up the Danube, to Bratislava, Slovakia. RK's family was so grateful for our hospitality, they were eager to show off a country not well known to tourists.
Their family home had been reclaimed after having been occupied by bureaucrats during the Communist regime. We went to the top of a hill to tour the old castle, and looked across the river to the stark legacy of cheap and ugly Communist era housing that they lament as a blight on an otherwise beautiful old city. In the evening we attended the opera. I was looking forward to reading the supertitles..duh..they were in Slovak! Family friends owned a winery, and they arranged a private tasting. Three hours later we emerged, dizzy from sampling 18 bottles and eating heavenly local smoked meats and fresh vegetables in a cellar..just part of them showing hospitality. One wonders what they make of the Napafication of that ritual with rushed, paid tastings in glitzy surroundings. Anyway, we still shake our heads at the silly spectacle we made hauling a case of wine back to California during the rest of that trip!
We have been fortunate enough to travel the world through the years. Bratislava will remain a highlight thanks to the personal connection with a special family.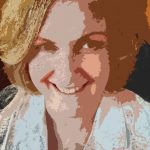 Susan
Characterizations: been there, well written