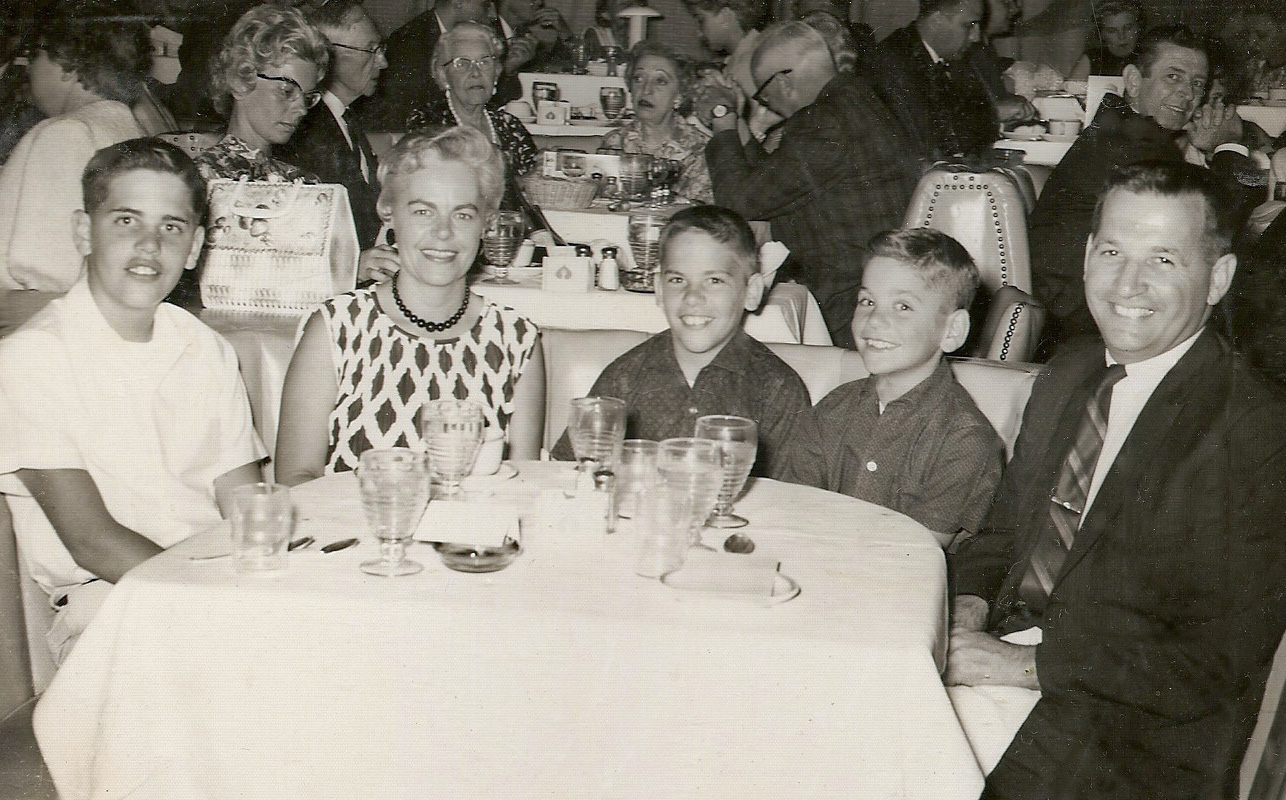 My dad loved Las Vegas. The glamour and sass, the bravado. He loved the chiming bustle of the casinos, the celebrity spotting, the chance to briefly feel like a big shot and maybe score a few quick bucks at the gaming tables.
Vegas was totally different in the early '60s. With 100,000 residents it had one twentieth the population of today, and while it had a certain tacky sheen it hadn't approached the aggressively grotesque grandiosity you see today. It was quieter, more modest, less inclined to force itself down your throat.
Dad grew up in Chicago, and carried with him the raw, uninhibited grit of that city. I think he was out of place in California, even after he'd lived here 50 years. His buddies were Italian American, rough around the edges, and they'd all migrated, like him, from the Midwest or East Coast. You had Cado Castorelli, the grocer who brayed like a donkey and lived beyond his means; Rocco Calabrio, the all-seeing barber with the soft voice and Don Ameche moustache; and Vinny Manetti, who ran a TV repair shop and had daughters named Amelia and Philomena.
Dad's buddies had connections in Vegas, the possible implications of which didn't occur to me at the time. In the 1960s, the Mafia ran that racy town. Once a year, Dad took our family to Vegas for a weekend vacation but curiously never booked a hotel in advance. We'd rise at 4 a.m. to avoid driving in the midday Mojave Desert heat and arrive four hours later at the Riviera or the Sahara, both classy joints on the Strip. Inside the air-conditioned lobby with its shiny mid-century décor, Dad would approach the front desk and drop the name of somebody who was a very good friend of somebody else. An assistant manager would glide out from behind a wall, smooth and glossy. "How are you, Marv? Yes, I believe we can accommodate you and your family."
I'm not saying Rocco, Cado and the rest of Dad's Italian buddies were actual wise guys, but in my fertile imagination they might've had connections to the lower rungs of that flashy extended family that dominated Vegas. Maybe.
A weekend in Vegas was our family's once-a-year slice of living large. In the daytime Dad shot craps and played poker in the casino. Mom read books at poolside and my brothers and I swam in the enormous pool and squabbled. There was something fun and something charged — literally — about staying in a big modern Vegas hotel: if you scooted your shoes along the hallway carpet and then pressed the elevator button, you'd get a tiny shock.
At night Dad treated us to dinner and a big-ticket nightclub act in one of the showrooms along the Strip. He loved playing big spender and when we arrived he would slip the maitre d' a twenty-dollar bill – $178 in today's currency – to secure a good table near the stage. Once settled in a posh banquette he'd sit up straight, shoulders back, and wink to acknowledge the grandness of the occasion. In a formal voice reserved for such occasions he'd say, "What do you wish?" to my brothers and me, inviting us to select from a menu of lobster, filet mignon, sweetbreads and flaming desserts.
We saw Johnny Carson do his nightclub act one year, Donald O'Connor the next, and in 1966 caught Bobby Darin and an unknown, opening-act comic named Richard Pryor. The Vietnam War had started and when Pryor did a silly bit that night about a sailor on a submarine, the inebriated mother of a deceased soldier stood up in the audience, shouted "Up yours!" for disrespecting servicemen and stormed out. Pryor never recovered his cool and his set was ruined.
In the early '60s, the era of Ocean's 11 and the Rat Pack, Vegas was totally different. With 100,000 residents it had one twentieth the population of today, and while it had a certain tacky sheen it didn't approach the aggressively grotesque grandiosity you see today. It was quieter, more modest, less inclined to force itself down your throat. The Desert Inn resort had a country club ambience and its own golf course. The town wasn't overbuilt: along the Strip between the Sands and the Flamingo, the Stardust and the Tropicana, there were still vacant lots with tumbleweed and creosote bush. Instead of nonstop glitz you'd also see liquor stores, gas stations, a drive-in movie theater and several low-priced motels – the Tallyho, the Lotus Inn, the Wagon Wheel – with promises of frosty A/C, silver dollar jackpots and cheap steak-and-eggs breakfast.
One afternoon Dad took us to the Desert Inn where Phil Harris, fresh off a golf game, was holding court and laughing like a bon vivant in the lobby. Nobody knows who Phil Harris was any more, but he was married to movie star Alice Faye and did the voice of Baloo the bear in Disney's The Jungle Book. Vegas was much more relaxed in those days, the stars a lot less cautious. One year I saw Phyllis Diller enter the back door of the Sahara near the parking garage, looking like a tourist with a big bunch of shopping bags. I was even more entertained when Eddie Gevirtz dove into the pool at the Sahara. Gevirtz was a wacky Los Angeles TV personality who owned Regal Furs and hawked his pelts on the local pro-wrestling telecasts. He was a furrier by trade, which struck my brothers and me as hysterically funny when we saw his hirsute body in swim trunks.
I was starstruck as a kid. One year at the Riviera Peggy Lee was headlining and somehow I discovered her room number. Full of chutzpah, I left a large picture postcard under her door asking for an autograph with a special request that she have it delivered to my room. Today she'd be ensconced on the edge of town in a gated community, or in a secure hotel penthouse with a private elevator. And here's an interesting footnote: the following year our family stayed again at the Riviera and Liberace was headlining. I remember looking out the window of our hotel room and seeing the name of his opening act on the marquee: an up-and-comer named Barbra Streisand.
That was the summer of 1963. I knew who Streisand was — she'd been on The Ed Sullivan Show and The Garry Moore Show and her first album was rising on the charts — but I didn't know enough to urge my parents to take us to see her in her first Western U.S. appearance. Years later I read that Liberace had championed Streisand, insisted she open for him at the lavish Versailles Room. When the Vegas audiences, who didn't know her, chattered during her set, Liberace decided to walk out on stage at the top of each show — probably in a red-sequined tuxedo and voluminous fox fur coat — and introduce Streisand as his exciting new "discovery." With an emphatic stamp of approval from the world's highest-paid entertainer, the blue-haired Liberace diehards got quiet and paid respect to the unusual girl with the Modigliani face and amazing voice.
I don't have much interest in today's Las Vegas. On every level it's too much. The crowds, the traffic, the vulgar one-upmanship, the 120-foot-long stage at the Colosseum at Caesar's Palace. Everything is inflated, designed to eclipse what came before. I prefer my memories from the early '60s when Vegas, even though it seemed brassy and opulent at the time, was tiny and simple compared with today.
Edward Guthmann
Characterizations: moving, right on!, well written