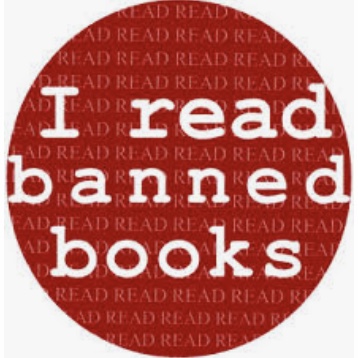 I read banned books – to protest their banning of course,  but also because they're invariably such good reads!
As you may know,  countless modern classics have been banned or challenged at one time or another,  among them The Adventures of Huckleberry Finn,  As I Lay Dying,  Beloved,  The Catcher in the Rye,  The Color Purple,  The Good Earth,  The Grapes of Wrath,  The Great Gatsby,  The Handmaid's Tale,  Heart of Darkness,  Lady Chatterley's Lover,  Lolita,  Lord of the Flies,  Naked Lunch,  1984,  Of Mice and Men,  One Flew Over the Cuckoo's Nest,  The Satanic Verses,  To Kill a Mockingbird, Tropic of Cancer,  The Unbearable Lightness of Being,  and Uncle Tom's Cabin.
And of course the book often called the greatest novel of the 20th century was banned,  deemed pornographic,  and the subject of a famous 1921 censorship trial –  James Joyce's masterpiece Ulysses.   (See  My Love Affair with James Joyce)
Translated into more than 20 languages,  Ulysses has spawned thousands of critical studies,  college courses,  doctoral theses,  workshops,  panel discussions,  readings,  literary celebrations,   and stage and screen adaptions.
In a fascinating work entitled The Most Dangerous Book: the Battle for James Joyce's Ulysses,  Harvard professor Kevin Birmingham discusses the writing,  legal fights,  and eventual publication of that amazing and revolutionary novel.
But are banned books – like Ulysses – really dangerous?   I guess you'll just have to read them yourself and decide!
Dana Susan Lehrman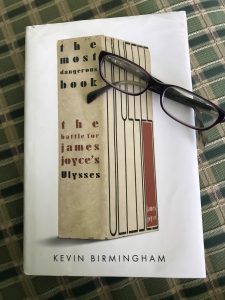 Dana Susan Lehrman
This retired librarian loves big city bustle and cozy country weekends, friends and family, good books and theatre, movies and jazz, travel, tennis, Yankee baseball, and writing about life as she sees it on her blog World Thru Brown Eyes!
www.WorldThruBrownEyes.com
Tags: Banned books
Characterizations: moving, right on!, well written