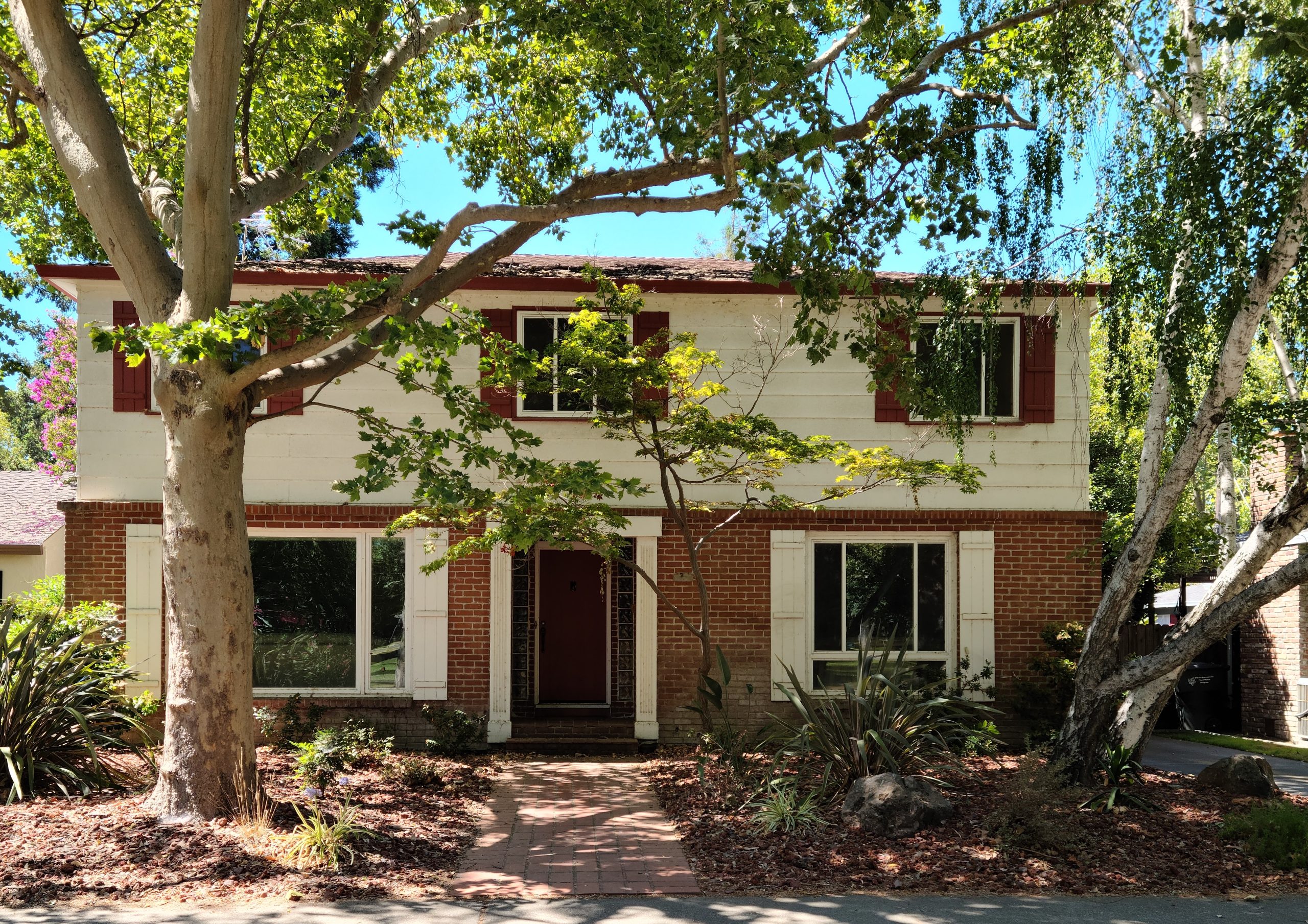 My house is the first thing that comes to mind that is older than I am. It was built in 1946, which is not very old by East Coast standards, but is old by California standards, and five years older than I am. When we were looking for a house to buy, back in 1992, I only had a few requirements, but one of them was that the house had to be older than I was. Nothing built in the Fifties or later was acceptable. What were my other requirements? It had to be two stories, with four bedrooms, a two-car garage, a fireplace, and a swimming pool. And I got them all. The hardest one to satisfy was the two stories – the vast majority of houses around here are one story.
I walked around the house looking for antiques. We have a few, but I don't own any of them. However the house is older than I am.
I didn't inherit any antiques from my parents, as so many of you did. They were not antique collectors, and any furniture I might have wanted was too cumbersome to move to California. I did get three pieces of art, but I'm not sure how old they are.
I do have two other possessions that are older than I am, which I value greatly. They are the two diamond rings that I wear all the time. One was my grandmother's, and the other was my husband's grandmother's.
For many years I was adamantly opposed to wearing diamonds, for political reasons. Knowing about the DeBeers Mining Company, their monopoly on diamonds, and their history in South Africa and connection to apartheid made them unpalatable. If diamonds were mined by oppressed and disenfranchised black workers, I certainly didn't want anything to do with them. With each of my prospective husbands, I made it clear that I did not want a diamond ring. But then a couple of things changed. Apartheid came to an end in the 1990s, and the conditions in South Africa began to improve. And then in about 2006, the third of my three previous engagement-type rings, which all had opals for their stones, cracked. This had happened with my earlier opals as well, because opals are just too soft to be in a ring that is worn all the time. Diamonds, the hardest naturally occurring substance on earth, suddenly seemed like a better alternative.
Diamond from Russia
I wondered if our family had any extra diamond rings lying around, and asked my mother. She said that she had two diamond rings that had been my grandmother's. The diamonds had been smuggled out of Russia when my grandmother and her parents left, probably along with other gems, sewn into the hem of their garments, and then set into rings in this country. She offered to bring them both to my daughter Sabrina's graduation from Wells College in May 2007, and I could take my pick. So this is the one I chose. It originally had two little sapphires on either side of the diamond, but one of them was missing, so we ended up having the diamond reset. Not sure what I did with the remaining sapphire, but I'm sure I have it somewhere.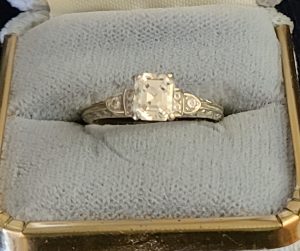 More diamonds
I'm not sure whether it was before or after I acquired my grandmother's ring, but around the same time, my husband and I went to the bank and opened our safe deposit box, either to put something in or take something out. While we were in the little room that they give you to look at your box in private, we started checking out what else was in there. I saw this ring, which has little diamonds all the way around it, and decided to try it on. It fit perfectly! I asked my husband where it had come from, and whether there was a story behind it. He knew that it had been his maternal grandmother's wedding ring (she was the Molly after whom our daughter Molly is named), but didn't know any more. He asked if I wanted to wear it, and I said yes. I would love to say that he got down on one knee and proposed to me all over again while slipping it on my finger, but I'm pretty sure that didn't happen. However, that's how it will go in the movie version!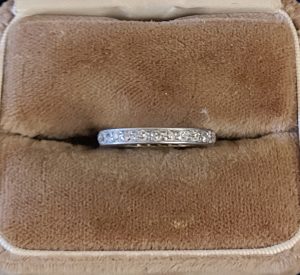 Books
Finally, I also have some children's books from the early 20th century which are very dear to me, as discussed in Goodbye Yellow Brick Road, and my mother's copy of Gone With the Wind from 1937 that is almost a First Edition. "Almost" doesn't make for a very good story though.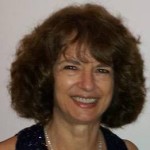 Suzy
Characterizations: been there, funny, right on!, well written