With the exception of walking when working downtown, briefly, when I lived in the Boston (while pregnant with David), and taking the bus in Chicago, I always drove to work. During my many years in sales, I either flew to out-of-town appointments and rented a car, or drove to see clients, using my own car.
As a child of Detroit, cars never meant much to me, as we always had a new model in the driveway. Not until we got our first BMW 533i in 1983. I had to learn to drive a stick shift when Dan bought his first BMW (a 320i) some years earlier, but this was my first love affair with a car. It felt like a rocket and I loved driving it. It was white with blue, leather seats, plush, but sports-like. I felt in command of the road. I listened to rock music, changing to New Wave radio when I crossed into Connecticut.
I often drove to Hartford and had no problem cajoling the business consultants from my company to come along with me. They would demonstrate the product, answer client-specific questions about how the product might be implemented for individual needs, and add general depth of knowledge after my initial call, if I felt there was real potential to make a sale.
I'd offer to let them drive. Even the president of the company came along once. He had a fancier model of BMW, but enjoyed driving mine. The upper echelon at the company teased me, "You're making too much money if you can afford that car". (It soon became our only car, as Dan was involved in an accident with my VW Rabbit, and we found, living in Boston, we only needed one car. When in town, he walked to work. Mostly, we both traveled a lot.)
It was a sad day when we traded in that car. We have driven BMWs for more than 40 years, but not one has meant as much to me as that one did.
(A musical offering from a Boston band appropriate to the era of my car.)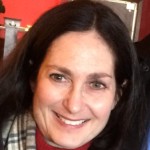 Betsy Pfau
Retired from software sales long ago, two grown children. Theater major in college. Singer still, arts lover, involved in art museums locally (Greater Boston area). Originally from Detroit area.
Characterizations: funny, well written