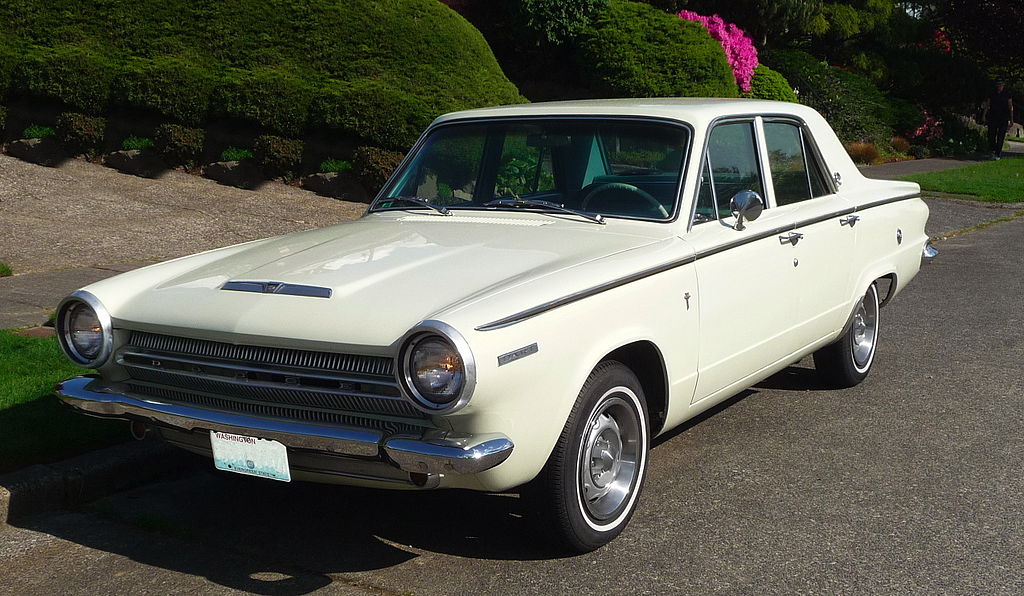 My learning to drive was relatively uneventful, very typical of a teenager in northern New Jersey at the time.  We were fortunate to have driver's ed in school, complete with a dedicated car. I remember one of the gym teachers was the driver's ed teacher, and he would gently coach me to "give it more gas." Most of my learning time I spent with my father in a 1964 Dodge Dart. He would take me to an empty parking lot on weekends so I could practice parallel parking and K-turns (I think Californians call them 3-point turns). The biggest quirk of the Dart was its set of push buttons on the dashboard, which was the automatic transmission. My dad prohibited my mother from being in the car when I was learning. She was (and still is) an anxious and impulsive person, and my dad was afraid I couldn't learn if she was present. He probably was right. I passed the test and got my license shortly after my 17th birthday in the late spring of 1970.
I knew I really wasn't supposed to take the car to the beach, but the temptation was too much.
Through the end of the school year I didn't drive that much because of the school rules–we weren't permitted to drive to school during regular hours, only on weekends or evenings, after the last "late bus" left. That July, my parents went on a trip for a week, and my younger brother was at summer camp, so I was on my own. My two closest friends, Adriana and Sherry, suggested we visit another friend, Debbie, down the shore at Beach Haven. (For those folks not from New Jersey, "down the shore" refers to the long strip of Atlantic coast beaches.) Debbie's mom had a beach house, and she would chaperone, and we could stay overnight.
I knew I really wasn't supposed to take the car (this one a 1967 Dodge Coronet) to the beach, but the temptation was too much. Before picking up Adriana and Sherry, I went to the local gas station, had them do a "full serve," check the oil, etc, as if I was going on a cross-country trip. All the way down the Garden State Parkway, I was careful to observe the speed limit and all driving rules. Good news was that the trip back and forth was uneventful, and we had a great time at the beach. I would be back home before my parents returned.
One thing I hadn't counted on–the sun at the beach. Adriana was half Puerto Rican, Sherry French Canadian, and Debbie had black hair and olive skin. All three got beautiful tans. My super-fair skin let me down–as soon as I got home, I was lobster red and was covering myself with Noxzema, which did little and made me smell bad. When my parents got home, my dad took one look at me, and I knew I was busted. Here goes, I'll be grounded for the rest of the summer, I thought. He paused for what seemed like forever. Finally, he shook his head and smiled, and said, "I assume you drove responsibly." Meekly, I nodded, and that was the end of the incident.
In my 20s, two different boyfriends tried to teach me how to drive a manual transmission, with mixed results. By then I was in California, and while I was staying with my parents between my sophomore and junior years in college, Harry took me out in his Opel Cadet. Unfortunately my parents lived at the top of a very steep hill, and Harry was worried about the Opel's transmission, and I never did successfully drive up the hill. The next time, about four years later, Hugh took me out in his sister-in-law's 1962 Rambler, a big powder blue tank of a car with a column shift. It was intimidating, but he said, "Look, this thing is so heavy that if you hit anything, the Rambler will win." I did manage to make my way around with just the occasional stall. However, I doubt I could remember how to drive a manual today.
Marian
I have recently retired from a marketing and technical writing and editing career and am thoroughly enjoying writing for myself and others.
Characterizations: been there