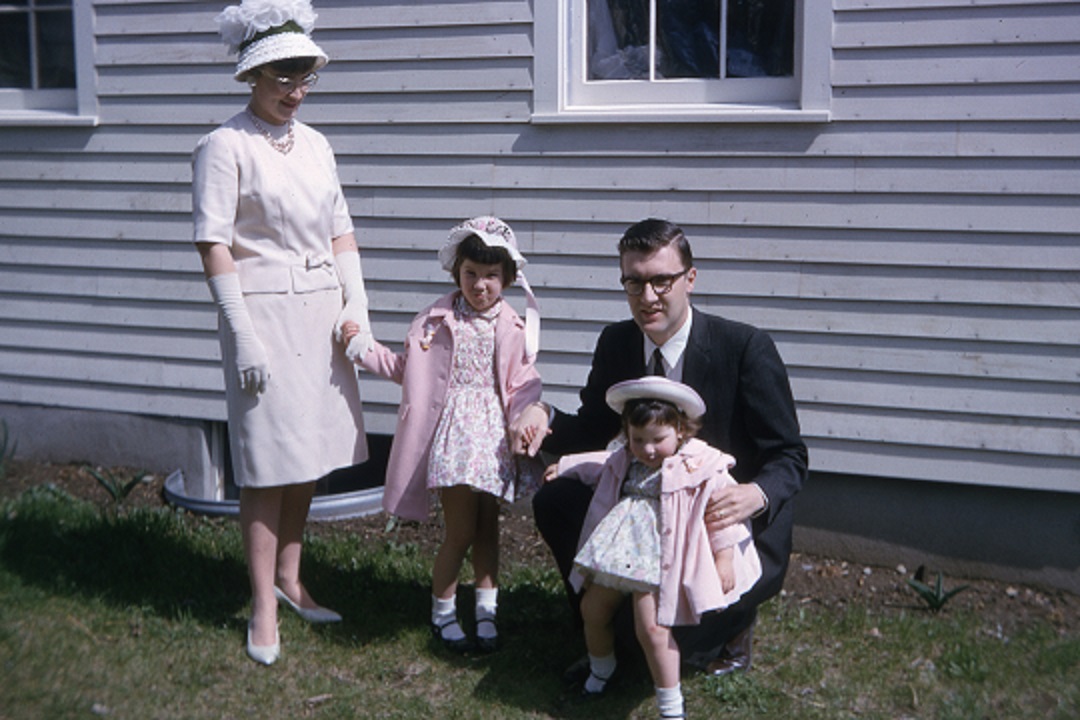 When I was a child, Easter was primarily about church and a pretty dress. This photo helps explain why. I'm the older girl. My mom has a great hat, don't you think? I'm pretty sure she made the white tulle flowers herself. My little sister is not a fan of this project, and in another photo, she can be seen with her skirt up and her (probably) rubber pants front and center. I wonder who took this photo of us, in May 1965, my sister barely two, me not quite five. What's amazing to me when I look at this photo is that my parents were still both in their twenties. We are on our way to Grace Episcopal Church in Newton, Massachusetts.
Faith takes the form of Easter hats, nursing uniforms, Bach and carrot soup.
When I was in my twenties, Easter was mostly about eating dinner with someone's parents. My folks, my first-husband's folks. Someone's grandparents. If I went to church it was to sing with my parents at their church. Or, I might have been working: as a nurse's aid, a nursing student, or later as a newly-minted nurse. That involved a different kind of dressing up in a different kind of church. This awesome photo is from the De Anza College Nursing Pinning Ceremony in 2010. Mine was in 1987. Those photos are lost (which might be a good thing).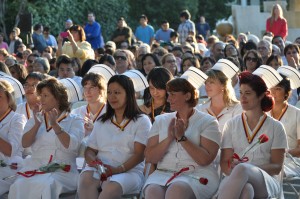 This photo is from a church directory, approximately 1989. My parents and my brother. No more hats, but my dad's still in a tie.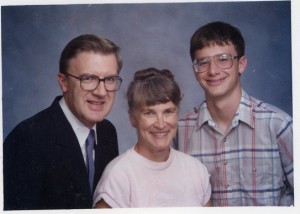 Now my kids are in their twenties. This year, my husband and I woke up to an empty house — our daughter at work, our son at his girlfriend's place. We listened to Bach's Cantata "Christ Lag in Todes Banden" (here's an amazing performance by John Eliot Gardner), baked sourdough cinnamon buns, and then I did the ironing while Bob worked in the garden. No chocolate. No baskets. No egg hunt. No church, except the one we have made ourselves from love, music, and the California sunshine. My dogwood tree is bursting with pale yellow flowers in the front yard, one purple iris is ready to open under the young apple tree. Getting dressed for Easter will mean showering before dinner: carrot soup and salad from the garden.
Faith for me is something that humans "do" – we get dressed up, we hang out with family, we cook and eat together. We do it when we don't want to, when we are sad, when life is full of ugliness and pain. For me, there is the extra bonus of music and poetry and art to practice and have faith in. I have faith that I am loved and that I love. As my friend Ellen said, in her Facebook post this morning, Jesus would probably have liked this.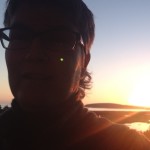 Jennifer Swanton Brown
Poet. Nurse. Teacher. Mom. Daughter. Sister. Knitter. Swimmer. Contemplative in training. Follow "A Twirly Life" (twirlyword.wordpress.com).
Tags: Easter, Easter hats, church, Bach, John Eliot Gardner, nurses, nursing school, student nurses, carrot soup
Characterizations: been there, moving, right on!, well written