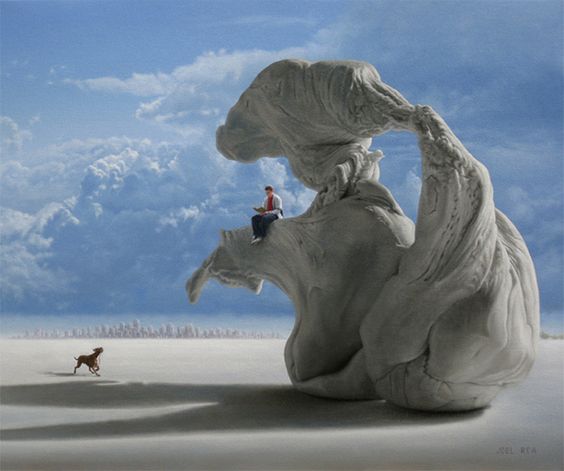 I write because I don't know what I think until I read what I say. — Flannery O'Conner
I'm writing this because somebody asked me about faith and I don't have any.
When do people need faith? And why? I'm not challenging the faithful, I'm trying to assemble the fragmented impressions of my own elusive faith… or lack thereof. So here goes:
I speculate that people probably need faith when they find themselves in shaky circumstances. I have successfully avoided dangerous adventures for decades although shit happens, like the time I hit a patch of black ice high in the Rocky Mountains and slid sideways — with my kids in the truck, (no seat belts), one arm around the kids, the other hand on the useless steering wheel, slow and smooth to the edge of a precipice only to be arrested by a single, sturdy fence post. Only relief melted the shock of survival and there is no faith after the fact.
Or the time I walked out of Boston's landmark saloon, Jake Wirth's, and ran straight into a cluster of very large gangsters chillin' on dope boulevard. Some might argue that it took faith to proceed, but I didn't have much choice.
I haven't climbed many rock faces recently or thrown Molotov cocktails at cop cars and besides — when I was doing stuff like that — did those actions require faith, or conviction, or fury, or foolhardiness, or a combination of all?
I don't have faith that I won't be shot in my classroom by a deranged Second Amendment gunperson. I might be, but probably not. Is that faith? Listen to it the other way — I have faith that I won't be shot in my classroom. Really?
I don't believe in god so I don't need faith to bridge the contradictions of religion. I do believe in spirit, but I don't have to take spirit on faith. I watched a dancing skein of smoke rise from my mother's thorax the instant she died. I've also seen spirit in rocks, trees, and clouds. Also a hawk. And an owl. .
I don't have faith in humanity; nor do I harbor any contradictory views about human nature that would require faith. Life is complicated. External circumstances and personal experience help shape human behavior, along with a largely indecipherable relationship between physics, neuroscience psychology, and mystery. So…
I can't buy what my hero Mahatma Gandhi said: "You must not lose faith in humanity. Humanity is like an ocean, if a few drops of the ocean are dirty, the ocean does not become dirty."
Times change and so do oceans. We no longer have a few dirty drops in the ocean, most ocean drops are now officially filthy. Does that destroy my faith in Gandhi? In humanity? In oceans? No.
Mostly I think humans are good-natured mammals who can be twisted by outside forces or who can generate great beauty, love, and intelligence. But I don't think good nature, distortion or beauty qualify as articles of faith. They're simply claims based on the understanding that inside and outside stuff shapes human behavior and experience.
I suppose faith and superstition could form a dialectic between light and dark but I'm not superstitious. I do know good when I see it, but I don't believe in evil, so there's nobody riding that end of the seesaw.
Maybe there's a connection between faith and mystery. I am mystified by my amateurish forays into cosmology and quantum theory, but my studies don't lead me to faith. Do we really know black holes and the boson particle exist? Probably. Good enough for me. But what lies beyond those holes and bosons? That's what I want to know.
All I need to explore beyond black holes and bosons is an acceptance of unimaginable scope and scale. Disclaimer: This acceptance of mystery does NOT extend to ignorant, willful or negligent violence, terror, humiliation, tyranny, and stupidity. I resist them on principal, not faith. So…
I don't think I need faith. For me, the planet simultaneously waxes beautiful, mysterious, amazing, horrifying, tragic and hilarious. At times I can accommodate all these elements, sometimes I can't. But nothing I see depends on faith. So, I pass.
Is that a bad thing?
#   #   #
Charles Degelman
Writer, editor, and educator based in Los Angeles. He's also played a lot of music. Degelman teaches writing at California State University, Los Angeles. 
Degelman lives in the hills of Hollywood with his companion on the road of life, four cats, assorted dogs, and a coterie of communard brothers and sisters.
Characterizations: been there