Sunday, July 20, 1969. "The Eagle has landed." Hard to believe that it has been fifty years since we heard those words! Yes, I remember watching the moon landing, but my story about it has more questions than answers. Principally, what was I doing in Cambridge that weekend?
It was the summer between my freshman and sophomore years of college, and I was living in Washington, D.C. with my sister and brother-in-law. They had recently bought a wonderful three-story house on North Carolina Avenue, so there was plenty of space for me there, in contrast to the previous summer when I had lived with them in a small apartment while workng for the McCarthy campaign. I had a great job at the national headquarters of Planned Parenthood. So why did I go to visit a college friend in Cambridge that weekend? I emailed the friend recently to ask her if she remembered why I came to visit, and she said no. Also, since the actual time of the landing was 4:17 p.m. E.D.T. (thank you, Google, for that information), shouldn't I have been on a flight back to D.C. by then if I had work on Monday?
These are questions that will never be answered.
My friend was subletting an apartment in Peabody Terrace, Harvard's married student housing. It was very hot that weekend, and the apartment either had inadequate air conditioning or none at all. One of my most vivid memories is that she kept her pillow in the refrigerator during the day so that it would feel cool on her face when she went to bed. Neither of us can remember how we found out the moon landing was happening that afternoon. We weren't reading the newspaper or listening to radio or TV news, but somehow we knew. We turned on her small black and white television to watch it. She also called a mutual friend of ours – someone I had previously dated – to invite him over to watch with us. He was not that interested until she told him about this really nitro dope that she had, and then he ran over in record time!
We all got stoned and sat on the living room couch. We watched the module touch down and the astronauts get out. I remember hearing that line "One small step for man, one giant leap for mankind" and thinking that the parallel construction didn't really make sense, because "man" and "mankind" were synonymous in that context. Later I learned that Neil Armstrong had botched the line, and it was supposed to be "One small step for –a- man…" which would have been much better. (Reading about it now, I see that he says he did say "for a man" and it got garbled in transmission. However, there is some dispute about that.)
I also remember being annoyed (although I'm not sure if it was then or later) that Neil Armstrong got all the glory instead of Buzz Aldrin. Supposedly Aldrin was intended to be the one to go first, but Armstrong pulled rank on him. Buzz Aldrin was a New Jersey boy, and had even gone to Montclair High School, which is in the same town as my high school. We New Jerseyans were very proud of him. It didn't seem fair that Armstrong received all the attention. Although maybe Aldrin got the last laugh when the movie Toy Story came out, and the astronaut toy was named Buzz Lightyear.
This year my family was lucky enough to have access to some Academy screeners, the DVDs the movie studios send out when they are trying to get Oscar nominations for a film. As a result, we saw some movies we might not have seen otherwise. One of them was First Man, which was about the Apollo 11 mission and the years leading up to it, with Ryan Gosling playing Neil Armstrong. It had not been on my list of movies to see, but we had the screener and my husband wanted to watch it, so Molly and I watched with him during her spring break. It was fabulous, far exceeding my expectations. For my husband and me, it was a reminder of events we had lived through. But for twenty-three-year-old Molly, it was a fascinating look at a piece of history she knew nothing about. I am so glad we saw it, and I strongly recommend it for anyone who is too young to remember the actual mission. Oh I know there are also a zillion documentaries, but I think this biopic might do a better job of capturing their interest.
Postscript: Everywhere we look this week the subject is Apollo 11. The Google Doodle today (July 19th) is a four-and-a-half-minute video recreation of the entire mission, from liftoff on 7/16 to the Pacific Ocean touchdown on 7/24, narrated by Michael Collins, the third astronaut, who stayed in the command module while Armstrong and Aldrin walked on the moon. Interesting quote from that video: "We thought our onboard computer was very sophisticated but in fact it had less computing power than what we all carry around in our pockets today."
Yesterday, the ad below was in a magazine insert in my local newspaper. I was strongly tempted to buy this limited edition collectible, to give me inspiration while I was writing my story! In case you can't read the description, it lights up, and it even plays a "sound byte" from President Kennedy's "We choose to go to the moon" speech. Don't you wish you had one? It's probably not too late to order. . . .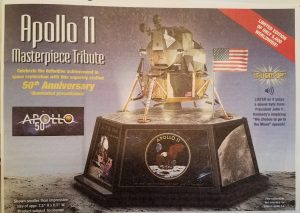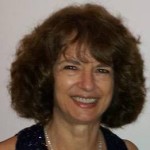 Suzy