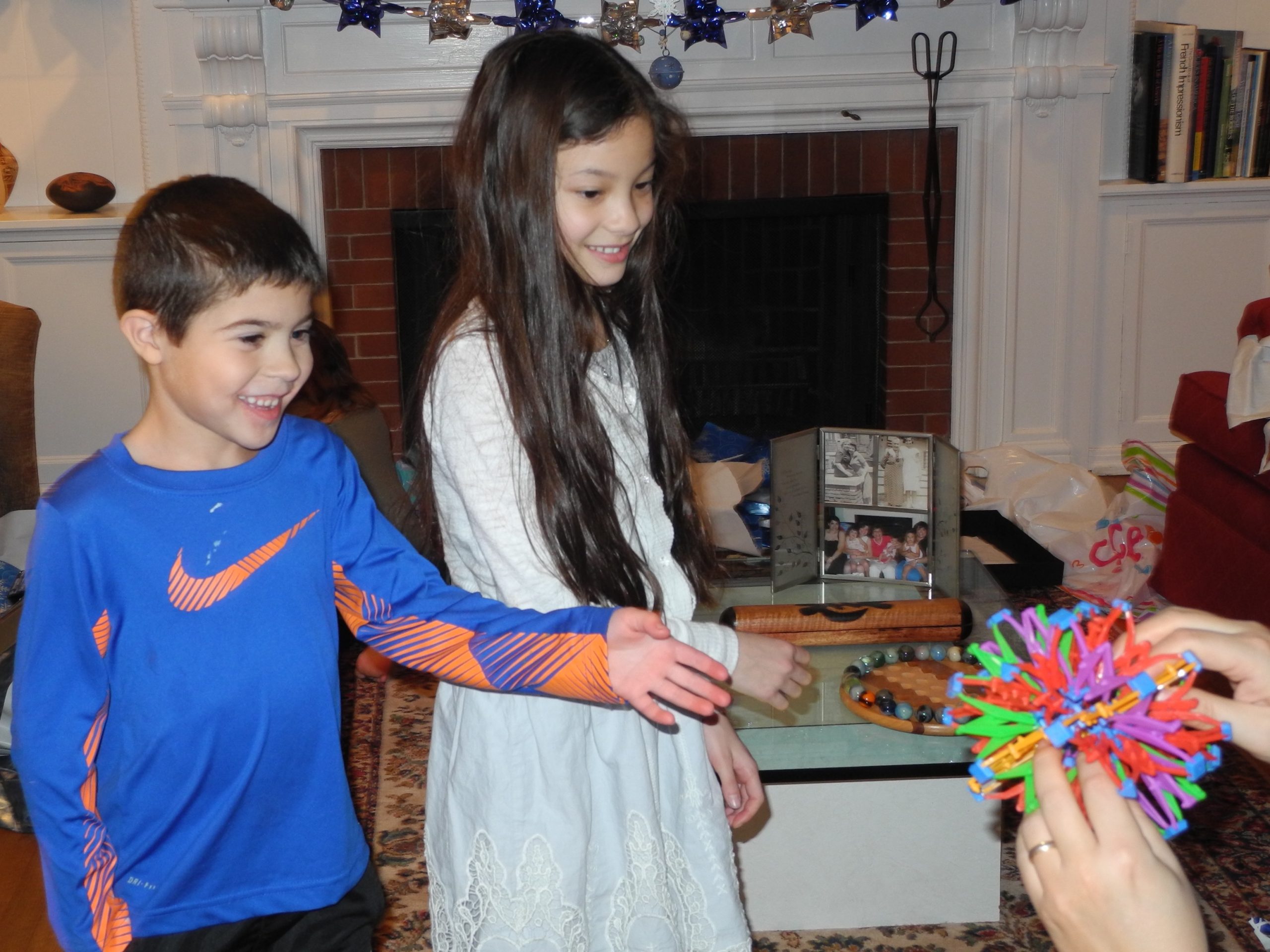 When my kids were young, they eagerly anticipated the Toys R Us holiday gift catalog every November. They could pour over the wide array of mostly junky toys and point out those they hoped to receive. Following this, I schlepped to the nearest mall with a Toys R Us, hoping I was in time to purchase some of these holiday gifts that were still in stock. While I was there, I looked for toys I hoped their cousins by the dozens would enjoy. After wrapping these treasures, I took half of them to the post office to mail to the Detroit cousins. The whole process left me in a pretty grinchy mood.
When my kids were young, they eagerly anticipated the Toys R Us holiday gift catalog every November.
By the 1980s, the array of catalogs started to grow far beyond Toys R Us and good old Sears. And by the time my first grandkids arrived in 2003, I was inundated with catalogs. Because I now ordered from them for holiday gifts, they metastasized into a huge pile and I often received several from the same company. No matter how many times I identified myself as someone who did not want these anymore, they came back after a very short absence. Still, they were useful in helping to create happy kids at holiday celebrations.
I finally found the perfect solution to ending the avalanche of seasonal catalogs. I moved. Now, I receive only a handful, which is much better. They are fun to look at just to see the possible things I could have but do not need. Do I want DVDs of The Crown or The British Baking Show, weird socks, or a Corgi mug? I think I'll take a pass and recycle that catalog.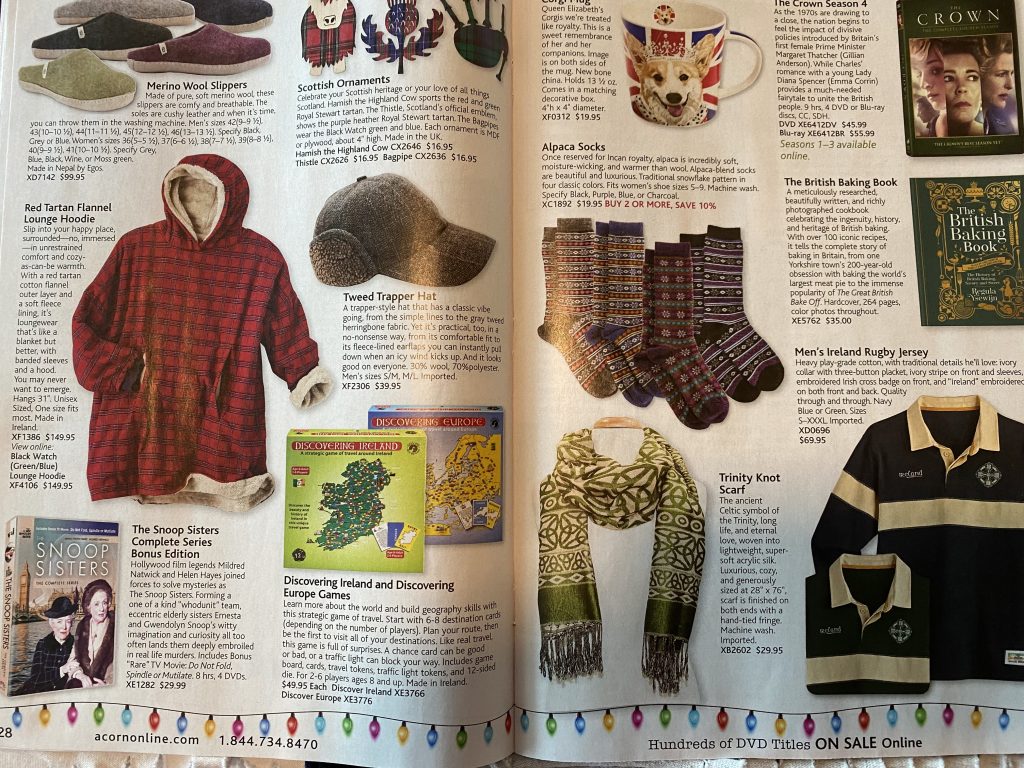 Yet, while my grandkids have grown to the age where they would prefer gift cards over surprises, I still have 12 young great nieces and nephews who delight in receiving toys for the holidays. As with most families, they no longer live close to me, so these gifts must be mailed. Catalogs can be helpful as a starting point.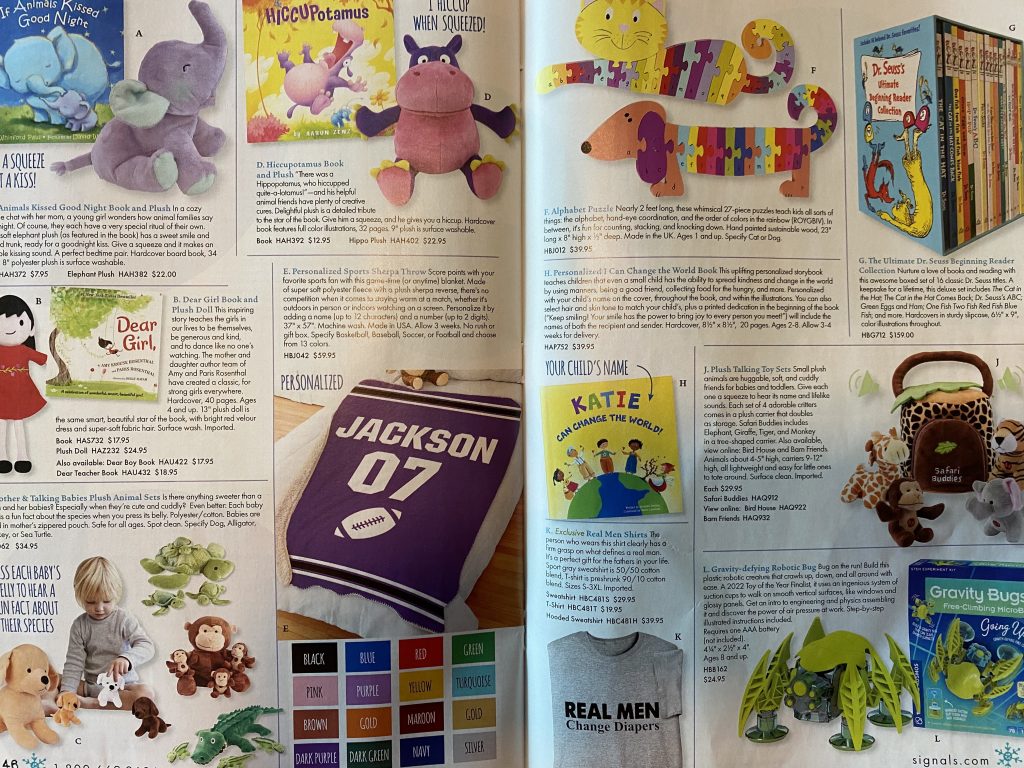 Sadly, I must confess that I would not be able to accomplish this annual shopping spree without the evil empire we all love to hate, Amazon. After I look through children's gift offerings in a couple of catalogs, I go onto Amazon to order my selections. Instead of taking hours to order these things and mail them to all of these kiddos, I send 15 minutes sending out all of the gifts. Plus, Amazon lets their parents return the gifts if the children already have them or don't like them. Easy Peasy. I vow to avoid Amazon as much as I can for the rest of the year, but since the pandemic I have broken this vow every week.
I can't end this trip down catalog memory lane without my favorite Sears Catalog story. We had a Sears outlet near our home where we could pick up things we ordered that needed assembly. It was our older daughter's fourth birthday and we ordered a play kitchen. When the box arrived, my husband checked its contents in the store to be sure all of the parts and hardware were included. I found this very embarrassing at the time, but in retrospect he was right because there were often missing parts. We took it home and tried to assemble it after she went to bed. My father and youngest brother were there because it was also Thanksgiving. My father stalked away in anger and frustration after 10 minutes, but thanks to my patient husband and brother, that catalog yielded a toy that we eventually passed down to my brother's children.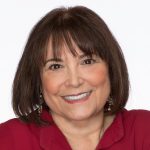 Laurie Levy
Boomer. Educator. Advocate. Eclectic topics: grandkids, special needs, values, aging, loss, & whatever. Author: Terribly Strange and Wonderfully Real.
Characterizations: right on!, well written