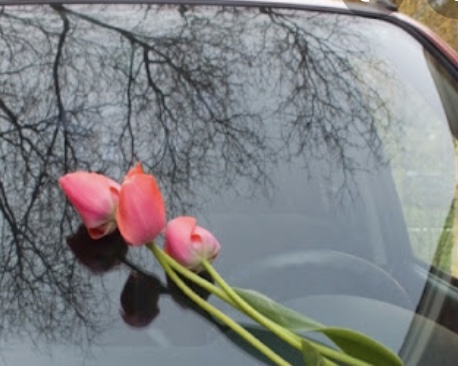 After more than a year together I knew our marriage wasn't working.   As we had no kids,  no communal property to speak of it,  and little contention between us,  it was a relatively simple divorce.   The grounds A and I agreed on were irreconcilable differences – which I guess is what most divorces are really about.
Actually,  though I said there was little contention,  the logistics were actually a bit stressful.   It was the late 60s and the American divorce laws were being liberalized,  and there was a chance that soon the Mexican divorce I was planning on might no longer be recognized in the States.   But after some scrambling to get a timely flight to Juarez,  I got down there and the dirty deed was done.
At the time I was working at a school not far from the hospital where A was a medical resident.   One day about a week or so after the divorce,  I left work,  headed for the faculty parking lot to get my car,  and found a bouquet of tulips under the windshield wipers.
I thought it best to ignore his gesture and I didn't call him,  but after a few more weeks and a few more bouquets waiting for me in the parking lot,  I relented and agreed to meet A at his apartment.
And so for old time's sake we gave it another try.   But we kept running up against those irreconcilable differences,  and eventually we said our last goodbye,  and with one last kiss we parted.
But all those flowers on my windshield were really rather sweet,  don't you think?
Dana Susan Lehrman
Dana Susan Lehrman
This retired librarian loves big city bustle and cozy country weekends, friends and family, good books and theatre, movies and jazz, travel, tennis, Yankee baseball, and writing about life as she sees it on her blog World Thru Brown Eyes!
www.WorldThruBrownEyes.com
Tags: Divorce, Marriage
Characterizations: moving, right on!, well written