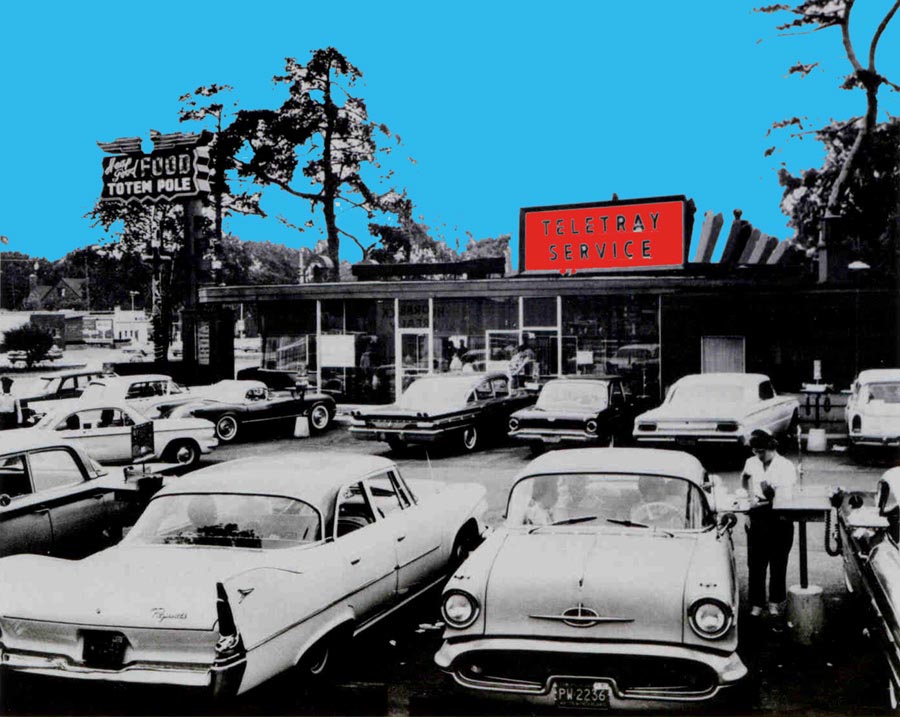 I was the baby of the family and when I started school my mother went back to work. That meant the veggie garden in the back yard was abandoned, and the canning cellar emptied and was not replenished. I learned to cook and bake at my mom's side, but as she got busier and we kids grew older, she cooked from scratch less and less. We started living on frozen fish sticks and pizza.
We watched her go through (what I now know are) the five stages of grief in a matter of seconds.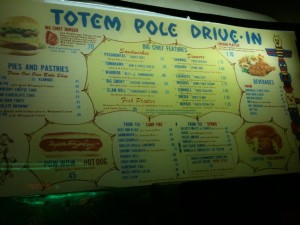 Take-out was a real treat and our favorite place was the Totem Pole Drive-In. This Native American-themed, completely un-PC place (slogan: "Heap Good Food") was the casual outpost of a nearby fancy restaurant. My favorite menu items were the "Pocahontas" (french dip sandwich), the "Iroquois" (fried shrimp), and the "Cherokee" (wait for it–frogs legs!).  But everything on the menu was great, and it was hard to choose.
My mother came home one Friday evening with five of the iconic white dinner boxes. Those were the days when Catholics didn't eat meat on Friday so we knew they contained fish dinners. Imagine our surprise when we opened the boxes and found not fish but spare ribs!!  Surprise and delight from us, consternation bordering on panic from our mother. We could all see she was exhausted from a long week and furious that they had given her the wrong order. Her first impulse was to forbid us to touch them, then slowly, realizing that there was nothing else to eat in the house decided that since we didn't intend to break the law, God would forgive us this once. My mother was nothing if not pragmatic, and she was not going to waste that food or that money.
Patricia
Patricia is a co-founder of Retrospect, and generally can be found two standard deviations from the mean on most issues. Lover of chef's tasting menus, cute shoes, and the music of Brahms.
Characterizations: been there, funny, moving, right on!, well written