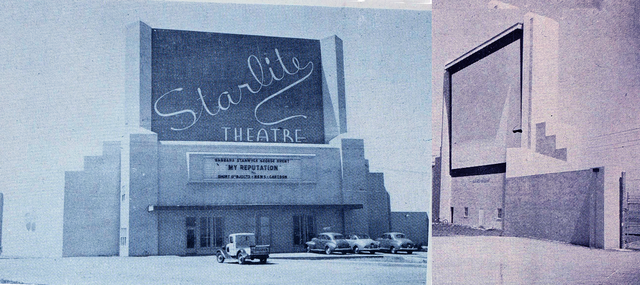 My job, among others, was changing the names of the movies.
"Marquee" is such a fancy word for a drive-in. At the Starlite Theatre we just called it "the big sign." The original 1947 marquee was on the street side of the screen, but by the time I worked there in 1972 the big sign was the free-standing, curbside sign on the street itself- Harbor Blvd. in Belmont, California. It was probably 20 feet high by 20 feet wide, with a bare metal ladder and platform. My job, among others, was changing the names of the movies, about once a week, late at night, rain, or wind or otherwise.
The letters for the big sign were stored inside the movie screen itself, a 40- foot edifice with an office underneath and probably a healthy community of rats. The letters were 12" heavy red plastic with metal clips to attach to the parallel runners of the sign, and were stored in cubicles, alphabetically. Before climbing the dark stairs into the musty attic of the screen, I had to write out the layout for the words, so I knew how the feature film would be centered on the big sign, and then grab all the letters, hoping there were enough of the right kind. I was grateful for "Deliverance" or "Cabaret;" not so much for "Everything You Always Wanted to Know About Sex But Were Afraid to Ask," which I probably had to abbreviate.
Then I had to make the trek out to the big sign on the street, climb the ladder, and hope I wasn't blown off or drop a letter. Sometimes a friend would come by to watch – though rarely help. I would climb down, stand back, and admire my work when done. I was an excellent speller, thank goodness.
In those days, we would announce the snack bar menu and upcoming movies on the public-address system right before intermission. All kinds of high jinx ensued. Sometimes we'd sing the menu a Capella, or purposely mispronounce movie stars' names. And since much of the "fresh" food on the menu -hot dogs, hamburgers, and pizza- were made in a hand steamer, we might just under or over cook an item. I can still remember the bell and big keys of the National cash register at the candy counter.
The Starlite Theatre closed in 1974, was demolished, and became a Pepsi Cola factory. I always wondered if it had anything to do with our shenanigans?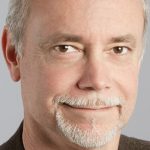 mike7353
Characterizations: right on!