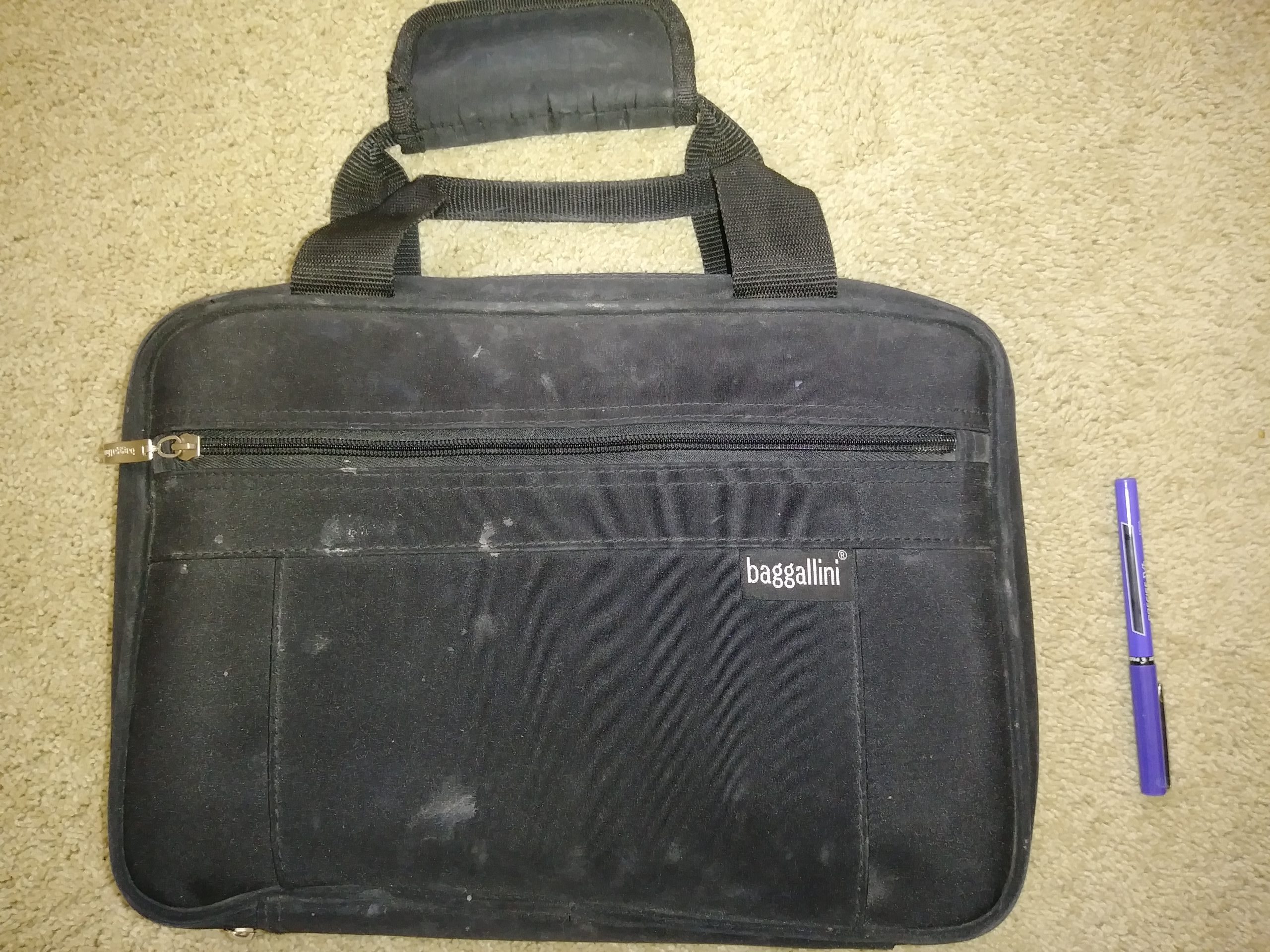 All my adult life I've traveled light, often amazing my male partners. "Is that all you're taking?" they'd ask. I could have traveled even lighter, except that, being allergic to just about everything, I have to take any hypoallergenic cosmetic and personal care products I might need with me. Even hotel soaps and shampoos are too risky. Who wants to ruin a trip by getting hives and rashes?
The bag has been with me any time I leave the house over night ...
I must have been in my late 20s when, shopping with a travel-savvy woman friend, I bought the Baggallini bag pictured. It's not huge (see the pen for scale) and fits in a carry-on that goes in the overhead bin of an airplane. For its size, it holds an incredible amount of stuff, gets amazingly heavy when full–and it's always full. Although battered (the white residue is from an incident with zinc oxide sunblock), all its zippers work, and the inside compartments are undamaged. When the bag is opened, it expands vertically, dropping down from the outer handle, and a metal hanger comes out so that the entire thing hangs on a door hook. Extremely practical.
The bag has been with me any time I leave the house over night, from staying with my mom in Oakland for a single night, to a bus trip in Thailand, and on a 15-day cruise to Hawaii that turned into a 20-day misadventure, when it really proved its worth (see my story "COVID-19 and the Cursed Princess"). The bag had everything I needed for the extra five days before we could return home.
After the sunblock incident, I tried to replace the bag, but couldn't find anything like it, from Baggallini or any other company. So, the bag will continue to go with me, like a trusted old friend, visually worse for the wear but containing all the essentials.
Marian
I have recently retired from a marketing and technical writing and editing career and am thoroughly enjoying writing for myself and others.
Characterizations: funny, right on!, well written