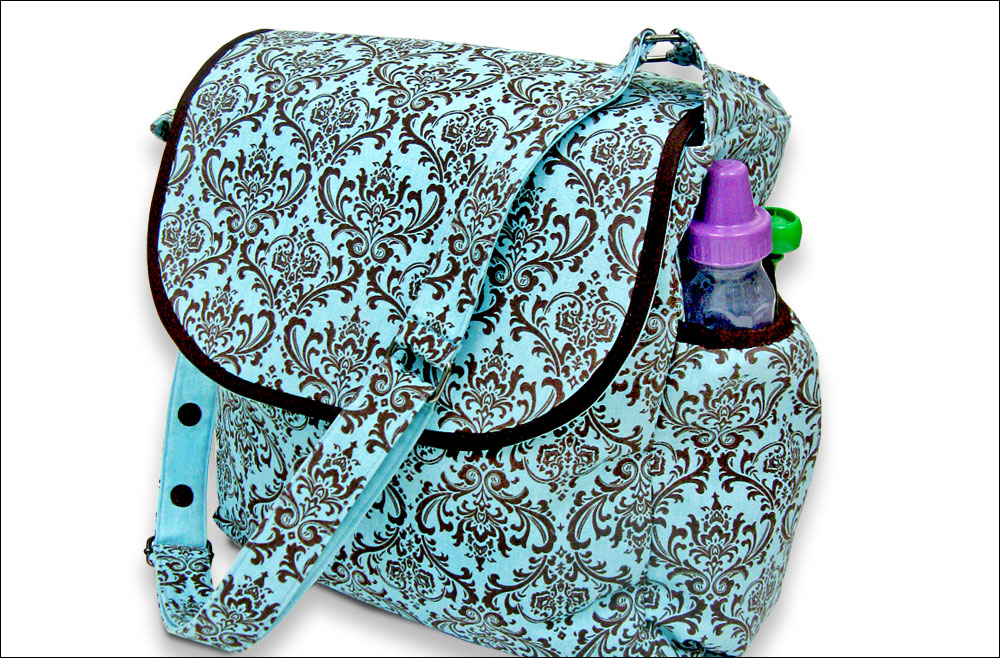 From 1985, when my first child was born, until 2000, when my last child turned four, I was rarely without my diaper bag. For those of you who don't know, the name is deceptive – a diaper bag carries so much more than diapers. It carries a change of clothes for the child, and sometimes for the parent as well, snacks such as Cheerios or graham crackers and juice boxes, wet wipes, books, toys, ointment, sunscreen, plastic bags for dirty clothes and/or diapers, and of course the parent's wallet and keys so as not to carry a second bag for those items. A good diaper bag also has a mat for putting baby on while you're changing the diaper – mine was built in to the bag itself, just unzip a couple of zippers on the sides and unfold it.
From 1985-2000 I was rarely without my diaper bag. There was only one time in all those years that I took a trip and forgot it.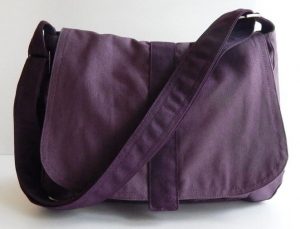 My diaper bag actually looked more like this one than the one in the featured image. And while mine had the little side pocket that the featured bag has, it never had a baby bottle in it, because my kids never drank out of bottles. They went right from nursing to using a sippy cup. Actually I think I put my car keys in that pocket so I could find them easily. But when I saw the turquoise print pattern, I thought it was so cute that I couldn't resist using it. (I would definitely have bought it if I were still in the market for a diaper bag!)
There was only one time in all those years that I took a trip and forgot the diaper bag. I think it must have been in 1988, when I was pregnant with my second child and my oldest had just turned three. She was more-or-less potty trained during the day, but wore diapers at night, and still had occasional daytime accidents. We were flying from California to Florida to visit my parents, which is a long time to be on a plane, especially since you aren't supposed to use the bathroom when the seatbelt sign is on.
Anyway, we were taking lots of bags with us, and my husband and I were both carrying things out to the car. We closed up the trunk, put Sabrina in her car seat, and headed off to the airport. It may have been while we were still driving that I realized the diaper bag was missing. I floated the idea of turning around and going home to get it, but we hadn't built in any extra time, and there was a good chance we would miss the flight if we did that. So off we went to Florida with no diaper bag.
I don't recall any accidents on the plane, so I guess we were able to get her to the bathroom when necessary (probably regardless of whether the seatbelt sign was on or not). I don't know how we kept her entertained without any books or toys, but we must have come up with something. She was undoubtedly carrying the stuffed animal du jour, whatever it may have been, so maybe she occupied herself with that. Maybe they showed a movie on the plane. Almost everything in the diaper bag was duplicated in the suitcases, so once we arrived and unpacked we would be mostly okay. The main things we were missing were Sabrina's vitamins and fluoride pills. The vitamins were easy enough to replace – I think they were Flintstones chewables and they were available everywhere. The fluoride was by prescription only. Although my father was retired, he had kept up his medical license, so he just wrote a new prescription for fluoride and we were able to fill it there. Thinking about it now, he was a New Jersey physician writing a prescription in Florida for a patient who lived in California, so I'm surprised it wasn't a problem, but it wasn't. The fluoride pills looked and tasted a little different though, and I can't remember whether she was willing to take them or not. Even if she didn't, one week without fluoride would not have done any lasting damage to her teeth, but I worried just the same.
After all three kids were old enough that I no longer needed a diaper bag, I carried various different types of purses. Some with lots of compartments, some with none, all with a shoulder strap so I didn't have to hold it in my hand. Eventually I figured out that I didn't need most of the stuff I was carrying, and ditched the purse altogether.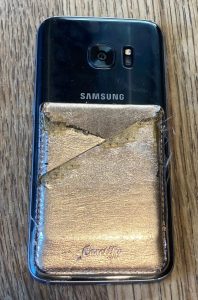 For the last few years, even before the pandemic, all I have carried is my keys in one pants pocket and my phone in the other. Affixed to the back of my phone is a gold-colored faux-leather envelope that holds my driver's license, one credit card, and my AAA card. For a long time I only had my license and credit card, but then my tire blew out and I couldn't call to have someone come and change it because I didn't have my AAA card. I had to ask my husband to drive the other car over to where I was (luckily only a mile or two away) and bring his card. So now that's in there too. I find that I really don't need anything else.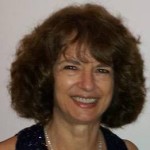 Suzy
Characterizations: funny, well written