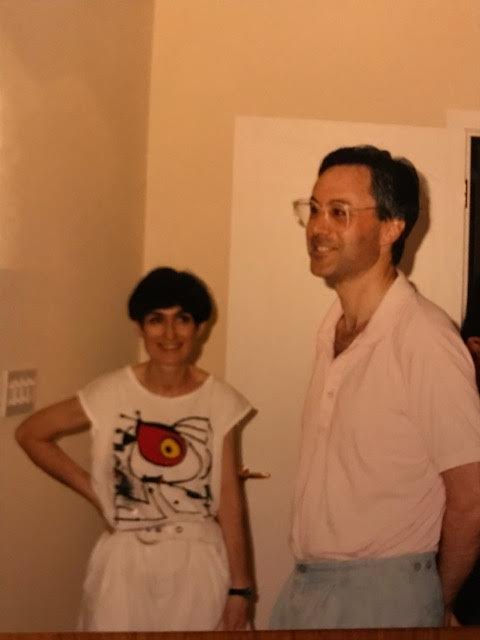 Dan didn't like surprise parties. He didn't want one for his 30th, so a bunch of his work buddies convinced me to hire a belly dancer to come to the office for his 32nd. He still hasn't forgiven me.
As his 40th approached, our lives had changed. We had two young children, I no longer worked, we now lived in a large, lovely home in suburban Newton and one of Dan's sisters lived close by (after moving out of our basement, where she resided for a while). It was nice to have Carol in the neighborhood. She also worked with her brother at Index Systems.   
Carol and I plotted what to do to celebrate Dan's milestone birthday. It fell on the Saturday of Memorial Day weekend, 1991. Our family would go about doing as we wished, but later, Carol would enter the basement through the garage door and set up for a large party. We had a refrigerator, long mahogany bar with sink behind it, couches and lots of area to set up seats. We had renovated it to the same level of finish as the rest of the house that year. In fact, Dan's 40th birthday present from me was the surround sound system in that room. Carol could bring in the large sheet cake I'd ordered and greet all the guests through that basement door while we were occupied upstairs.
It was a picture-perfect day so we drove the hour to Newport, RI to picnic and fly kites in the state park. Jeffrey had turned two a few weeks earlier, David was almost six. After returning home, Dan went for a run and we celebrated his birthday with a family cake in the kitchen (I didn't want to tip my hand). He refused to put his contact lenses back in despite my prodding, thinking he was done for the day, even though he knew that I would record his birthday with photos. I tried to think how I would manage to get him downstairs. He was still flushed from his run and I didn't have a good idea. Finally, I told him the washing machine was making a terrible noise, would he please come down to take a look?
The steps to the basement are not behind a door, but are a graceful carpeted curve to a hallway below that leads to the "playroom" where our guests waited (except for a few stragglers who ran late). We have a full bathroom off of the hallway, then unfinished rooms behind doors that have the furnace, the laundry and other large storage rooms. Our house has a large footprint.
Finally, I got Dan downstairs and, much to his surprise, lots of people: friends and family did, indeed, yell, "SURPRISE!" And he was.
Carol helped enormously to pull it off. Adult friends of Dan's parents from his childhood were there. At some point during the evening, Dan's parents, who now lived in Upstate New York, strolled in with his youngest sister. His brother with his wife were there, so all his siblings were there except the oldest sister, the only married one at the time, living in the Washington, DC area, with a small child of her own. Lots of friends from work and other areas of our life were there. It was great fun that they all came out to celebrate this milestone and share in the delicious Rosie's chocolate cake. Dan and John Goode, work friends forever (and the instigator of the belly dancer), had done consulting for Judy Rosenberg (the real Rosie) ages ago and I always bought my cakes from her. This one was divine.
I have video of my kids mingling with the crowd until bedtime. It is priceless.
Dan's family stayed the weekend, so the celebration continued with a group family photo (though Carol wasn't in it, as she no longer lived with us and hadn't made it to the house yet). Grandchildren nestled on the grandparents' laps, children and daughters-in-law surrounding them, Gladys and Erv look serene in our backyard, more than 28 years ago. Some surprises can be fun.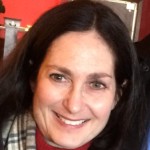 Betsy Pfau
Retired from software sales long ago, two grown children. Theater major in college. Singer still, arts lover, involved in art museums locally (Greater Boston area). Originally from Detroit area.
Tags: sister help, basement party, 40th, family
Characterizations: well written