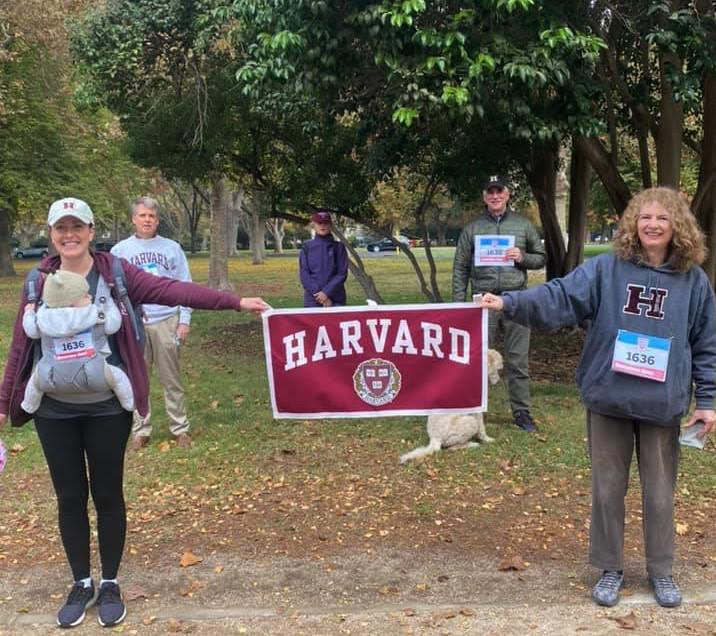 I have volunteered all my adult life with many different organizations including the Sacramento Women's Center, Girl Scouts, and my synagogue Sisterhood, but my biggest volunteer commitment has been to Harvard.
My experiences volunteering for Harvard. Word count: 1636. Coincidence? I think not!
Reunions/Class Communication
At the 10th reunion, in 1982, I was elected vice-president of my Radcliffe class. It turned out there weren't any duties for the vice-president, except to be available if something happened to the president. Nothing ever did. Eventually Radcliffe class officers became obsolete as we were completely absorbed into the Harvard class.
Around the time of the 25th reunion a class listserv was created, and some time later a class Facebook page. I am one of the moderators for each of these. They do not require any work most of the time, but every so often there is a crisis that needs to be resolved.
For our 35th reunion, I agreed to serve on the class gift committee. I did this because it gave me an excuse to call classmates on the phone and chat with them, in some cases for the first time since graduation. My list of people to contact was entirely women. I actually knew all the women in my class at least slightly (there were only 300 of us). I didn't care whether they gave money or not, I wanted to renew our connection, and maybe entice them to come to the reunion. The fundraising pitch was that it didn't matter how much they donated, Harvard just cared about the percentage of class members who gave,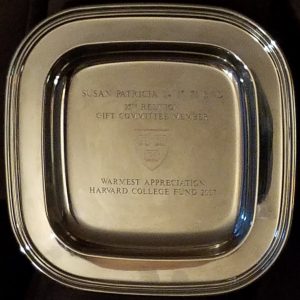 so if they wanted to give $35 in honor of our 35th reunion, or even $5, that was fine. I loved making these calls. After the reunion, Harvard sent me an engraved silver tray. No, not sterling silver, just silver-colored, I don't know what kind of metal it is. It's about seven inches square, and the actually usable part is five inches square. So far, I haven't figured out any use for it, but it was a nice gesture of appreciation.
Five years later I didn't want to be on the gift committee again, but I did want to join the 40th reunion planning committee. Somehow it never happened. I finally made it onto the planning committee for the 45th reunion. Most of the committee members lived in the Boston area, so they would meet in some Harvard space where they were plied with food and wine. Those few of us who were calling in on the phone had to supply our own food and wine. For one meeting we had a primitive videoconference, where phone callers could see the meeting room, but they couldn't see us. Only a small portion of the room was visible, so it still wasn't that great. It required shouting to get their attention, but I did manage to help shape the reunion. Now, of course, it would be much easier to be part of the discussion because everyone would be on Zoom. I plan to be on the committee again for our 50th reunion in 2022, and I wonder how that will go. With any luck we will be able to gather in person for the actual reunion, but even if the pandemic is over, I hope we still have the planning committee meetings on Zoom.
Interviewing
My interviewing involvement started in 1989, seventeen years after graduation, when I learned that they used alumni to interview high school students. My own interview back in 1968 had been in Cambridge, with an admissions officer, so I didn't even know alumni interviews were a thing. It sounded like fun, and I signed up. I had a four-year-old and a baby at the time, I was on maternity leave from my job with the Attorney General's Office, and I was hungry for conversation that wasn't about toilet-training or sleeping through the night. It was wonderful talking to these high school kids for an hour about school and politics and books. Then I would write up a report and mail it in. I interviewed almost every year after that with the notable exception of 2006, the year my son applied and was admitted. (Neither of my daughters had any interest in Harvard.)
After I retired from the A.G.'s Office in June 2007, I found myself besieged with requests to volunteer for everything imaginable. "Now that you're retired, you'll have plenty of time to . . ." whatever it was they wanted me to do. Most of the requests did not interest me, but running the Schools and Scholarships Committee, which meant coordinating all the interviews for the region, was something I thought I might want to do.
I became co-chair with my predecessor in 2007, because I wasn't ready to make a commitment until I saw firsthand what the job entailed. It seemed manageable, so I agreed to become the full chair the next year. I have continued ever since, making this my thirteenth year as chair, and my thirtieth year interviewing. The workload is intense in November, with the Early Action applicants, and again in January and February with the Regular Decision applicants, but that's it. Then I get to host a party in April for the admitted students and their parents which is always fabulous.
At some point, maybe in about 2010, I was informed that as chair of Schools and Scholarships I would now also be on the board of the Harvard Club of Sacramento. At first I protested, and said that interviewing had always been entirely separate, and I thought it should continue that way. But the word had come down from Harvard that S&S needed to be integrated into the local clubs. So I acquiesced, and it has actually turned out well. I attend monthly board meetings (now on Zoom), and help to plan club events in addition to handling my interview-related duties. The featured image is with other board members at "Harvard Now," a 5K walk/run that occurred all over the world on November 14th to raise money for scholarships. We met at my house and did our 5K walk in the park across the street from me, wearing masks and socially distanced. We took off our masks for this picture, which is why we are standing so far apart. I didn't pledge any money, since Harvard already has more money than God, but I walked, and it was great to see everyone in person for the first time since the pandemic started.
When I became chair of the S&S Committee I made five significant changes.
(1) I instituted a training session every fall. For the first couple of years I called it a party or a meet-and-greet, but I found I got better attendance when I changed the name to "training session." It seems many Harvard alums are more motivated by learning than by socializing (unlike me). Even seasoned interviewers attend on a regular basis, along with the new interviewers.
(2) I eliminated the ranking session that we had had for years, where we got together and described our best candidates, then put together an A list and a B list of Sacramento students to send to the Admissions Office. This was a fun social event for us, but I concluded that it was probably not that helpful to the Admissions Committee.
(3) I require all new interviewers to let me read their reports and give feedback before they are submitted. I correct typos, and ask for clarifications. If their written comments don't gibe with their numerical ratings, I  tell them to change one or the other. Many interviewers ask me for feedback on their reports even when they no longer have to, which I consider a great compliment.
(4) I send out frequent emails to everyone, keeping them posted on what is going on and what due dates are coming up. Previously, once you got your assignments, you were pretty much on your own.
(5) I read ALL the reports, and keep track of which interviewers have reports that are still not in, especially as the due dates get closer. My years as a mother of three kids were good training for nagging interviewers to get their reports done.
This year I was honored to receive the Miller-Hunn Award, given every year at the Cambridge Admissions Conference. I had been coveting this award ever since I went to my first Admissions Conference and learned of its existence. However, when they offered it to me this year, I asked if I could defer a year so that I could get it when we were meeting in person in Cambridge, instead of on Zoom. They took a week to respond to this request, but ultimately their answer was no, it was now or never. So I said, okay, now. It turned out that receiving the award on Zoom had some advantages. Hundreds of people attended the Zoom, whereas probably 80-90 show up in Cambridge for the conference in a normal year. Also, my husband was able to watch it, along with several of my interviewers. Some of the interviewers wrote complimentary things about me in the chat, which was very gratifying.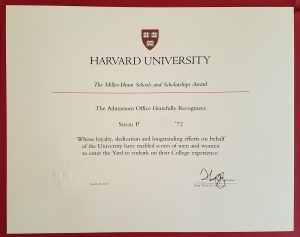 About an hour after the conference ended, a FedEx truck pulled up to my house and delivered this certificate, in a large crimson folder just like the one my diploma was in. I love what it says on the certificate, that my "loyalty, dedication and longstanding efforts on behalf of the University have enabled scores of men and women to enter the Yard to embark on their College experience."
---
Harvardiana is a real song. These are the words:
With Crimson in triumph flashing
'Mid the strains of victory,
Poor Eli's hopes we are dashing
Into blue obscurity.
Resistless our team sweeps goalward
With the fury of the blast;
We'll fight for the name of Harvard
'Til the last white line is passed.
It's a silly football fight song, I just like the word "Harvardiana."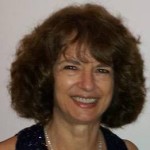 Suzy
Characterizations: funny, right on!, well written