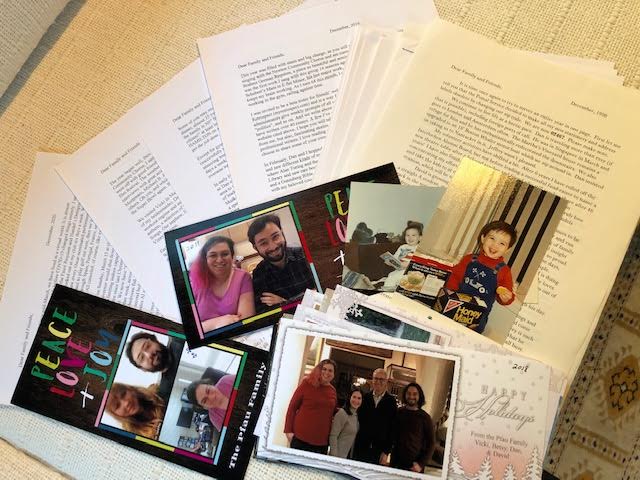 I sent seasons greetings to everyone in my cabin, my friends and special teachers when I was in the High School Division at the National Music Camp from 1967-1969. It took me a long time to get through my list. I'd be done right around the new year. I gave that up for years, but when David turned a year old, in 1986, I resumed the tradition of sending a card with a current photo. I didn't start sending a "year in review" letter until 1998. As much as people grouse about it, my family and friends seem to look forward to these. I send close to 200 each year.
My Featured photo shows a few of the most recent, as well as the first, and the stack of all through the years (don't you know me well enough by now to know that I've got every one saved in a folder in my study). It becomes increasingly difficult to get something resembling a family photo, since my children live eight time zones apart and are rarely together. Last year, I used a photo of a Zoom screen. This year, there will be no actual card and it won't go out until we return from London, so there can be photos of our granddaughter incorporated into the body of the letter. That may have to be the way forward in the future. I try to have them all in the mail by December 15. Then I can relax for the remainder of the month.
All of my first cousins, some of their children, lots of friends, neighbors, former neighbors and even a few former clients (and I haven't worked in over 30 years) receive one. It is how they know what we have been up to. I try to stay upbeat. I learned long ago that no one wants bad news (obviously, I will share important news, but try to spin it in a positive way and not dwell on it). It must all fit on one page, double-sided. So when I include photos in the body of the letter this year, I will have to be a more judicious editor.
We used to receive loads of beautiful cards that I'd put out on my piano, the letters would be piled along side and I'd always enjoy reading them. Increasingly they come via email these days. I send some via email, though I don't use a holiday frame for mine. It is typed as a Word document, printed at home, then taken to Staples so I can get it printed double-sided and all the copies made on a high-speed copier. Not sending via snail mail seems to be the trend. I understand, but still like the touch and feel a beautiful card, even if I don't keep all of them (I do keep the photos from my family members). I appreciate all who reach out to me at this time of year. It is nice to hear from everyone.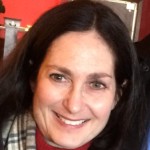 Betsy Pfau
Retired from software sales long ago, two grown children. Theater major in college. Singer still, arts lover, involved in art museums locally (Greater Boston area). Originally from Detroit area.
Characterizations: been there, moving, well written