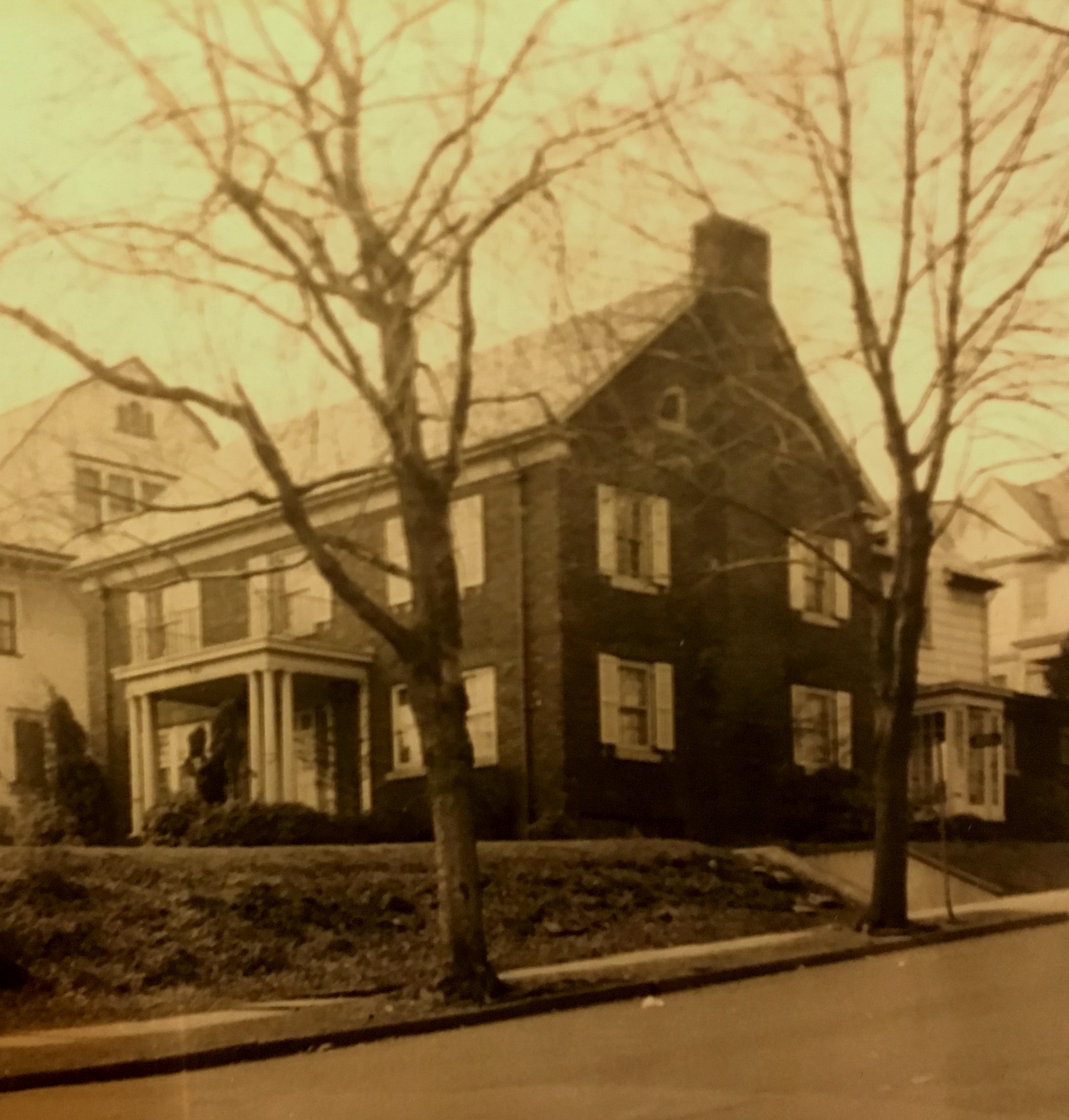 This is the house I grew up in, a two-story red brick house with a full attic and basement, on a corner lot in Belleville, New Jersey. My father's medical office is on the side, you can see the entrance to it on the far right in the picture. My parents moved into this house with my two sisters before I was born, and it was the only home I knew until I graduated from college and went off to California.
On the first floor was the kitchen, dining room, living room, and den, plus my father's office, which was accessible from the side street or from our back porch. The second floor had four bedrooms – one for my parents, one that my sisters shared, one for my grandmother, and one for me. My sisters used to complain that it wasn't fair that I got my own room and they didn't, and my parents responded that if one of them would share with me, the other one could have her own room. Of course neither of them wanted to share with "the baby," so the status quo remained. Before I was born, my room was known as the sewing room, but I don't know how much sewing actually went on there. Off of my room there was a screened-in porch that we never used, and beyond that a flat area of the roof where we would sunbathe. Thinking about it now, I realize for the first time that our sunbathing spot must have been on top of the office.
The attic had a finished bedroom and bathroom, which was where my grandfather lived. I never thought to ask why he and my grandmother didn't share a room. The rest of the attic was just open space, with out-of-season clothes stored there along with various boxes containing who knows what. The basement had a finished rec room and half bath, as well as the laundry room (where I ironed my hair in high school). The rec room had a couple of couches, a huge cupboard full of board games, a ping pong table, and an old pink upright piano that had been my father's. There was also a built-in bar, although no alcohol was kept there, but we liked to play there and it was a cool place to hide out. Also in the basement was the furnace room, and a one-car garage that was not used for a car because my parents had built a detached two-car garage next to the office. The former garage was lined with metal shelves that stored my father's medical supplies. Some of the drugs that were there became quite interesting to me when I was in college. . . but that's another story.
During the day, when there were patients in the office, we couldn't be noisy in the living room or the kitchen, because those rooms shared a wall with the office. Not that I remember ever being terribly noisy, but we had to be conscious of being quiet then. There were benefits to having the office right there, it meant that my father was generally available if we had a medical emergency, and also that he had a one-minute commute home for dinner.
I loved that house, and was always happy to come home to it when I had been away at summer camp or college. I was sad when my parents sold it, although it didn't make sense for them to stay after my father retired. My sisters and I did go back to visit once with our kids. A son of our neighbors on one street, the Cozzarellis, had married a daughter of the neighbors on the other street, the Pitrellis, and they bought our house from my parents, so that they could live right next door to both of their families. One of my sisters contacted them about our visiting, and they were only too happy to show us around. It looked different and yet the same. And the pink piano was still in the basement because it was too heavy and bulky to move.
* * *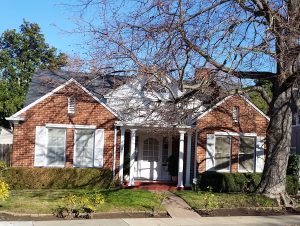 When I bought my own first house, after law school, it was a red brick house too. Much smaller, just one story with two bedrooms and one bath, but it had a front porch with pillars, and seemed like a miniature version of the Belleville house. Not a common look in California, and I was delighted to find it. I stayed there until I was ready to marry and start a family, because it was too small for that.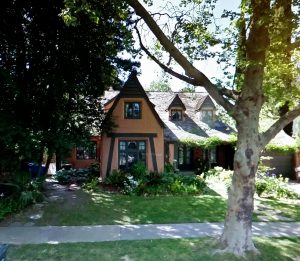 My second house was entirely different, a Tudor style house with dormer windows upstairs and a wavy pattern of shingles on the roof. I liked it because it looked like it belonged in the middle of a forest, it seemed kind of magical. It was a wonderful house for my first husband and me, and then for our two small children as well, although some remodeling would probably have been needed when the kids got older. The bedroom we used as a nursery had a sloping ceiling on both sides, and the only place a person over four feet tall could stand up straight was right in the middle. You can see the window to that room to the left of the dormers – note how steep the pitch of the roof is. After almost eight years in that house, I moved out when the marriage fell apart, and we eventually sold it as part of the divorce.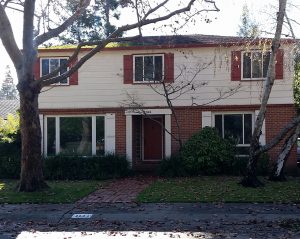 I bought my third and final house, with my second and final husband, twenty-six years ago. It is the longest I have ever lived in one place. We never plan to leave it. It is once again red brick, at least the lower half. This one, like my childhood home, has four bedrooms and two baths upstairs, with kitchen, dining room, living room and den downstairs, plus an extra downstairs room (which we call the playroom) because there isn't any space being taken up by a medical office. Alas, there is no attic or basement, which would have been nice. But I fell in love with it the minute I saw it because it reminded me so much of my Belleville house.
I hope for my children this house has provided a source of strength and courage and love the way the Belleville house did for me.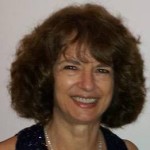 Suzy
Characterizations: moving, right on!