I entered fourth grade after we moved to Phoenix in 1958. As the school year went by, it came time for the Spelling Bee. There were four fourth grade classes, each with 30 or more students – Baby Boom! Each class held its own Spelling Bee, with the winners advancing to the school Bee, and on up the line. I was a good speller, as my mother NEVER let a misspelled word slip by her. I had not missed one word in a spelling test (weekly) for the entire year.
How multi-generational Worths lost their Spelling Bees!
So I was pretty confident that I could do well. I, and as far as I know, no one else studied words prior to the class  Bee. As the Bee progressed, I did well. The words were all familiar and easy. Nothing like we see on the televised National Spelling Bee finals!
As we progressed, I ended up in the final two, with my classmate Joan P. She was a tall, dark-haired beauty who was very smart. She was also at least a foot taller than I, who only reached his not-so-high final height well into high school. Joan and I went back and forth for quite a few words, until I was given "beautiful." Not sure why, but I choked and misspelled that easy word, transposing the vowels. So BOOM – Joan won. I was crushed to get beaten by a girl. Remember – this was a long time ago, both in years and culture, so please don't judge my fourth-grade self. And believe, me, every time I need to write or spell "beautiful," my brain goes e-a-u to make sure I don't misspell it again!
So after my own Spelling Bee setback, fast forward to my oldest daughter's Spelling Bee career… I may have mentioned her before, but she graduated (commenced?) Summa in Philosophy at Harvard, was a Rhodes Scholar, and got her J.D. at Yale Law. She's actually one of the two smartest people I've met in my life, and has an almost photographic memory. She is also by nature and birth order an achiever. Everything she undertook she needed to win. When she had her own first Spelling Bee, she breezed through her class and school Bees on top. She studied the "book of words" assiduously, and dragooned me into testing her nightly with words from the book. At the county Spelling Bee, she was doing well, until she was given the word "wahine," which she misspelled. She was really upset. when I showed her the word in the book, she exclaimed, "But I knew that word, but thought ti was pronounced wa-hin, with a long "i." It turns out that her study did not include pronouncing the words! She was so traumatized by this, she refused to study much next year, and during the school Bee, she missed a very easy word. I KNEW there was something wrong. When she returned to us, I asked her if she had missed the word on purpose. She admitted that she had. When asked, Why," she replied that she hated the pressure that the Bee put on her. Of course, this was self-applied pressure. But she and we learned a good lesson from this. And she never entered another Spelling Bee.
To this day, when she mistakes or mispronounces a word, I'll say," OK, wa-hine!".
Spelling bees have not been kind to the Worths!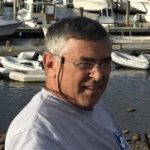 Joe Worth
Characterizations: funny, well written