Judging by the store I went to, I can place this story some time in the late 90s.
Gina was away in Lawrence, Kansas doing some collaborative research with a scientist at KU. Of course I picked THEN to get the flu. After a couple of days, I started to feel very ill.
I had a fever, I knew that. The alternating sweats and shivers was a dead giveaway. But when I went to take my temperature, the digital thermometer blinked on for a second then went dark. Dead battery.
We lived only three or four blocks from a large supermarket, so I got heavily dressed and started trudging through the sleet to get a new one. I felt weak and weird and disoriented. The snow piles I needed to climb over seemed to have formed a dirty white obstacle course. It was a slow and miserable trek. But I got there, found my battery, paid and left.
I did wonder why the cashier looked at me in such a peculiar manner.
Returning home at last, I rested a while, then installed the battery, stuck the thermometer under my tongue and waited for the beep.
106 F. And I normally run pretty low; around 96.
I knew that this was not good, but the idea of doing anything grandiose about it seemed to elude my feverish mind. I took four ibuprofens, then drew a cool bath and laid in it for over an hour, reading. This did the trick; the fever returned to more normal 102-ish levels. It never went back up much higher, and was gone in a couple more days.
Only the next day did I realize why that cashier was looking at me as she did. She was obviously afraid that the dead had risen and were shopping at Jewel-Osco!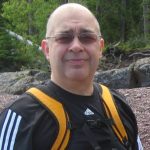 Dave Ventre
A hyper-annuated wannabee scientist with a lovely wife and a mountain biking problem.
Characterizations: funny, well written