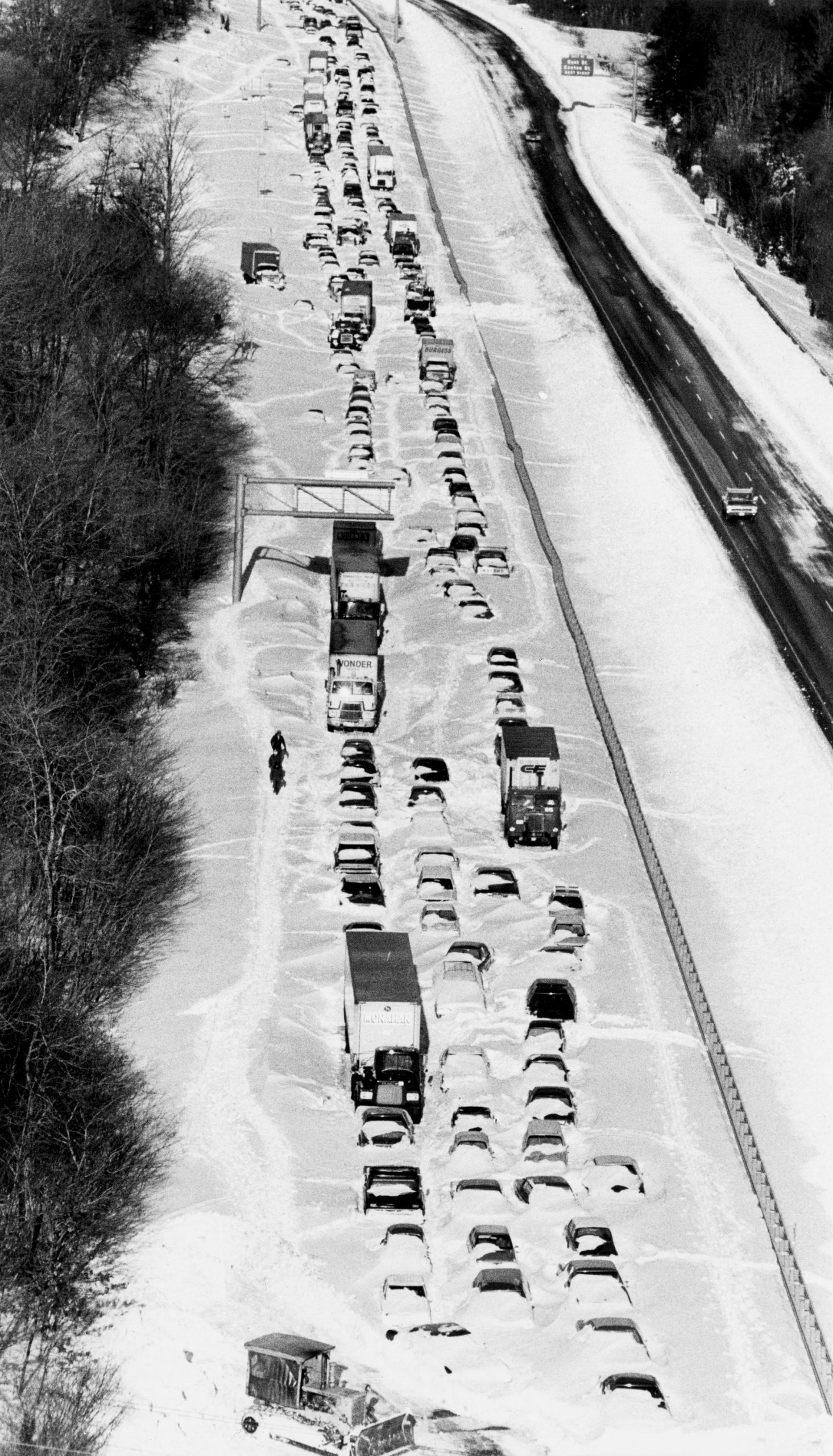 I learned to play backgammon during the Blizzard of '78, in the Dorchester neighborhood of Boston. I've never played it again since. That's the kind of thing that happened during that amazing weather event, when almost everyone was forced to stay home, thousands of people left their cars stranded on Route 128, and Governor Mike Dukakis gave press briefings in front of six-foot snow drifts, wearing just a sweater. (His bravado and composure in the face of disaster didn't do him any good; as an incumbent, he would experience the rare political fate, or feat, of losing the primary in his own party later that same year. The guy who defeated him, Ed King, would replace him as Governor for one term, run a very corrupt administration, manage to have more than one member of his Cabinet indicted or imprisoned, and then join the GOP.)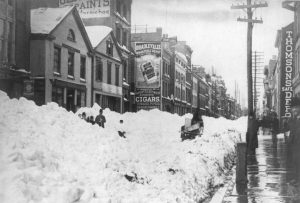 Dan and Sally invited me in, and with their daughter, we played backgammon, and they made me a cup of tea and offered me some cookies.
I was living alone for the first time in my life when the blizzard arrived. Two years before, I had left a group house with six bedrooms in Cambridge that had been my home for four years following college and moved into a two-bedroom apartment with a friend named Bruce. That was also in Dorchester–a different section called Fields Corner. I had worked in a daycare center in the Codman Square neighborhood of Dorchester since 1972; thus my inclination to rent in that part of Boston when I finally decided to make my exit from Cambridge.  The first rental lasted only one year, because Bruce decided to get married–or more precisely, decided to begin living with the woman to whom he was already secretly married. I'm not sure I would have committed to that location for a longer term anyway, given the way my car had mysteriously been set ablaze while parked right outside our triple-decker and all.
In the fall of 1977, I rented a one-bedroom apartment on Nixon Street, the second-floor of a two-story building just around the corner from the Shawmut T station.  I had lived a few years earlier on Hooker St. in Allston, so some members of my family mused about my penchant for finding streets with increasingly unsavory names. But it was a very nice and well-maintained space for one person. The owner-occupants who lived downstairs operated a father-son plumbing bu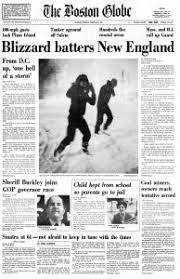 siness.
Normally in this neighborhood, you had to be mindful each day during the winter of placing a garbage barrel or a lawn chair in the parking space you had cleared for your car. Though nobody could legally assert the right to her or his own space on a public street, it was commonly accepted that if you shoveled it out, and you marked it with some large object, you were entitled to keep it.  But during the Blizzard of '78, nothing was normal. Nobody shoveled out for days, and nobody needed to lug around their barrels or their lawn chairs. Because nobody was going anywhere. That's, in part, what the Governor was telling us during those coatless press conferences: Don't go anywhere unless you are essential to keep the lights on, the hospitals running, or for public safety. Word on the street was that the National Guard, who were patrolling in many areas, would stop you and ask you why you were driving around.
The closing of schools hit me in the pocketbook, because I was making my living as a substitute teacher in the Boston public Schools, earning $36.56 per day, but only on the days that I was called. I ended up working in a total of 27 elementary schools over a two-year period. I subbed in a few Middle Schools early on, but I requested them to call me only for elementary jobs, once I had experienced the Theodore Roosevelt Middle School, where the boys were so rowdy that even the girls were shielded from them and allowed to eat lunch in a separate cafeteria.
There was nothing for me to do about my reduced income except to make the best of it, and so I did. I remember sitting at my kitchen table, drinking hot chocolate and glued to the radio for hours, listening to people calling Jerry Williams, Guy Mainella, and hosts of other talk-shows, to try to locate missing friends or relatives or pets, to find out where in their town a food shop might be open, ask about how to properly remove snow using a roof rake, whether any place still had generators for sale, and even offering recipes for snow pudding. It all seemed quite caring and communal.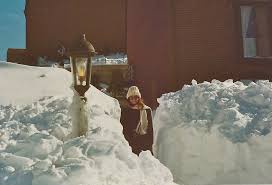 To get a taste of the authentic local community, as distinct from the larger and more abstract one represented on the radio, I would walk around the neighborhood. There, too, I experienced the feeling of shared survival and a sense of caring. I knew very few people who lived nearby. So it was a pleasant surprise, during one of my walks, to be greeted by Dan and his wife Sally, who were working on widening their walkway a few inches. (In the earliest days after the blizzard, you just wanted to create a pathway, even the narrowest one possible. With the passing days, you might decide to enlarge it.
I barely knew Sally but I knew Dan pretty well as the leader of a "political study group" in which I had participated a year or two prior. It consisted of about eight to ten men and women with very diverse backgrounds, from high school dropouts to college graduates. At least one of the women participants was raising a child and living on welfare payments; one of the men was trying to make it as a standup comic. Three of us were teachers in the same daycare center. I'm not sure how Dan was earning a living, but I knew he had attended a Catholic seminary when he was younger. Everyone in the study group lived in Dorchester.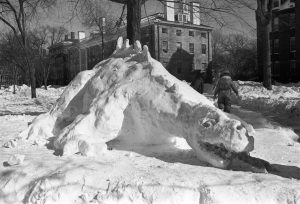 When I joined, we were deep into Mao's Little Red Book. Dan would tell us which pages to read—just a few each week. Then we would reread it aloud during the group and stop and talk about each paragraph. I still remember the passage about eating oranges. Mao explained that there is only one way to learn what an orange tastes like, and that is to bite into it and eat some. But once you've done that, you haven't merely learned about the taste of the orange, you have also irrevocably changed it. The same is true in the understanding of society, or of social and economic relationships: You cannot stand outside these relationships and analyze them and expect to have a full understanding. You must "bite into them." You must get involved in the struggle. Once you have done that, you will have a better understanding, but you will also have changed the balance of forces.  I am not sure if this accurately represents Mao's thinking, or Dan's explanation of what we read in the Little Red Book, or my own interpretation as it has settled into my brain over the years.
After that, we read, The Pedagogy of the Oppressed, by Paolo Freire, a Brazilian educator who had been expelled from Brazil because he was too successful in teaching literacy to landless rural people.  The military dictatorship preferred to keep them illiterate. We read this book one chapter at a time and dug deeply into Freire's ideas, as we had Mao's.  Freire's ideas continued to influence my thinking ever since, especially his recognition that literacy was not a product of the right "technical" approach (e.g., phonics, "whole language," etc.,) but more related to engaging people to view literacy as a way to help them survive and address problems in their daily life.
Dan and Sally invited me in, and with their daughter, we played backgammon, and they made me a cup of tea and offered me some cookies. Eventually, I went home to my apartment, past my car with two feet of snow piled on top of it, because I wasn't going to drive it anywhere for a few more days.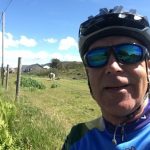 Dale Borman Fink
Dale Borman Fink retired in 2020 from Massachusetts College of Liberal Arts in North Adams, MA, where he taught courses related to research methods, early childhood education, special education, and children's literature. Prior to that he was involved in childcare, after-school care, and support for the families of children with disabilities. Among his books are Making a Place for Kids with Disabilities (2000) Control the Climate, Not the Children: Discipline in School Age Care (1995), and a children's book, Mr. Silver and Mrs. Gold (1980). In 2018, he edited a volume of his father's recollections, called SHOPKEEPER'S SON.
Characterizations: right on!, well written