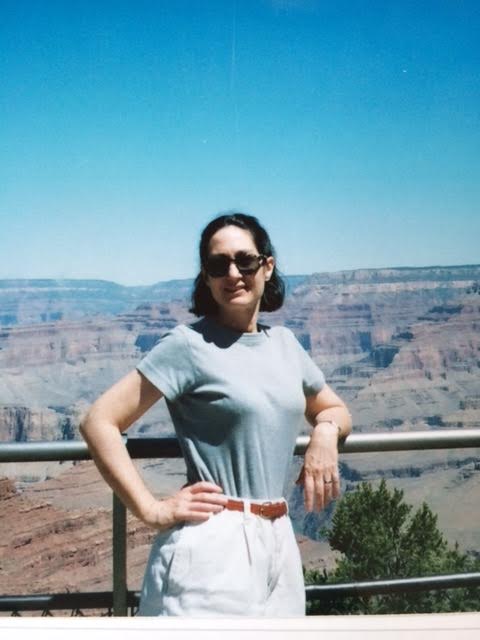 It came on with no warning in mid-March of 2003…unrelenting diarrhea, sometimes several times a day. After a few weeks, I visited my doctor who ordered tests of my upper and lower GI tract. All unpleasant, but proved normal. Not meaning to be too graphic, but I had never been "regular", and would have occasional bouts of diarrhea, but nothing like this. With this, I always wanted to be close to a bathroom, as I never knew when a bout would hit me and it was very painful. I stopped eating roughage. My internist was stumped.
My older child graduated from high school in June, the younger stepped up from 8th grade to high school at his special ed school (he has Asperger's syndrome and at the time, difficulty with written expression) and we embarked on a big trip through some of the spectacular national parks out west. We would be gone almost a month. Dan had spent months planning every detail. The day before we left, my doctor opined perhaps this was a reaction to dairy; try to not eat any for a while. Three and half weeks eating off menus, as it turns out, in a heat wave and no ice cream! I became afraid to eat almost anything. The weight started falling off me. I wasn't too large to begin with.
We flew into Albuquerque, rented a car and began our adventure, heading out into the Painted Desert, then on to the Grand Canyon. We stayed in El Tovar, the fantastic lodge inside the park. The featured photo is me on the rim, toward the beginning of the trip. I had only lost a few pounds at that point. I had been sick about three months. I look fairly slender, right?
We continued on to Bryce, Zion and made our way up to Yosemite. We hiked, saw fantastic stars at night, loved the hoo-doos at Bryce, the calmness of the night skies. I was very careful with what I ate. I tried to control my intake, but was also very active and it was in the 90s every day, so also tried to not dehydrate; a delicate balance.
Dan and David climbed Upper Yosemite Falls while Jeffrey and I played around the pool and took a nature walk. He was charmed, watching the squirrels run in and out of the open cafe. I made him write a journal (writing was such a chore; he wrote on his computer until it got fried in Death Valley) and I bought a beautiful blank notebook in the gift shop of the Ahwhanee, the historic resort inside Yosemite, where we stayed, and wrote along every day, leaving blank pages to paste in photos from our travels. We dressed nicely (I even blew-dry my hair) for a family photo taken at the "Queen's Table" (QE II sat there on her visit in the '50s) with a view out to Yosemite Falls. I weighed perhaps 95 pounds at this point in our journey.
On we went, through Death Valley, where it reached 118 degrees. The water in the bathroom was spring-fed and hot, even in the toilet, like a facial for your butt! Dan thought it would be cool to try to play golf with David. Fortunately, the course was closed. We went to the Borax museum and saw old photos from the ads for "20-Mule Team Borax" with Ronald Reagan as pitchman before his political career. It is a natural substance, mined in that barren place.
We had been on the road for some time and Dan thought it would be good to take a break and get to "civilization", so we stopped in Las Vegas for two days. We checked into Bellagio with the dancing fountains and Chihuly glass. We were in adjoining rooms on the 11th floor. While everyone went to the pool, I collected, sorted and filled in all the laundry slips for our dusty, dirty clothing, coming out of the hot dry parks. After weeks of hiking we had accumulated a lot of laundry. We saw our first Cirque du Soleil show that night: O! It was spectacular and Jeffrey became a lifelong fan. The next day we didn't know what to do with the kids. We decided to go to a movie. One of the "Terminator" movies was playing mid-day and looked to be close by, only about a block and half away. But Vegas "blocks" are deceiving. We walked and walking in 114 degree weather. Jeffrey and I could feel our skin burning. We shared a big tub of popcorn with that awful fake butter. I haven't eaten popcorn since. By the time we got back to the room, my intestinal tract was rumbling. Our laundry was back: $400 worth! Dan went ballistic! Our tee shirts had been stuffed with tissue paper and hung on hangers. The guys went to the pool. I unpacked everything, but lay down a lot, as I was in major distress. Then I ran to the bathroom.
We had no plans that evening. The shows we thought about were on vacation or sold out. We went to the cafe for dinner. I had already been to the bathroom before dinner. I ordered a salad nicoise, took a few bites and ran to the bathroom again. Phew…better. Finished dinner. We headed through the casino (had to get through to go to the elevators). My stomach began to roil. I thought I could make it, but we were on the 11th floor. I pressed the button. Come on, come on. Others came and pressed more floors…the pains grew more intense. Finally we got to the 11th floor, but it was a long hallway and our room was halfway down. I walked quickly, fiddled with the lock, but lost it at the door to our room…ugh! GROSS! I ran into the bathroom to clean up. I was grateful I had clean clothes, even as I did my best to clean things in the tub. Dan just told me how much I smelled and how gross this all was. Rather than being sympathetic or helpful, he was angry that this had happened. Like I was thrilled! He ordered me to call my doctor first thing the next day.
I did call, was told he was on vacation and the covering doctor would call my cell phone. She told me to to take an Imodium before each meal. I thought if I did that, I'd never go to the bathroom again, but I did take one every day for the rest of the trip, which helped.
We flew up to Wyoming, went on to Yellow Stone, Mount Rushmore, Little Big Horn, the Bad Lands. It was an amazing trip. It could only have been better had I not been ill and if it had not been sweltering. I was down to 90 pounds by the time we got home. This was what I weighed during college, some 30 years earlier. Now I looked skeletal. I went to see a gastroenterologist.
He also ran tests, gave me a prescription strength anti-diarrhial. He told me I had "irritable bowel syndrome". That felt like a junk diagnosis to me. What did it mean? Why did I have it? What could I do about it? It was more or less under control, but I had the occasional break through. I still watched what I ate. I couldn't seem to gain weight.
In mid-September, David left for his freshman year at Stanford. We were very proud that he had gotten into such a fine school and chosen to go to a large school so far away. This was way out of his comfort zone. I had to stay home with Jeffrey, already in school, so said goodbye at the driveway, as Dan drove his out to Palo Alto to get settled. I told myself I'd be OK. David was my best friend within the household, a source of great comfort to me. He and I thought the most alike and I knew I'd miss him. But I was strong, I kept telling myself.
I was OK for a while. But slowly, depression crept over me. Between IBS, months of poor eating, missing David, difficulties with Jeffrey at school, caring for my elderly mother, I was worn down. Jeffrey's psychiatrist told me it wasn't good for him to see his mother fade away. She wanted me to see someone she highly recommended, a former internist who had re-trained as a psychiatrist. He knew medications and the body well. I made an appointment and saw him the night before Thanksgiving, 2003, just as David flew in for his first visit. He put me on Remeron, an anti-depressant, that had the added benefit that it dried me right up. David took one look at me and expressed immediate concern. I told him I was taking care of it.
Depression comes in various forms. I had to keep functioning, for Jeffrey's sake, but I would start to cry for no reason, and was sad all the time. I found no joy anywhere. I looked like a strong wind would blow me away. I got no comfort from any of my normal pass times, though I kept my normal routines. I knew I needed treatment.
I was on Remeron for a mere 6 weeks. The depression lifted and has never returned. I continue to talk to whomever I need to to keep away the blues. In the intervening 14 years, I've had perhaps two bouts of IBS. Now there is even a "funny" TV commercial about it. My weight has gone up and down, but never as low as 90 pounds. I now work hard to eat healthy and exercise to keep my body strong for the years ahead. And I try hard to keep my mind engaged. Writing for Retrospect is a favorite activity.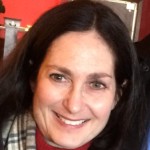 Betsy Pfau
Retired from software sales long ago, two grown children. Theater major in college. Singer still, arts lover, involved in art museums locally (Greater Boston area). Originally from Detroit area.
Tags: diarrhea, IBS, weight loss, depression, Remeron
Characterizations: been there, moving, well written