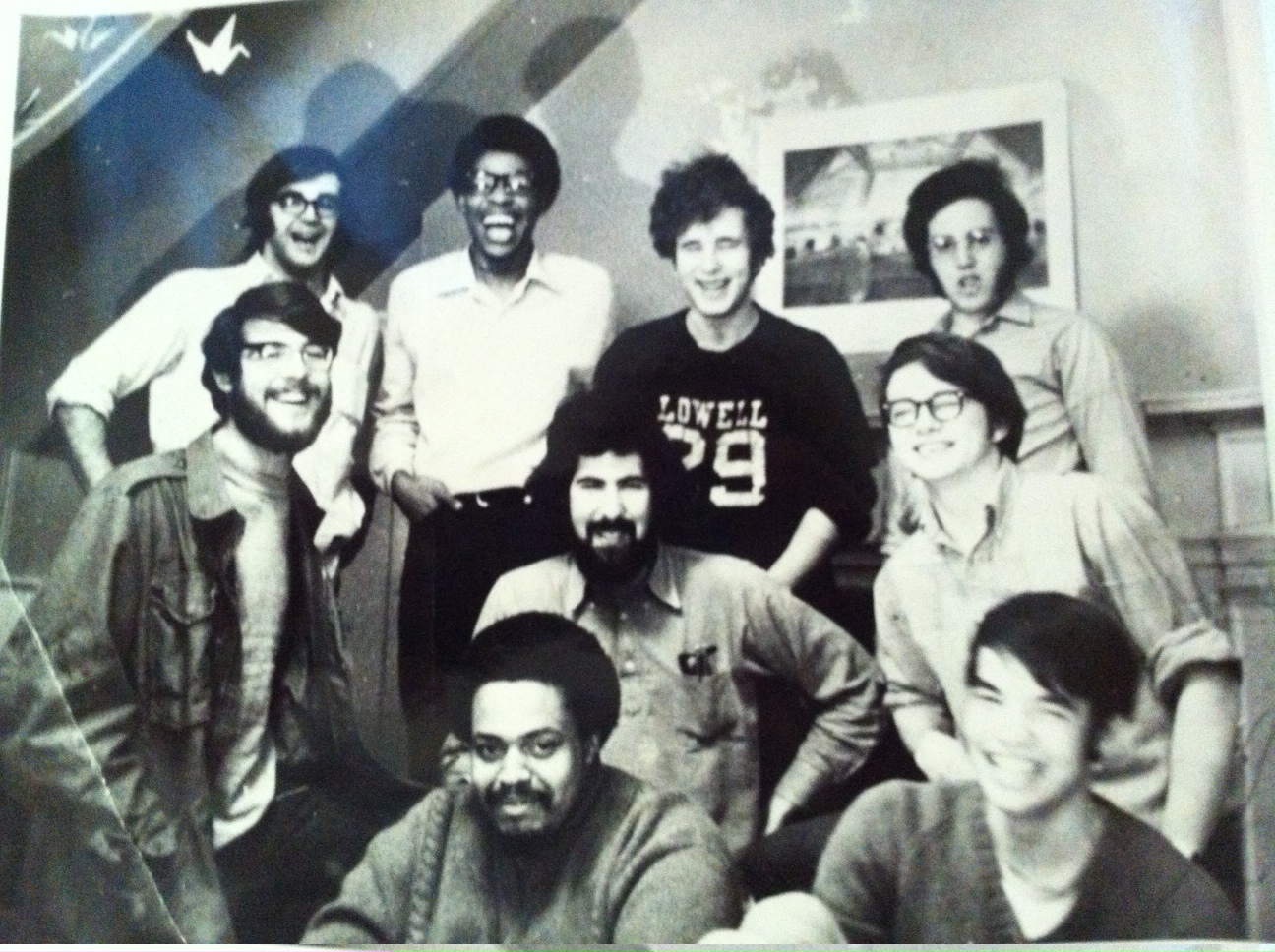 A few days before my Harvard College commencement in 1971, there was a loud knock on the front door of our suite when I was there with most of my roomies.  To refresh recollections from one of my earlier stories, the featured image is what we looked like then.  (I'm No. 29 in your program, but No.1 in your heart, right?)
The knocking came from five or six happily inebriated older guys, who more or less exploded into the room when one of my roomies opened the door; I was safely to one side.  They explained that they were in town for their big reunion and wanted to re-visit what had been their suite when they were seniors.  I recall thinking at the time just how old they seemed but, upon reflection, I later realized that they were there for their 25th, not 50th, reunion.  That meant they graduated in 1946, which still placed them back several dozen generation as far as we were concerned.
Anyhow, we were taken aback by these old clowns, but fairly polite and let them have the run of the place while they barreled around and kept blathering with great bonhomie about all their good times when living there. One of them pointed to our nearest bathroom and proudly proclaimed that they used to "mix booze" in its bathtub.  One of my roomies then casually replied, "Oh, well, now we use that bathroom for growing weed and making hallucinogens."  Not true, but I winked at him for the great answer. And it had the intended effect of nicely freaking out our visitors, as did the emergence of one of our girlfriends, wearing nothing but a post-shower robe, from another bathroom.
When the old boys had finally had enough, they thanked us heartily, clambered out and, fortunately, somehow made it down the four flights of stairs without tripping or suffering a heart attack. I don't think any of us roomies actually said a word once the door was shut, but we all looked at each other with the very same thought: "May I never, ever become one of those pompous, old f*rt alums" (hereinafter, "POFA").
I have tried mightily to keep my own POFA vow in mind over the years, particularly when I attended my reunions and when I took my daughters around to look at Harvard and other colleges.  Indeed, I had had practice early on when my then-wife became President of Barnard and we obviously spent a lot of time on its campus at student events.  However, since she became President at age 31 — also my age at the time — I guess it could more accurately be said that I then tried hard not to act like a PYFA ("Y" for "young," of course).
One reunion I was particularly conscious of not being a POFA at was my 35th in 2006.  I had been asked to be a Class Marshal for the commencement ceremonies, an honorary position — really just sort of a glorified usher — given to old grads who had been active in fundraising and other alumni/ae activities. Part of the deal for male ushers is wearing this ridiculous outfit — indeed, the very essence of pomposity — comprised of a cutaway jacket, grey pin striped slacks, a white shirt and tie and, literally topping it all off, a f*cking top hat. We also carried a black and crimson baton; presumably to keep the ruffians and other riff raff at bay.
I forbade my (current) wife from taking any photos of me in this clown suit, but here is a stock commencement picture to illustrate it, complete with batons: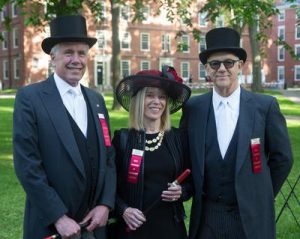 Acutely aware that, standing in Harvard Yard in my Marshal attire, I looked more like the quintessential POFA than ever, I really watched my behavior around the young 'uns.  A number of the graduating seniors were in my area and I smiled and made pleasant small talk with them if they initiated it, but otherwise said little.  Nonetheless, I knew they were thinking the same thing my roomies and I were thinking 35 years before: what a POFA!
We have another big reunion coming up — our 50th! — in 2021, though how exactly it will take place and when are very much open questions at present.  As with our 45th reunion, I am a member of this reunion committee, and thus already immersed in planning.  My particular responsibility is to organize all the various symposia of classmates, as well as outside luminaries (though we have some real intellectual rock stars of our own), that will take place throughout the reunion.  Topics typically include ones such as foreign affairs, US politics, and climate change and other environmental issues, as well as a number of more "self-focused" topics, such as aging, retirement, medical and psychological issues and our world views — both now and in the past.  With regard to that last topic, one of my committee mates has suggested that we also include some younger alums on the panel, like recent grads or alums there for their 25th reunion, which I think would be a great idea.  For example, it would be pretty cool to get Malia Obama, due to graduate in '21, on the panel to discuss her own totally normal background and world view.
But whoever we get on the panel, while I will not be on it myself, I will have to interact with them in terms of the planning process. And I will continue to repeat, again and again, my vow to never become a POFA. That said, this prompt forces me to recognize the cold, hard truth.   Yes; I'm a POFA!
John Shutkin
Characterizations: been there, funny, right on!, well written