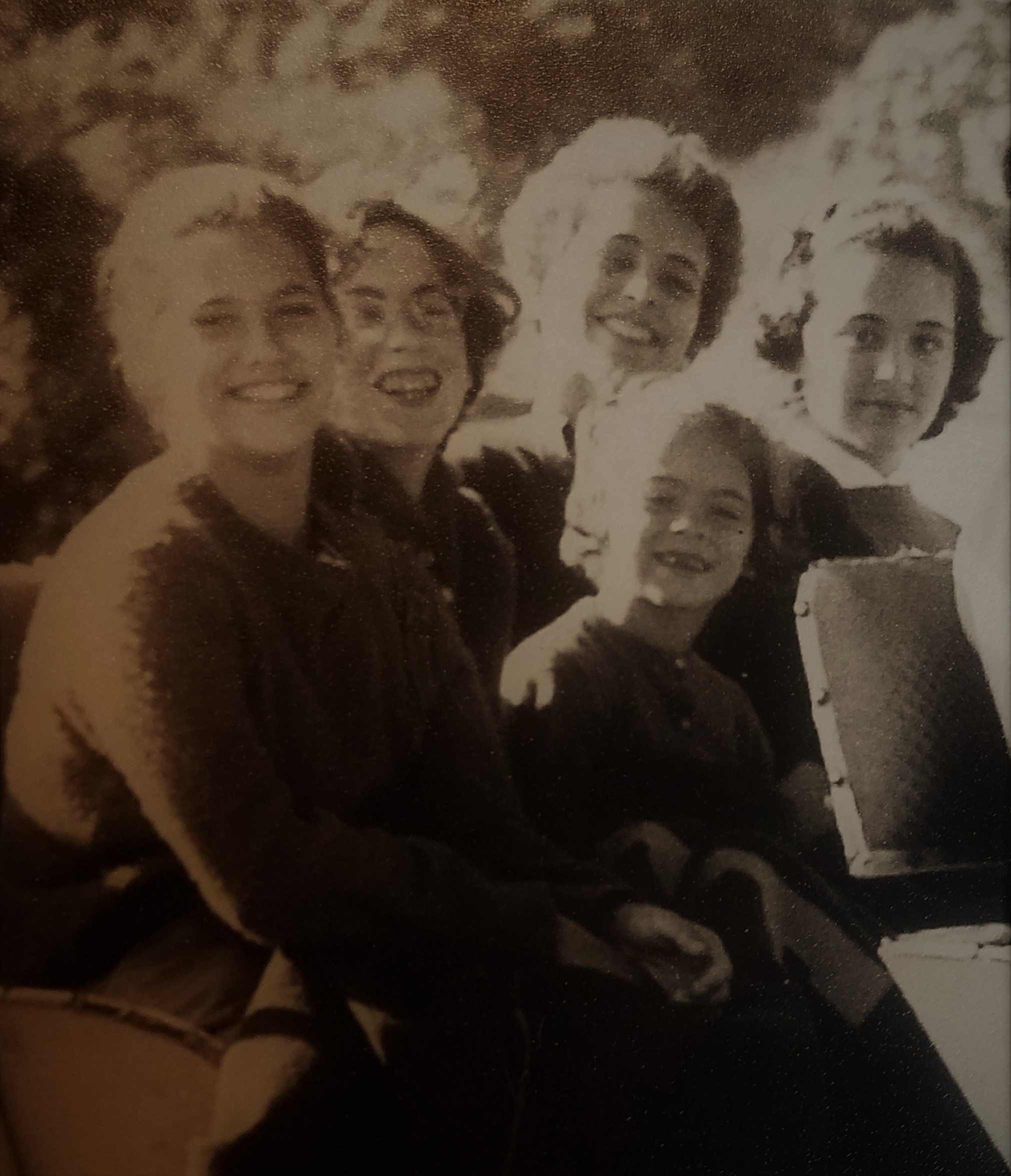 There were five of us girl cousins who grew up together, my mother's three daughters, and her sister Daisy's two. They were my only first cousins, and the only cousins I ever knew. Each of my parents had one sibling, and my father's sister didn't have any children. There probably were some second cousins on both sides of the family, but I don't remember ever meeting any of them. My father was estranged from his family; I'm not sure why we didn't socialize with my mother's cousins.
The Featured Image shows the five of us sitting on the back seat of a surrey with fringe on top on Mackinac Island, Michigan, although I have cropped the picture so you can't see the fringe. We stopped there on the way home from Interlochen, after picking up the other four girls, who were all campers there that summer. (I went to Interlochen later, but was too young at that point.) I'm not sure what year it was, but I would guess that I am six, given the fact that my front teeth are missing. That would mean my sister and my cousin on the left side are both eleven, my other cousin is fourteen, and my sister on the right is thirteen. My parents, aunt and uncle, and grandparents were in the front two rows of seats in the surrey, which is why the kids are all crowded into the back.
Daisy's daughters were so close in age to my sisters that the four of them played together from way before I was born. I heard stories all my life about how they would act out Peter and the Wolf, with the oldest cousin playing Peter as well as directing. They also all went to a summer camp called Turkey Point for several years, where Daisy was one of the counselors. I was so much younger that I missed out on all of this. By the time I was old enough to go to Turkey Point, the camp had gone out of business! I always used to tell my mother that it wasn't fair how there was one cousin for each of my sisters, but none for me. I wanted Daisy to have another baby so that I would have a playmate too. Of course, by the time I was old enough to be saying this, a new baby would have been too much younger to be useful. I wanted her to magically have a third child who was my age.
It wasn't until I was fifteen that I had a one-on-one relationship with either of my cousins. Alice, the younger cousin, was studying Spanish in college, as I was in high school. After my sophomore year of high school, and her sophomore year of college, we went to Cuernavaca, Mexico together, to take courses at the Universidad de Morelos. We were placed with different local families, and took different classes, so we didn't see that much of each other, but we did take a couple of weekend trips together, and it was especially nice to have someone to travel down and back with. Then senior year, when I was dating a boy who went to Rutgers, I stayed in Alice's dorm at Douglass (the women's college of Rutgers) when I went to visit him for a weekend event, much to his dismay, since he assumed I would stay with him illegally in his all-male dorm.
I didn't spend much time with the older cousin, Betty, until much later in our lives. She is an actress, and was always unconventional, plus she was almost nine years older than I. She graduated from college before I even started high school. She moved to Pittsburgh in about 1967 (surprising for a girl born and raised in New York), and was hired for a brand new show called Mister Rogers' Neighborhood, where she stayed for its entire thirty-three year run. Even after she moved away from Pittsburgh, they would bring her back to film her segments. She became a huge celebrity among small children. I have sometimes been with her when she was mobbed by adoring little kids and their parents, which was strange to see, although cool at the same time. When my own children were little, we always watched the show just to see Betty. If there was an episode that she wasn't on (which was rare), they would get mad, because she was the reason we were watching. We had videotapes of all the Rogers operas, where Betty played memorable roles like a cow or a giraffe. In 1999 when she was in the movie Dogma, I bought it to watch with the family, but had to turn it off after about five minutes because the language and the violence were not appropriate for children, something that hadn't occurred to me beforehand. We watched the rest of it after the kids were asleep, but it was pretty weird. For one thing, she was a nun! And the plot is bizarre. I don't recommend it!
In the last few decades the age gap has become irrelevant, and we have related on an equal footing, sometimes getting along and sometimes not. My immediate family has had annual reunions for more than 30 years, which my parents, my sisters and I, and our kids always attended; many times my aunt would come with one or the other of the cousins, but generally not both of them at the same time. This has more to do with their relationship as sisters than their relationship with us as cousins. I think 1999, the year of Dogma, was the last time everybody was together, when we gathered for my nephew's bar mitzvah at Thanksgiving in New York.
Just like we were five first cousins, in the next generation there are also five first cousins, because each of my sisters had one child and I had three. The oldest and youngest are outliers, with nineteen years between them, and eight years to the next closest cousin (very symmetrical!). But the three middle ones are close in age, with my nephew about halfway between my older daughter and my son. My sister and I both thought it was very important to create a connection among those middle cousins when they were young, which was challenging because she lives in New York and I live in California. So in addition to our yearly reunions in the summer, which were generally on the East Coast, she brought her son to visit us every year during the winter holidays. As a result, the three "middles" became very close, and still are. I think the two boys consider each other to be the brother they never had, and even now, at age 31 and 33, they talk and text and visit each other frequently.
Here are the five cousins in 2004, when they were ages 8, 27, 19, 18, and 16. I think they decided to line up in height order. My three are in the first, third, and fifth spots.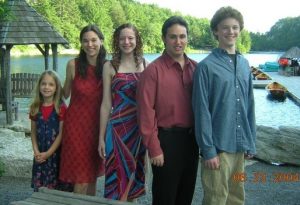 And here they are again nine years later in 2013, at ages 36, 28, 27, 25, and 17, in almost the same order, except the youngest has moved from the left end to the right end, so now they are in age order.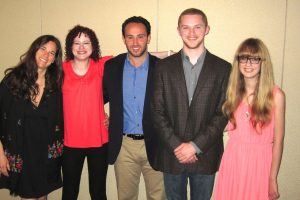 Finally, we come to the Patty Duke moment in the story. Since my youngest daughter's father is an identical twin, and his twin's wife was pregnant at the same time I was, we were hoping that we would end up with identical cousins. It could have happened. Genetically, my daughter is as closely related to the children of that uncle as she is to her siblings, since her father and uncle have the same DNA. However, my niece looks like her mother instead of her father, so as you can see in the pictures below, they are far from identical.
Here are the two girls in 2001, when they were five years old, reading a favorite book with my sister-in-law.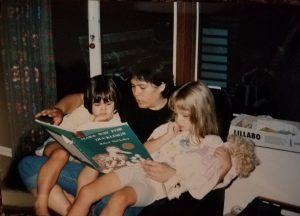 Even though they didn't look alike, we thought these cousins would grow up together, because the twin and his wife were living in Sacramento when the girls were born, only four months apart. They would have been in the same grade in school, and could have done everything together. But for various reasons too complicated to include in this story, the three of them moved from Sacramento to Luxembourg, and then to England, where they still live.
Here are the girls in 2011 at age 15, the last time we got together, when we visited with them in England. Not only do they not look alike, the cousin speaks with a British accent. And they are not interested in any of the same things. Of course, that part sounds a lot like Patty and Cathy Lane on the Patty Duke Show!
Maybe we have the makings of a new television show! And my son, the comedy writer, could write it.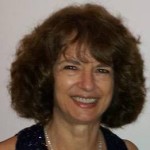 Suzy
Characterizations: funny, moving, well written