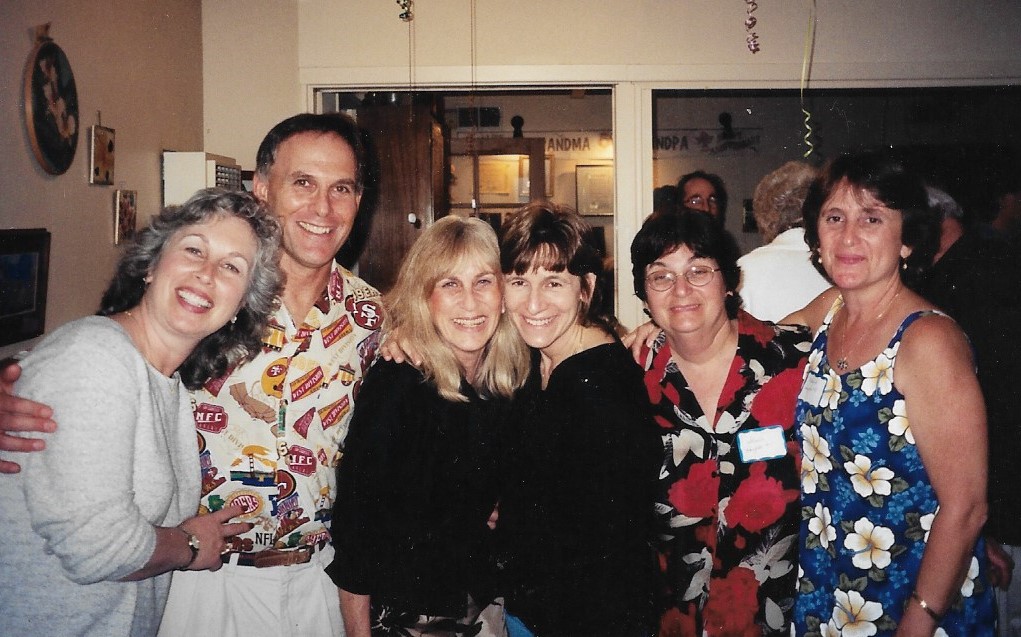 Once we were six, and now we are five. First cousins.  We lined up like this: my sister, the oldest; the only boy; two of us born a few months apart; the middle of three sisters; and the baby. We posed for pictures together from the time we were toddlers.
In the beginning, there were these two, posing  with our grandfather: my dad's dad.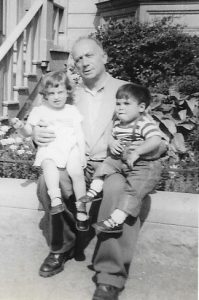 We celebrated my autumn birthday wearing little pilgrim hats, courtesy of my preschool teacher mother.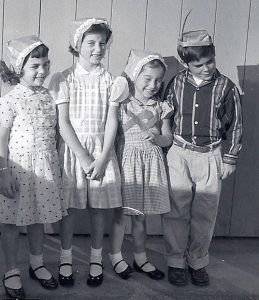 Our families got together for birthdays, Passover, Hanukkah, and a variety of other occasions. As kids, we ran around, got "overheated" (as my mother used to say when we were having fun), looked for tadpoles, explored my grandfather's scary attic, slid down the banisters at his San Francisco Victorian house, and performed goofy skits. We never ran out of things to do together.
My sister and I got to spend some time in the summers with our LA cousins. As teenagers we'd spend our days going to the beach, just hanging out–it was always better when we were together. And then there was the time we got our faces painted, donned our love beads and went to a Be-In. As adults, some of us traveled together to Yosemite or Hawaii or Disneyland. We shopped for shoes and had dance parties. Late night conversations and lots of laughter. In-jokes and stories retold. All of this because we are family.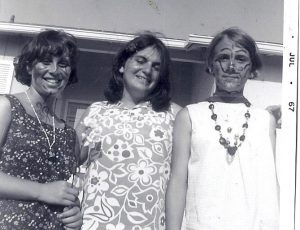 Five of us got married and started our families, creating a whole new generation of cousins.
The second generation of cousins got to know each other and the family tradition carries on.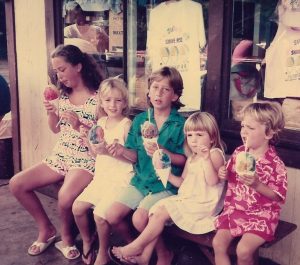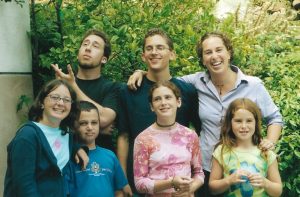 The California cousins traveled to Hawaii for the wedding of our young first cousin (once removed). It rained and rained, but nothing could dampen our spirits on this joyous occasion. This was the last time we were all together, posing as we had done all of our lives, so happy to be celebrating once again.
My sister was diagnosed  with lung cancer two months later, and we lost her in May, 2015.
And now my cousins (and my surviving aunt and uncle) are the only people in my life who have known me forever. I can share memories and family history with my cousins because they're the only ones left who know the stories–and the stories behind the stories. I am grateful to my aunts and uncles, parents and grandparents for giving me the blessing of cousins. I really don't know what I would do without them.
Risa Nye
Characterizations: moving, well written