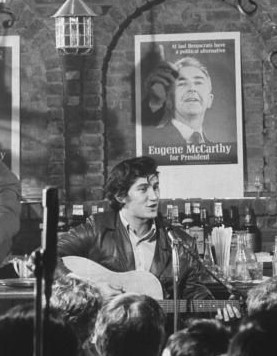 The Gershwin song "I've Got A Crush on You" doesn't really get the crush concept right. The lyrics say "You had such persistence, you wore down my resistance, I fell, and it was swell . . . . I've got a crush on you, sweetie pie." So she's singing to him after they get together. That's a full-fledged relationship, not a crush. But I'm using the song title anyway.
The first crush that I remember having was on Paul McCartney. Yes, I know, so did millions of other girls in the US, UK, and probably the rest of the world. But I really thought that somehow it would work, I would meet him, and I would end up marrying him. In February of 1964, when the Beatles were on Ed Sullivan, I was twelve years old, and Paul was twenty-one. A huge difference then, but I knew nine years wouldn't matter when we were older, if he would just wait a while for me. (In fact, his second and third marriages have both been to women younger than I.) And he actually did wait, marrying much later than any of the other Beatles. When he did finally marry Linda Eastman, in 1969, I remember my roommate Linda, who had also had a crush on him for years, screaming "He picked the wrong Linda!"
I had plenty of other celebrity crushes: Donovan, Peter Tork of the Monkees, Robert Redford. But probably my most memorable celebrity crush was on Phil Ochs, because I actually got to meet him.
I had all his albums, and played them constantly. I loved his antiwar songs, of course, like Draft Dodger Rag and I Ain't Marching Any More. His fourth album, Pleasures of the Harbor, which came out in 1967, had songs that were more melodic and less folky. Still political, but in a more subtle way. Orchestral arrangements instead of just his guitar. I liked both styles, the new and the old. I knew all the words to all his songs, and loved to sing along with him. I imagined us singing duets together.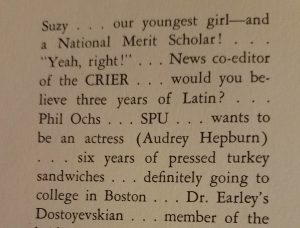 He was so good looking too, with his rumpled dark hair and intelligent eyes. He was even Jewish, so my parents would approve of him more than Paul McCartney as a potential husband. He didn't have the kind of fan magazines that the Beatles had, so I couldn't find out his favorite color or favorite food, but that was okay, it left more to the imagination. I must have talked about him a lot in high school, because his name was in my write-up in the yearbook (which was not written or even approved by me).
So how did I manage to meet him? It was the summer of 1968, I had just graduated from high school and gone to Washington to work on the McCarthy national campaign staff. In mid-August, I drove out to Chicago with three co-workers to attend the Democratic Convention. (Amazing in retrospect. I would turn 17 at the end of the month, but I didn't even ask my parents for permission to go to Chicago, I just went. After all, it was part of my job.) The week before the Convention, we were working in the Amphitheatre, where the event would take place, getting things set up for McCarthy. One day we suddenly got the word that Phil Ochs was coming to the Amphitheatre and wanted a tour. He had been pretty active in the McCarthy campaign, and had come to Chicago as a guest of McCarthy, although he was also there to participate in demonstrations with the Youth International Party (the Yippies), which he had created along with Jerry Rubin and Abbie Hoffman. The head of our operations told another girl, Nancy, that she was assigned to take him around and answer any questions he might have. She was older than I, and probably more knowledgeable about all the things we were doing. I must have moaned or screeched or something. I thought I would die if he was in the building and I didn't get to meet him. But Nancy, to her credit, when she found out how I felt, said "I think Suzy should be the one to show him around." So I did. I might not have been a very good guide, because I was so tongue-tied walking around with my idol.
I showed him the warren of backstage rooms where there were typewriters and telephones and file cabinets and primitive versions of fax machines so that the campaign could be up to speed on all the important information regarding convention delegates. We also went down onto the floor where the delegates would be seated when the convention started the following week. What we said to each other is pretty much a blur in my memory, and I probably couldn't have told you even five minutes after he left.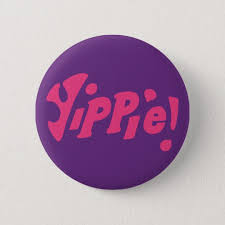 However, I do remember that he was wearing a Yippie button on his shirt, and I admired it. He took it off and gave it to me, on the condition that I wear it every day of the convention. I promised that I would, and I did, although it might have been hidden by my hair or by my collar. I didn't promise that it would be visible, just that I would wear it. And I still have it.
I knew he was staying at the Hilton, and so was I, everyone in the campaign was. Afterwards I fantasized about getting his room number and showing up there late at night. But I was so young (and looked it), that I don't think he would have been interested. He was 27, and had a lot of women who were of legal age throwing themselves at him, he didn't need the problems that I would have presented.
Eight years later, on April 9, 1976, he committed suicide at the age of 35. Luckily for me, I was on a spring break trip to Mexico at the time, where we didn't have any access to, or interest in, newspapers or television, so I didn't hear about it. It was years later that I found out he was gone. Even though I was shocked and sad when I learned about it, it was probably not as upsetting as it would have been if I had heard the news at the time it happened. Of course I  imagined that if only we had gotten together, I could have made him happy and then he would still be here, although I know now that things don't really work that way.
Ironically, in the song "Cross My Heart," he wrote:
I'm gonna give all that I've got to give
Cross my heart, and I hope to live.
He still lives on through his songs, but it sure made me sad listening to them all again today as I was writing this story.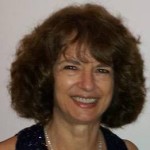 Suzy
Characterizations: moving, well written