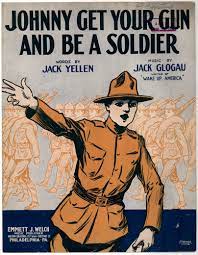 Please excuse the oxymoron, but, as I assume is the case with most Retro writers, I am now violently anti-gun. Just ban them all and f*ck the Second Amendment.   But I also assume that this was not always the case, at least among us Boomer guys as we were growing up. Certainly I have evolved on the issue since my early days.  Let me share three vignettes from my own gun-friendly youth.
Please excuse the oxymoron, but, as I assume is the case with most Retro writers, I am now violently anti-gun.
First, as I touched upon in an earlier story, growing up, we boys all had toys guns and other Western paraphernalia and could play Cowboys and Indians all day long; no one gave a second thought to such now red hot issues as gun control or Native American genocide.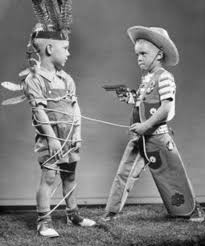 (Not me, but it might as well have been.) 
In those days, the toy gun of choice was the Shooting Shell .45 from Mattel, which allowed the kid wielding it  to "fan" it and get off several shots in rapid succession  — sort of the frontier equivalent of an automatic weapon: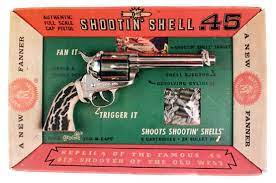 The Shooting Shell ran commericals all the time on The Mickey Mouse Club, which underscores just how mainstream toy guns were for kids in those days.  Of course, so were chocolate cigarettes.
I particularly recall that our playground had some sort of miniature structure — I can't recall whether it was a ranch or a fort — that nicely contributed to the motif for our Cowboys and Indians games..  And I was one of the few (weird) kids who preferred  getting "killed" to doing the "killing."  I had watched enough Westerns to appreciate just how much a scene-stealer it was, apres being shot, to writhe in agonizing pain and yet still muster enough strength to gasp out some noble last words of love, loyalty, revenge  — whatever —  before, tragically, closing one's eyes for a last time as the violins swelled in the background.  Indeed, I usually found a way to draw out my death right until the end of recess.  I probably had an audience of one by then.
Second, when I went off to camp a few years later, we had a rifle range and were regularly scheduled for target practice with .22's.  I loved it, and can still remember, almost fondly, the combined rich smells of rifle oil and, literally, the "smoking gun" after firing off a round.  (Not quite Napalm in the morning, but the same idea.)  Plus there was the trimphant thrill — very rare for me — of then going up to the target and seeing that you had actually hit it a few times, and maybe even a bullseye or two, albeit thanks more to the statistics of randomness than good aim.
And, again, a particular memory. We shot lying on our stomachs on burlap mats with the elbow of the non-shooting arm propped on the ground to hold the barrel of the rifle steady.  To best do so and still face the target directly with one's "aiming eye" (right for righties and left for lefties), the mats were slightly angled to accommodate our legs. The problem was that I was the only leftie shooter in my cabin, so the blanket had to be angled in the opposite direction for me from that of all the righties.  To minimze the disruption this caused, my blanket was always placed on one end or the other of the shooting line, sort of like this:
/  /  /  /  /  /  /  /  /    \
Again, weird kid that I was, I liked the idea of being the only different one in the shooting line.  However, the rifle range instructor, who had to arrange all the mats for each shooting session, just thought I was a pain in the ass.
Third, when I was in junior high school, my mother was active with the New Haven Symphony and her main project for a while was putting together an annual special section in the local paper, the New Haven Register, which was primarily comprised of captioned photos of prominent New Haveners visiting local businesses.  Typical were photos of my wife's glamorous mother modeling a mink while descending a stairway at a fashionable New Haven furrier.
One day, I got a message in school that, rather than taking the bus home, I was to be picked up by my mother in the parking lot — but not to worry.  As she explained to me after I got in the car, she was scheduled to do a photo shoot that afternoon for the section at the nearby Winchester rifle range (both Winchester and Remington were prominent gun manufacturers in New Haven in those days) and whoever was supposed to pose for the shot was suddenly unavailable, so she had "volunteered" me to stand in.  There was not much I could do and was sort of flattered — but, age appropriately, felt compelled to complain to her a bit anyhow.
When we got to the rifle range, we were met by its director as well as by Ted, the (terrific)  Register photographer who worked with my mother on the section. On the range, I explained how I had learned to shoot .22's lying down at camp, and the director confirmed that that was still the best way for a kid to do so.  So I "assumed the position" with the Winchester rifle and Ted also got down on the ground on his stomach in front of me but slighty to the side of where I was ostensibly aiming (duh) and started snapping away with his camera.  Of course, my rifle was unloaded and the director warned me not to even think about pulling the trigger.  Even back then, we were all aware of horror stories with "unloaded" guns.
My mother was in charge of writing the captions and headlines for the photos, and she told me that she had decided to call the photo "Johnny Get Your Gun," a popular phrase which, I have now learned, was first coined in about 1916 to urge the Americans ("Johnnies") to join the Great War. (In 1971, a movie called ""Johnny Got His Gun," based on a 1938 anti-war novel by Dalton Trumbo, was released. But in the early 60's, the phrase "Johnny Get Your Gun" was still viewed non-ironically.)
I wasn't crazy about the title since, at that time, I was busy morphing from "Johnny" to the way cooler "John," but, again, I really had no choice.  At least my mother let me help her choose the photo, which was actually pretty good.  And I must admit that I did enjoy having this semi-macho photo of me in the Register for all my friends to see.
I searched for the photo on-line in the Register's archives a few years ago when a friend of mine suggested I run for political office — a suggestion I wisely rejected.  I had remembered it and was wondering if it might be discovered and dragged out by someone trying to question my now strongly pro-gun control position.  (Though I also thought it might help me attract a few gun nuts.)  In any event, my search did not uncover the Symphony's special section, presumably because it was considered an advertising supplement rather than part of the regular paper. Too bad, really, since I would just about kill for a copy of it now for this story.
With a knife, of course.  I probably have not touched a gun since that photo shoot and, if this Johnny ever got a gun again, he'd simply turn it in to the police.
—————————————————————————————————————————————————————
UPDATE!
Encouraged by my Retro pals (are we called "Retrogrades?"), I followed up with the New Haven Symphony people to see if they might have copies of the special supplement with the Johnny Get Your Gun photo.  Perhaps motivated by a generous contribution from me, the Symphony's development office referred me to the librarian at the New Haven Museum (formerly the New Haven Historical Society) where, I learned, the supplement is archived.
And, voila!  (Again, perhaps due to a little "motivation" on my part.)  Here is the photo:
Note that my memory was just a bit off.  The exact title is "Johnny, Gets The Gun," complete with an odd comma.  And the rifle was, in fact, a Winchester.
While I was at it, I (nicely) imposed on the Museum librarian to also search for any photos with the name "Shutkin" or "Blakeslee" (my wife Kathie's maiden name) on them, and again hit pay dirt. Here is a picture of my mother, which also confirms that she was in charge of the whole shebang for the Symphony.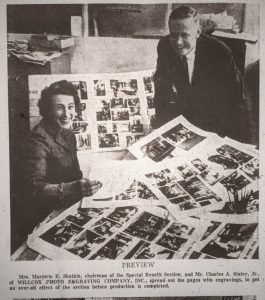 And here is Kathie with her two sisters.  I remember drooling over this picture in the eighth grade – due to my crush on Kathie, not the ice cream: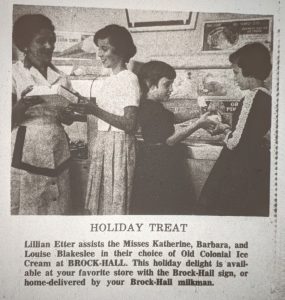 And here is a photo of Kathie's glamorous mother, who was often featured in the section: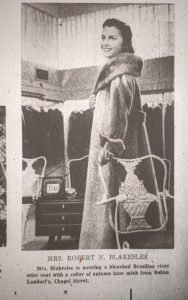 My work here is done….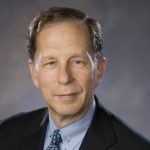 John Shutkin
Characterizations: funny, right on!